[photo by Tyler Ross]
Newly-formed Los Angeles straightedge hardcore outfit BERTHOLD CITY – formed by members of Strife, World Be Free, Internal Affairs, Final Fight, One Choice, Allegiance, and more – has issued a new single from their impending Moment Of Truth 7″, set for release late this month via WAR Records. The EP's riotous fifth track, "Like Knives," is now playing at BrooklynVegan, as the band announces a run of East Coast tour dates With Kill Your Idols, Fireburn, and more.
States founding vocalist Andrew Kline with the new single, "'Like Knives' is about the power of words. Words are powerful, and we have the choice to use them as a means to inspire and uplift or they can be used to tear people down. It's about the normalization of hate speech and should serve as a reminder of the huge weight that negative words can have. I am not perfect, and I know that I have used words that have hurt and affected people in a negative way, sometimes without even thinking about the weight these words can carry and the pain they may cause… Words cut like knives."
Check out BERTHOLD CITY's "Like Knives" at BrooklynVegan RIGHT HERE.
Kline's own WAR Records will release the Moment Of Truth 7″ on March 30th; find preorders for physical copies at the label webshop HERE, and digital at iTunes HERE and Bandcamp HERE,
BERTHOLD CITY has announced additional East Coast tour dates surrounding their previously-announced set at United Blood in Richmond on April 7th, where they'll share the stage with Turnstile, Shark Attack, Ecostrike, Racetraitor, Trail of Lies, and more. Three newly-booked shows see BERTHOLD CITY supporting Kill Your Idols and Fireburn; in Boston also with COA and more on April 5th, in Brooklyn also with Ache and more on April 6th, and in Philadelphia also with Violent Society on April 8th.
BERTHOLD CITY Tour Dates:
4/05/2018 Hardcore Stadium – Boston, MA w/ Kill Your Idols, Fireburn, COA
4/06/2018 Brooklyn Bazaar – Brooklyn, NY w/ Kill Your Idols, Fireburn, Ache, and more
4/07/2018 Canal Club – Richmond, VA @ United Blood Fest w/ Turnstile, Shark Attack, Ecostrike, Racetraitor, Trail of Lies
4/08/2018 Underground Arts – Philadelphia, PA w/ Kill Your Idols, Fireburn, Violent Society
Formed in 2017 by Andrew Kline — guitarist for Strife and World Be Free and WAR Records owner – who here commands the mic, BERTHOLD CITY's lineup is rounded out by guitarists Dennis McDonald (Internal Affairs) and Devin Vale (Final Fight), drummer Adam Galindo (One Choice), and bassist John Eightclip (Allegiance). The straight edge band released a three-song demo last July and have been keeping busy playing shows with such bands as Terror, Judge, Decline, Regulate, Dare, and Fall Silent, among others. Written in the musical and lyrical spirit of the seminal Judge 7″, Kline wrote all the songs and recorded them with Galindo. BERTHOLD CITY's upcoming Moment Of Truth 7″ was tracked by Aaron Jamili at Wormhole Studios and mastered by Don Fury, the NYHC legend who has worked with everyone from Gorilla Biscuits to Agnostic Front to Youth of Today. The 7″ will include three songs from the demo, plus three additional cuts tracked during the same session.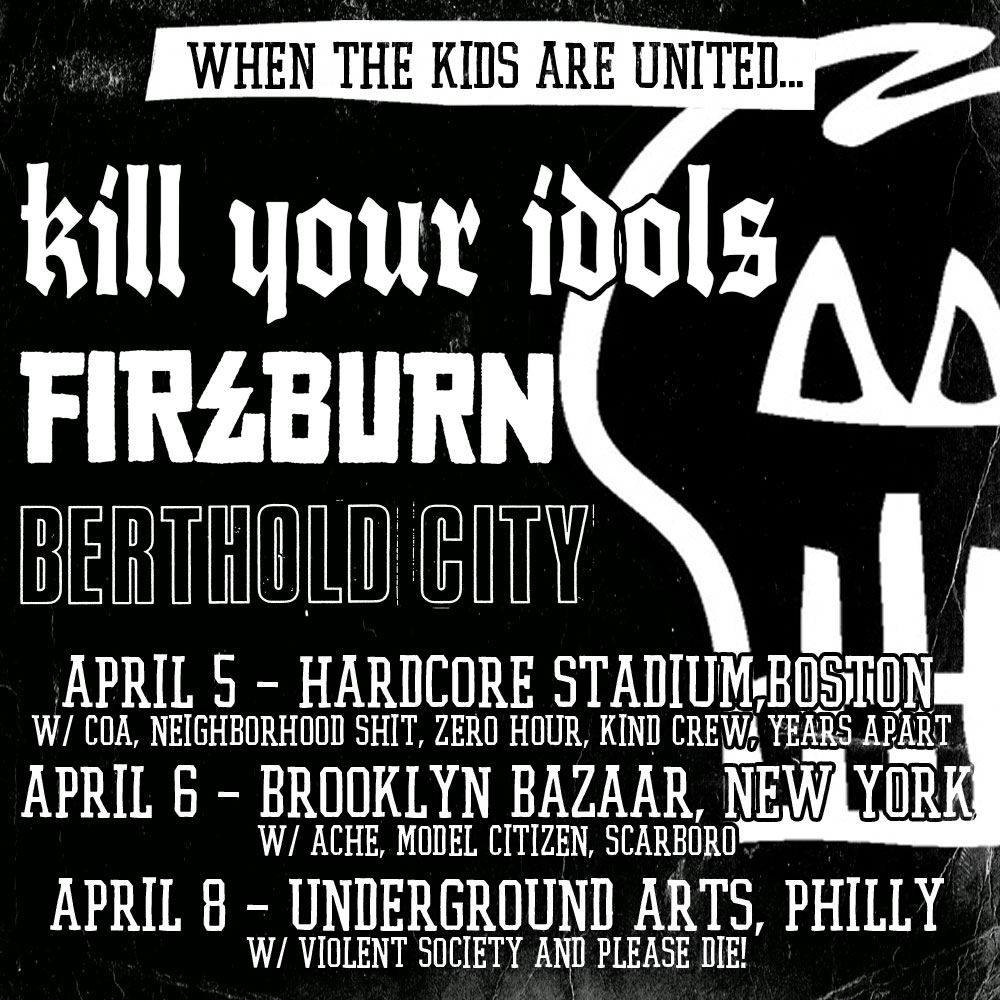 https://bertholdcityhc.bandcamp.com
https://www.instagram.com/berthold_city
http://www.war-rec.com
http://www.facebook.com/WARRECORDS.HC
http://www.instagram.com/WARRECORDS
http://www.twitter.com/WARRECORDS1