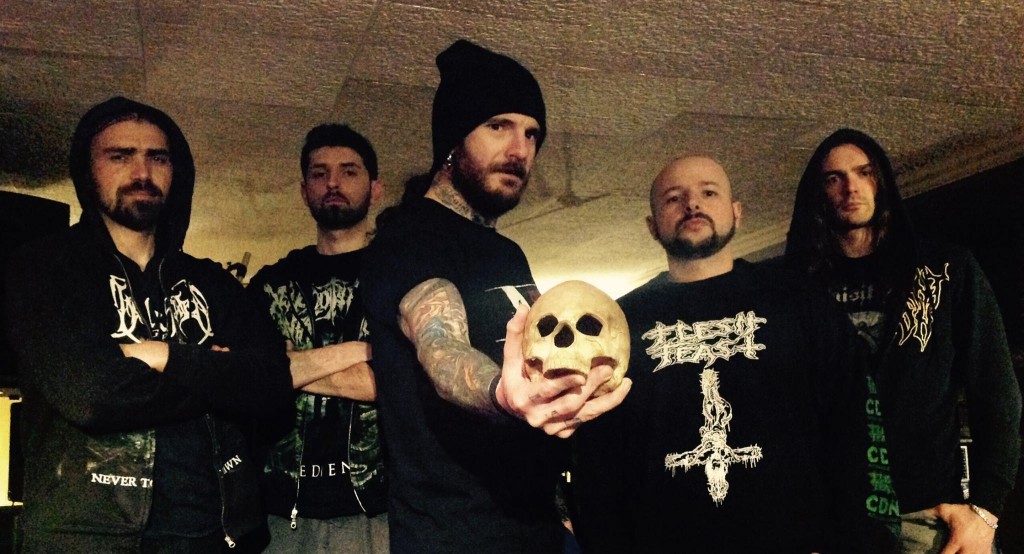 Beast Incarnate, the impending new long player from Malta-based brutal death metal merchants BEHEADED, will see release TOMORROW via Unique Leader. In advance of its release today No Clean Singing is streaming the infernal, eight-track offering in full noting, "the obliterating effects of Beast Incarnate will be the big draw for most fans. It's the kind of music that fuels metaphorical rhetoric: Most of the time it's a rocket ride through a mechanized slaughterhouse, in an active war zone, during an earthquake. This is what BEHEADED do. And they do it very well, with dedication, veteran skill, and self-assurance. If you enjoy death metal that rushes at your head with megawatt energy, dizzying percussive pummeling, dark pulsating melodies, and an insatiable blood lust, this is your fix."
Read more and hear Beast Incarnate in full RIGHT HERE.
BEHEADED's Beast Incarnate will be released on January 27th, 2017 via Unique Leader Records. Preorder options are currently available HERE.
Recorded at MKII Recording Studio (Italy) and mixed and mastered by Ronnie Björnström (Teadeat, Bone Gnawer, Aeon, Those Who Bring The Torture etc.) at Enhanced Audio Productions Sweden, Beast Incarnate comes shrouded in the cover art of Gabriel Alegria Sabogal, welcomes the addition of new recruits – drummer Davide Billia and guitarist Simone Brigo – and truly stretches the boundaries of BEHEADED's signature sound to meet new extremes.
In a 9/10 score, Exclaim! lauds the record's, "Crisp, top-notch production," furthering, "Memorable, impeccably written and executed with exceptionally tight musicianship, Beast Incarnate leaves nothing wanting." In an 8.5/10 rating, Dead Rhetoric writes, "Beast Incarnate delivers a death metal effort that basks in technically driven brutality but can also capture your attention start to finish. BEHEADED doesn't deliver an album in regular intervals, but they do manage to show clear signs of growth and songwriting maturity that tops previous works while keeping to their death metal mantra." Wonderbox concurs, "The music is a timeless brand of death metal, taking influence from most eras of the style in one way or another. It all comes together well in the hands of this veteran band, who compile the punishing riffs and pounding drums into eight tracks of highly competent barbarism." While Brutalism champions, "a highly enjoyable modern death metal album. Superbly executed and a great way to start the year."
BEHEADED was forged in 1991 in Malta, an island in the middle of the Mediterranean Sea. Together the quintet stood firm, against all the odds and confrontations such an environment generated. Cementing its name through the tape-trading circuit, BEHEADED caught the attention of Sweden's X-Treme Records. Debut full-length Perpetual Mockery saw release in early 1998. The band would later join Danish imprint Mighty Music for the unleashing of their Resurgence Of Oblivion mini CD. By 2002, BEHEADED dropped the maniacal wares of their Recounts Of Disembodiment full-length followed but their first-ever US tour which included performances at the Ohio Deathfest and New Jersey Metal Meltdown. In 2005 and after various personnel shifts, BEHEADED joined the ranks of extreme metal powerhouse Unique Leader Records for the release of their critically-lauded Ominous Bloodline full-length. The record was met with more positive reviews and live shows. Four years later the band unleashed Never To Dawn which centered itself on their Mediterranean origins. Sputnik Music likened it to the sound of, "the apocalypse of the world" while No Clean Singing hailed riffs that have a "booming, cataclysmic quality, spiced with rapid techy jabbing and whirlwinds of dark melody," adding, "The vocals are a paragon of bestiality, and the fuckin' percussion is explosively off the hook. BEHEADED definitely have the knack for forging relentlessly brutal music that's also groovy and memorable." Following a period of dormancy, an updated lineup and a renewed spirit of brutality, 2017 marks the release of Beast Incarnate. After twenty-five years, the horror still breathes!
http://www.facebook.com/BeheadedMT
http://www.uniqueleader.com
http://www.facebook.com/UniqueLeaderRecords