Metal Injection is currently streaming live performance footage from Belgian progressive metal/hardcore collective BEAR. The tracks on display – "Kuma" and "Gutter Love" off their Propaganda full-length – come by way of the band's set as part of the Hellgium Festival livestream last Summer.
Issues BEAR, "The Hellgium livestream we did back in July ended up being our only show of 2020 and was the only opportunity we've had to perform new songs from Propaganda live so far. We're grateful to have had it picked up by ArcTanGent for their virtual festival and Metal Injection as part of a Slay At Home event, and for all the positive reactions we've received as a result. We very much hope 2021 is the year we will get to properly tour this album and spread the Propaganda. Fingers crossed."
Adds Metal Injection, "With the lack of live shows, bands have definitely been getting creative with their live streams. BEAR, a groove fusion band out of Antwerp, Belgium, absolutely slayed with these two live performances. Their 2020 release, Propaganda, is an interesting beast. The core of the band is groove metal but BEAR fuses together a wide range of influences from other genres. The harsh vocals primarily have a core feel to them, but you'll also hear death metal influences and the occasional blackened scream. The clean vocals hold true to the groove feel. Over the course of the album, you'll also hear mathcore and progressive metal touches in the riffs. A great combo that melds well and keeps you on your toes…"
View BEAR's "Kuma" and "Gutter Love" live clips, courtesy of Metal Injection, at THIS LOCATION.
Find BEAR's previously released videos for "Gutter Love" HERE, "Kuma" HERE, and "Apollo's Heist HERE.
BEAR's Propaganda is out now on CD, LP, and digital formats. Find ordering options at THIS LOCATION.
BEAR invokes the spirit of great hardcore bands of the '90s like Catharsis or Gehenna – bands whose raw energy, uncompromising delivery, and relentlessly violent performance was as energizing and invigorating as it was puzzling for the oftentimes baffled audience. With three albums released since on Let It Burn and Basick Records, performances at festivals such as Graspop, Roadburn, Rock Herk, Euroblast, UK Tech Fest, Complextiy Fest, and headlining tours throughout Europe and India, the band has made themselves a name within the heavy music underground scene as one of the most punishing live acts going.
Propaganda is an album against propaganda; against the manipulative character of communication and product-placement that we face each time we turn on the TV, walk through a supermarket, or tune in to Spotify without a paid subscription. And while blatant ideological propaganda is being camouflaged behind product propaganda within an endless floating spectrum of ever-growing, artificially created needs and demands, ideology is as a matter of fact constantly being reinstated and affirmed. BEAR alludes to all of this with metaphors and artwork referencing historic propaganda and the political practices used by the terrible dictators of the 20th century presented in a pop-art style that is equal parts ironic and iconic. BEAR criticizes propaganda by making Propaganda of their own with their very own aural bombs, symbols, and manifestos.
"At various points, Propaganda dips its toes into the mathcore experimentalism of early Dillinger Escape Plan and Car Bomb, the fiery noise rock of Unsane and Today Is The Day, and – as on Propaganda's first single, 'Apollo's Heist' – the sublimely elastic groove of Meshuggah and Intronaut. All of these elements are wrapped up in adroitly-written songs that combine sheer aggression with infectious hooks in the best possible way." – MetalSucks
"The song bounces back and forth between prog metal and mile-a-minute hardcore, which are not two things that cross paths too often, but BEAR pull it off." – BrooklynVegan on "Gutter Love"
"…aggressive, groovy, and strong." – Sea of Tranquility
"…dark, complex, heavy, and angry…" – Wonderbox Metal
"…with Propaganda, BEAR show that with the right application of diversifying flavors and solid performances, groove metal is still a valid foundation for a killer album with unexpectedly addictive riffs, unbridled aggression, and surprising variety." – Angry Metal Guy
"Propaganda is a bottom-heavy album… with tracks like 'Stigmata' and 'The Ram' having interesting instrumentals, 'The Engine' with its black metal-esque drive, and 'Flares' with its odd rhythms and quick changes to clean singing that give an almost J-metal feel…" – Toilet Ov Hell
"…a true jewel reminiscent of the late 2000s. It's groovy, rhythmically and vocally quite interesting, and sounds like something from a bygone age that's actually much closer than you remember." – Grimm Gent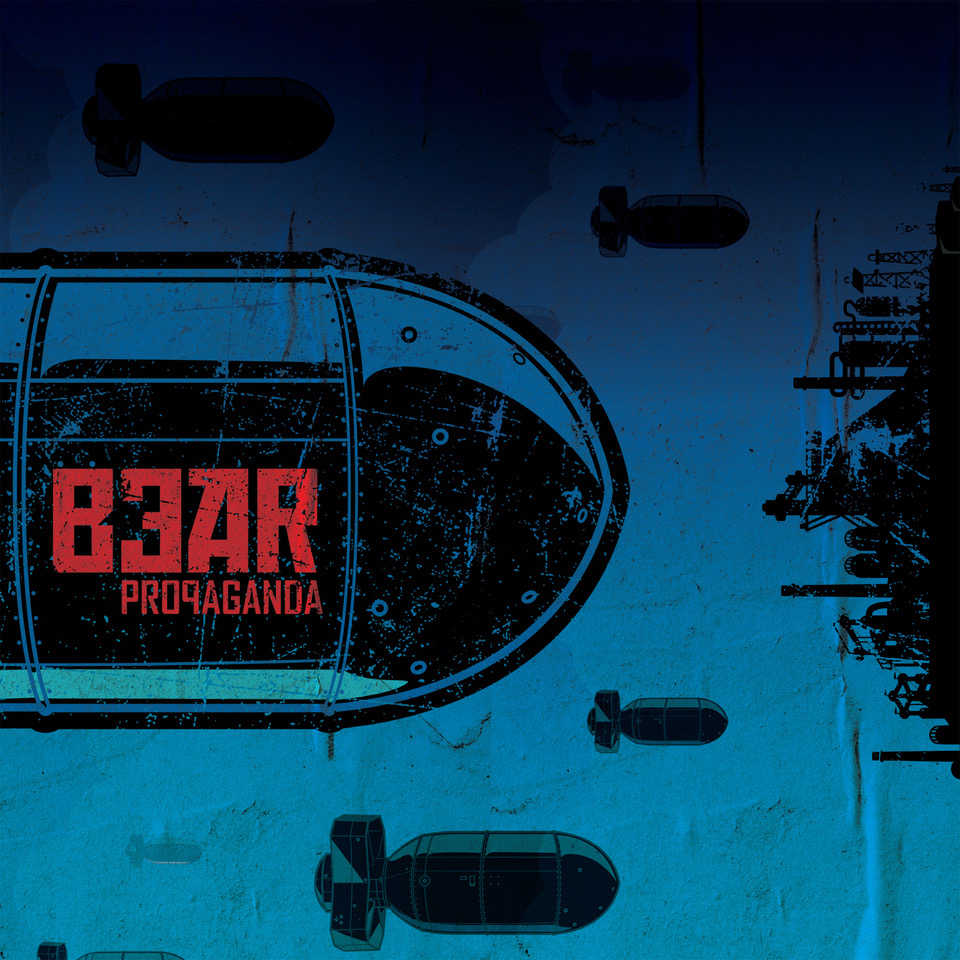 http://www.facebook.com/bearpropaganda
http://www.instagram.com/bearpropaganda/
http://twitter.com/bearpropaganda
http://www.pelagic-records.com/
http://www.facebook.com/pelagicrecords
http://www.instagram.com/pelagic_records