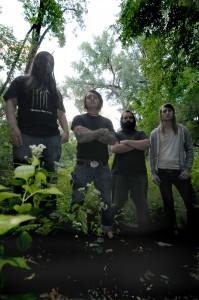 Atmospheric doom metallers BATTLEFIELDS will kick off a short string of US shows on March 13th in support of their critically-acclaimed Translation Loss full-length Thresholds Of Imbalance released last year. The tour begins in Minneapolis at Triple Rock with A Storm Of Light and will run through 11 cities, including three appearances at SXSW in Austin, TX, before coming to a close in Fargo, ND on March 27th.
3/13/2010 Triple Rock – Minneapolis, MN w/ A Storm of Light
3/14/2010 Empty Bottle – Chicago, IL w/ Junius
3/15/2010 Vaudeville Mews – Des Moines, IA w/ Junius
3/16/2010 Mojo's – Columbia, MI w/ Junius
3/17/2010 Downtown Music – Little Rock, AR w/ Junius
3/18/2010 Rock Island Live – Wichita, KS w/ Junius
3/20/2010 Plush (SXSW) – Austin, TX
3/20/2010 The Metropolis (SXSW) – Austin, TX
3/21/2010 Red 7 (SXSW) – Austin, TX
3/22/2010 Super Happy Fun Land – Houston, TX
3/23/2010 Bear's – Shreveport, LA w/ Junius
3/24/2010 The Muse – Nashville, TN w/ Junius & Black Cobra
3/25/2010 Jackpot Saloon – Lawrence, KS
3/26/2010 The Syd – Sioux City, IA
3/27/2010 The Aquarium – Eurolaunch! Fargo, ND
Thresholds Of Imbalance was recorded at The Devil's Workshop in Minnesota with drummer/engineer Rob Schmidt and was mastered by Nick Zampiello at New Alliance Audio.
"BATTLEFIELDS segue between gnashing metal and layers of lo-fi atmosphere. With the addition of tasteful samples and puncturing screams, its undeniable that BATTLEFIELDS are headed in an impressive direction." — Decibel Magazine
"The missing link between Isis and Converge, their brutal hardcore-infused-doom metal is as head-explodingly heavy and visceral as it is soothing and cerebral." — MetalInjection.net
"With nods toward the stratified ambience of Red Sparowes and the hellacious mathiness of Converge, Minnesota's BATTLEFIELDS straddle dreaminess and despair with equally vicious grace." — The Onion

"This is how the end of the world should sound." — Mammoth Press

http://www.myspace.com/battlefieldsdoom
http://translationloss.com