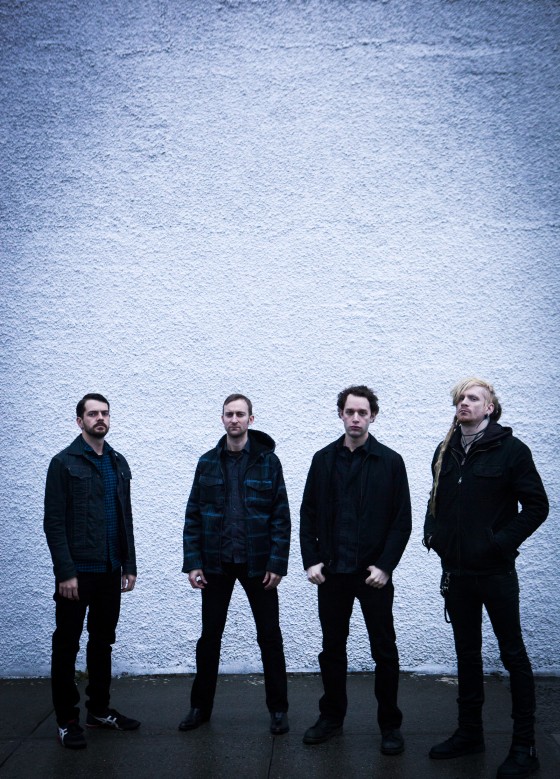 Today the metal practitioners at Invisible Oranges bring you the exclusive premiere of "Mirrors," from investigative industrial doom ensemble BATILLUS. "Mirrors" comes off the band's upcoming new long player entitled Concrete Sustain. Set to drop via Seventh Rule Recordings on March 19, 2013, Concrete Sustain was co-produced by audio sage Sanford Parker at Sound Generation in Manhattan and Hypercube in Chicago and mastered by Collin Jordan at the Boiler Room.
"Concrete Sustain is the sound of modern doom," details Cvlt Nation in an early review of the record, "and each track here holds dear to its heart the essence and core of the doom genre, yet BATILLUS twist it and turn it onto something new and different and a marvel to experience." The Sludgelord opines, "Sounds and noises come at you from nowhere in the vast darkness BATILLUS have offer on here. Concrete Sustain is an album that is truly alive. They have added a dark demented soul to their music and it is not a pretty sight. BATILLUS have taken another almighty step towards greatness," while Invisible Oranges notes, "For many metal acts the word 'industrial' is simply an adjective to throw around. For BATILLUS, who hail from the home of skyscrapers and 24-hour Starbucks known as New York City, this workman-like take on pressurized doom metal is not just another sonic layer, but a sense of being."
Originally conceived in 2007 as an instrumental trio, the BATILLUS lineup expanded in 2009 to add vocals, synthesizers, and samples to the dynamic range of their music. Once described by The New Yorker as "[a] sludgy four-piece that slows monstrous Black Sabbath riffs to a crawl to produce highly textured compositions of droning doom-metal," and commended for their meticulous weave of "searing feedback and blistering riffs" by NPR, the tight and focused songs on Concrete Sustain reflect this expanded palette, which has had a profound effect on the band's writing process.
In related news, BATILLUS will bring their sonic severity to the stage with a month-long run of live rituals set to commence next week at Ultra Lounge in Chicago. Confirmed dates thus far are listed below with additional shows to be announced in the coming weeks. Additionally, you can watch BATILLUS destroy Brooklyn's Saint Vitus Bar opening for YOB earlier this month:
BATILLUS Concrete Sustain Tour 2013
2/28/2013 Ultra Lounge – Chicago, IL w/ Himalayan, Dead Level
3/01/2013 WISCO – Madison, WI w/ Lungs, Mercian, Subjugation
3/02/2013 Medusa – Minneapolis, MN w/ Lungs, Bellow
3/03/2013 The Railyard – Billings, MT
3/04/2013 Reid Center – Young Ballroom – Walla Walla, WA
3/05/2013 The Know – Portland, OR w/ Megaton Leviathan,, Towers
3/06/2013 Highline – Seattle, WA w/ Atriarch, Addaura
3/08/2013 The Swamp – Oakland, CA w/ Kowloon Walled City, Monuments Collapse, Amarok
3/09/2013 5 Star Bar – Los Angeles, CA w/ Kowloon Walled City, Suffering Luna, Destroy Judas
3/10/2013 Trunkspace – Phoenix, AZ w/ Sorxe, Ladybird, Goya
3/12 – 3/16/2013 SXSW TBA
3/17/2013 Mud & Water – Baton Rouge, LA w/ Grave Robbers
3/18/2013 The Feed & Seed – Lafayette, LA w/ Before the Eyewall, Guiltless
3/20/2013 Hidden Hand – Tallahassee, FL w/ Attack Culture, Praying, Rovagug
3/21/2013 Little Kings – Athens, GA w/ Pale Prophet
3/22/2013 Chapel Hill Underground – Chapel Hill, NC w/ Backwoods Payback, Bitter Resolve
3/23/2013 Strange Matter – Richmond, VA w/ Sinister Haze, Backwoods Payback, Men's Room
http://www.batillusdoom.com
http://www.facebook.com/batillus
http://www.seventhrule.com
http://www.facebook.com/seventhrulerec
http://seventhrule.bandcamp.com