[photo by Alexandre Souêtre]
Los Angeles-based exploratory instrumental rock outfit BARROWS has released the first full single from their upcoming third album, Obsidion, set for release in May. The song "Entrada" has been issued through an exclusive stream at MetalSucks.
BARROWS' Obsidion was written and performed by Jim Leonard and Richy Epolito, recorded and mixed by Sean Foye, Jim Leonard, and Richy Epolito. The album was mastered by Eroc from the legendary Krautrock band Grobschnitt and features stark/abstract artwork and photography by Alexandre Souêtre. Emotional and evocative, the band's brand of sci-fi instrumental rock conveys their thoughts and visions without the use of words. Upon hearing Obsidion, the listener may detect fragments of references to progressive, space, kraut, and psych rock acts, citing anything from early King Crimson and Pink Floyd to John Carpenter and Goblin.
Delivering BARROWS' seven-minute-long track "Entrada," a cosmic jam of mammoth proportions, MetalSucks posts with their exclusive premiere of the song, "it's beautifully orchestrated, it's dramatic, it's an engaging listen and it's incredibly sonically pleasing. It's really everything you could ask for – and more – from an instrumental band."
The band offers, "The album depicts the experience of a man who is abducted from earth and brought to Obsidion, a place where dimension is indefinable and the boundaries of human consciousness cease to exist. Entrada is the journey from earth to Obsidion."
Explore BARROWS' "Entrada" only at MetalSucks at THIS LOCATION.
A trailer for the Obsidion LP is also playing HERE.
Obsidion will be released May 26th, digitally through the band, and on deluxe 2xLP via Tonzonen Records. Additional audio samples, preorder info, and more will be released shortly.
BARROWS will support Brant Bjork (Kyuss), Royal Thunder, and Black Wizard at Los Angeles' Echoblex next Monday, May 1st. The following week, the band begins their month-long residency at The Echo, where the band will play a free show every Monday of the month with a bill of area bands of their choice.
BARROWS has also just confirmed a large US tour in support of Obsidion. Beginning directly after the final show of their LA residency, the band will embark on a month-long US tour, which takes them all the way across the country in a counter-clockwise path for a full month. Stand by for additional shows on the expansive itinerary to be confirmed.
BARROWS Tour Dates:
5/01/2017 Echoplex – Los Angeles, CA w/ Brant Bjork, Royal Thunder, Black Wizard
5/08/2017 The Echoplex – Los Angeles, CA *Free Residency Show w/ Facial, QunQ, Moaning
5/15/2017 The Echo – Los Angeles, CA *Free Residency Show w/ VS Colour, Hepa.Titus, Boarchucker
5/22/2017 The Echo – Los Angeles, CA *Free Residency Show w/ Psychic Jiu–Jitsu, Mothdrops, Dream Phases
5/29/2017 The Echo – Los Angeles, CA *Free Residency Show/Album Release Show w/ Hex Horizontal, Starving Daughters, Clear
5/30/2017 The Casbah – San Diego, CA w/ Deep Sea Thunder Beast, Bleak Skies
5/31/2017 The Rebel Lounge – Phoenix, AZ w/ Moons Eat Stars, The Idiot Mars, The Living Receiver
6/01/2017 Sister Bar – Albuquerque, NM w/ Votives, Distances, Chess At Breakfast
6/02/2017 Hole In The Wall – Austin, TX w/ Gold Leather
6/03/2017 TBA – Little Rock, AR
6/04/2017 The Cobra – Nashville, TN w/ Tape Deck Mountain, International Friendly
6/05/2017 TBA – Washington DC
6/06/2017 The Fire – Philadelphia, PA w/ This City Called Earth
6/07/2017 Golden Sounds Bar – Brooklyn, NY w/ Zevious, Hannibal Montana
6/08/2017 Cafe Nine – New Haven, CT w/ Mid Atlantic Title, Western Estates
6/09/2017 O'brien's – Boston, MA w/ Sea
6/10/2017 Monkey House – Winooski, VT w/ Dr. No
6/11/2017 Pauley's Hotel – Albany, NY w/ Yoma, Grimer
6/12/2017 Dinosaur BBQ – Syracuse, NY w/ The Magnetic Pull
6/13/2017 TBA – Cleveland, OH
6/14/2017 Cobra Lounge – Chicago, IL
6/15/2017 Triple Rock Social Club – Minneapolis, MN w/ Hardcore Crayons, Nomia, Goodnight Gorillas
6/16/2017 O'Leaver's Pub – Omaha, NE w/ Low Long Signal, Towering Rogue
6/17/2017 Electric Funeral Fest – Denver, CO
6/19/2017 TBA Salt Lake City, UT
6/20/2017 TBA Boise, ID
6/21/2017 The Valley – Tacoma, WA w/ Fang Chia
6/22/2017 Gabe's House – Bainbridge Island, WA w/ Weeed
6/23/2017 Victory Lounge – Seattle, WA w/ You May Die In The Desert, Chrome Lakes
6/24/2017 Turn, Turn, Turn Records – Portland, OR w/ U Sco, Stars' Blood
6/25/2017 Old Nick's Pub – Eugene, OR w/ Cambrian Explosion, Paleons
6/27/2017 Jub Jub's Thirst Parlour – Reno, NV w/ Weight Of The Tide
6/28/2017 Starlite Lounge – Sacramento, CA w/ (Waning), Axiom
6/29/2017 TBA – Oakland, CA
6/30/2017 Subrosa – Santa Cruz, CA w/ Cosmic Reef Temple, Oort Cloud
7/01/2017 Hemlock Tavern – San Francisco, CA w/ Floral, Wander
Formed in Syracuse by Jim Leonard and Richy Epolito, before the two relocated to Los Angeles, BARROWS recruited guitarist Ryo Higuchi and bassist Brock Haltiwanger to flesh out the live lineup. Having proven themselves to be a formidable force in the realm of exploratory rock through two prior albums – 2011's Imprecari Island, and 2014's Red Giant – BARROWS reaches further into the depths of consciousness on Obsidion. Boasting driving passages amidst massive expanses of powerful cosmic and atmospheric exploration, Obsidion bears an indescribable energy at its core, though the final product is implemented with a calculated coolness.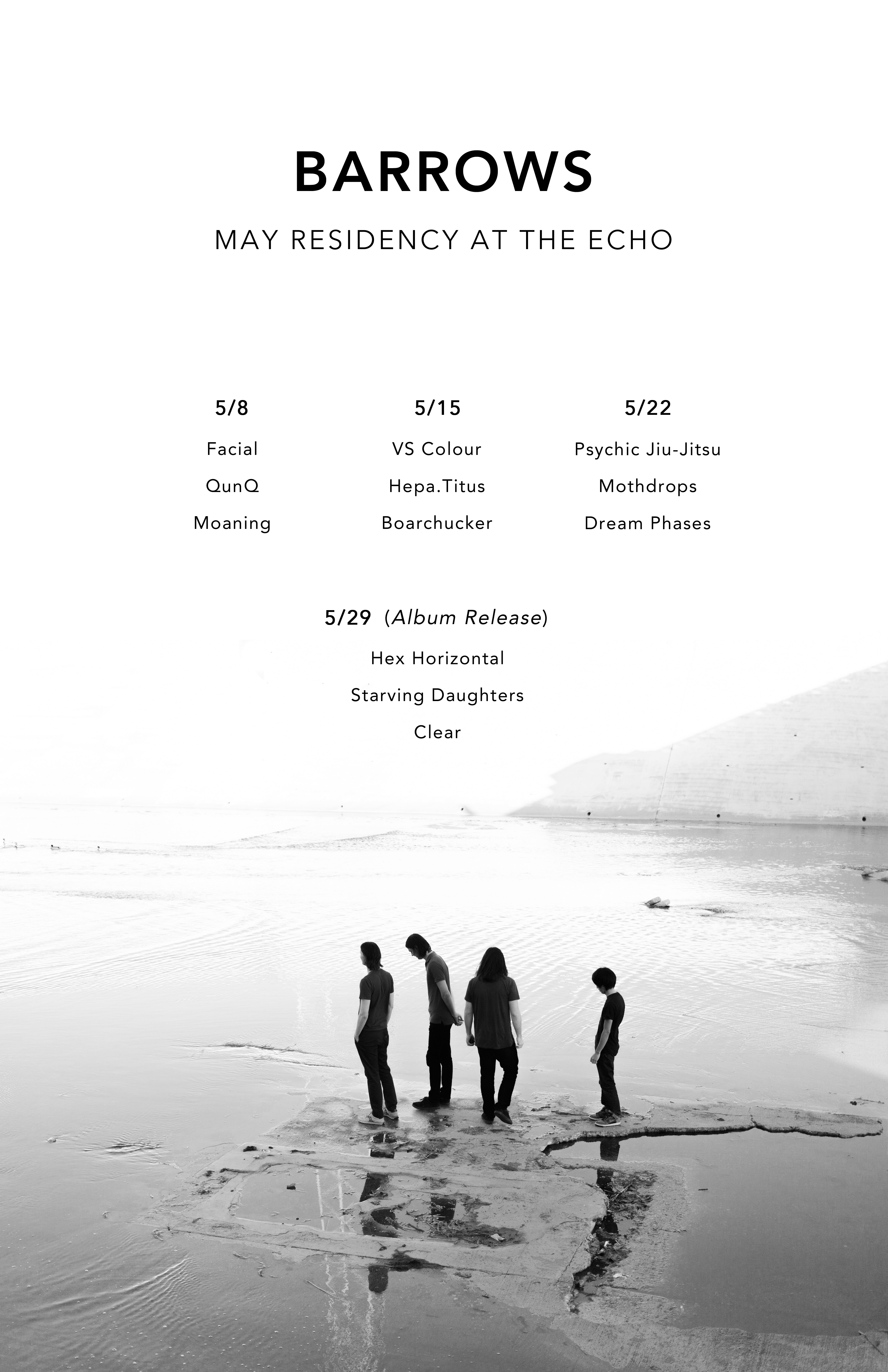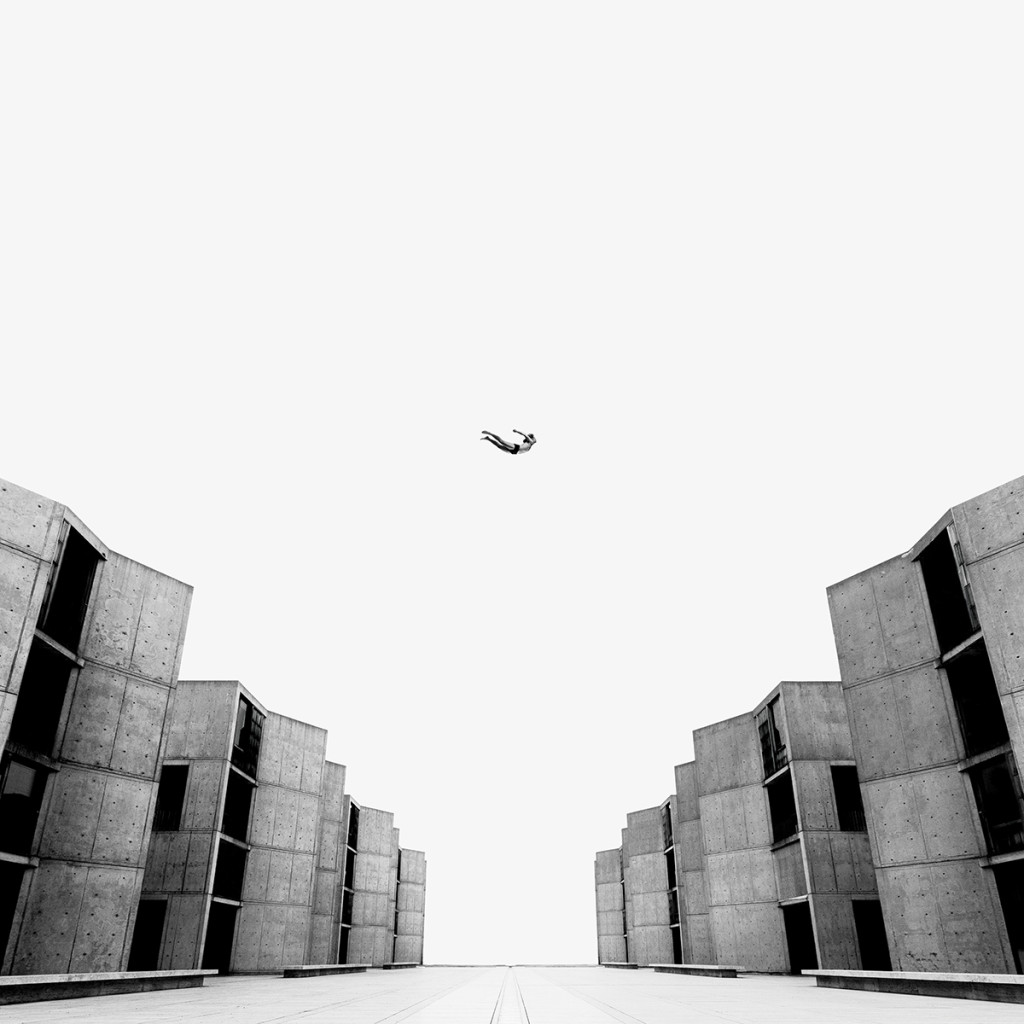 http://www.barrowstheband.com
https://barrowstheband.bandcamp.com
https://www.facebook.com/BarrowsTheBand
https://www.instagram.com/barrowstheband
https://www.tonzonen.de
https://www.facebook.com/Tonzonen
https://www.instagram.com/tonzonenrecords