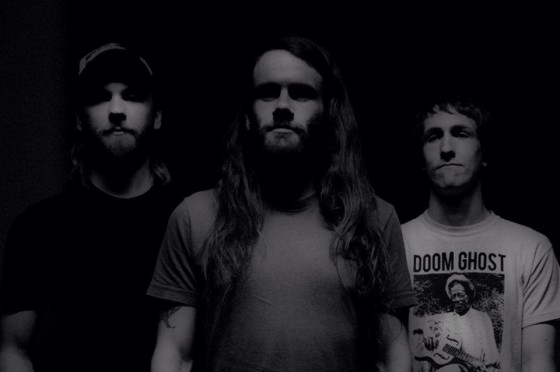 With the release of BARING TEETH's blistering Ghost Chorus Among Old Ruins full-length now less than one week away, today Revolver Magazine offers up a stream of the release in its entirety.
Hailing from Dallas, Texas, BARING TEETH spews forth an immersive, compelling, and wholly haunting brand of audio sickness fusing seemingly conflicting attributes — streamlined songwriting and dizzying technicality, ambience and brute force, density and angularity, order and chaos — into a fully realized, cohesive listening excursion. Recently designated one of the best metal bands in North Texas by The Dallas Observer, the band's forthcoming Ghost Chorus Among Old Ruins long player is a true genre-bending masterwork sure to floor metallers of all walks. No Clean Singing notes, "Ghost Chorus Among Old Ruins does more than throw a fresh coat of paint on an old style; it seeks to question and re-define the depths and mission of death metal. In the process, the album submerges you in a haunting despair that brings a cold clinical chill to your bones and its mesmerizing effect lingers long after the music ends. Feeding you misanthropy that blooms kaleidoscopically, it teaches that walls exist only to be mutated and destroyed until the newly scarred forms resemble nothing the mind can grasp with comfort." Gear Gods gushes, "BARING TEETH's sophmore slump-defier is Ghost Chorus Among Old Ruins. It builds upon the Gorguts-inspired fractured take on extreme metal that the trio executed on so well with their initial release, but adds to it a much more oppressive atmosphere not unlike Deathspell Omega's busier moments. But in contrast with many of the band's peers, BARING TEETH have been sonically captured with a big, roomy, natural tone that makes the haunting moments gel in a way that scares the bejesus out of me when I listen with the lights off. The sound is akin to what you'd get if a couple seasoned jazz cats struck up an impromptu jam, and were then promptly possessed by the tainted soul of Lucifer, the rebel king of Hell."
Elaborates guitarist/vocalist Andrew Hawkins of the recording, "This album was a really difficult one to make. We pushed ourselves as songwriters and as musicians, but I think the extra focus we placed on crafting a complete, focused album really paid off. Every song plays into the larger whole while still being brutal and catchy, and we wrote much more concertedly this time around. Our goal was to make an album that pushes the extremes of [debut full-length] Atrophy as far as possible, and we're really happy with the result."
Hear for yourself, courtesy of Revolver Magazine, at THIS LOCATION.
BARING TEETH will levy their sonic abrasions in the coming weeks on a string of live assaults through Texas and Louisiana with additional onstage debauchery in the plotting stages. Stay alert.
BARING TEETH:
12/05/2014 The Lost Well – Austin, TX
1206/2014 The Scorpion's Den – Midland, TX
12/13/2014 Liquid Lounge – Dallas, TX
12/20/2014 Gatsby's Mansion – Denton, TX
01/09/2015 TBA – New Orleans, LA
01/10/2015 Hangar 21 – Shreveport, LA
Previously known as Soviet, BARING TEETH is an act formed by three musicians having collectively spent time playing in a plethora of acts including Cleric, Between The Buried And Me, Broadcast Sea and others. Ghost Chorus Among Old Ruins was captured by Alex Bhore (This Will Destroy You) at Elmwood Recording, mixed by Keith Souza and Seth Manchester at Machines With Magnets (The Body, Battles, Daughters), and mastered by Alan Douches (The Dillinger Escape Plan, Converge, Swans).
Willowtip Records will release Ghost Chorus Among Old Ruins on November 25th, 2014. Preorder your copy RIGHT HERE.

http://www.baringteethmetal.com
http://www.facebook.com/baringteeth
http://www.twitter.com/baringteeth
http://www.willowtip.com
http://www.facebook.com/willowtip
http://www.willowtip.bandcamp.com
http://www.twitter.com/Willowtip