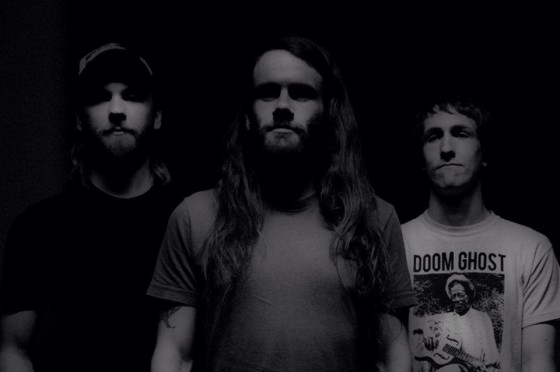 [Photo by: Courtney Scholari]
Ghost Chorus Among Old Ruins is the forthcoming new long player from Dallas-based avant/tech death metal trio, BARING TEETH. Immersive, hypnotic, and haunting, the album melds seemingly opposing characteristics – streamlined songwriting and dizzying technicality, ambience and brute force, density and angularity, order and chaos – into a fully realized, cohesive listening experience. In celebration of its release, No Clean Singing offers up sixth track, "Dripping Sun," for public consumption.
Comments guitarist/vocalist Andrew Hawkins of the track, "'Dripping Sun' is probably my favorite song from the new album. It has strong dynamics but is still really heavy, and it has off-kilter rhythms while still being coherent and catchy. It's a good summation of what we hoped to achieve from this album when we first started writing it."
Adds No Clean Singing, "Ghost Chorus Among Old Ruins does more than throw a fresh coat of paint on an old style; it seeks to question and re-define the depths and mission of death metal. In the process, the album submerges you in a haunting despair that brings a cold clinical chill to your bones and its mesmerizing effect lingers long after the music ends. Feeding you misanthropy that blooms kaleidoscopically, it teaches that walls exist only to be mutated and destroyed until the newly scarred forms resemble nothing the mind can grasp with comfort. Instead, you get segments like the beginning of 'Dripping Sun' that wouldn't be out of place at all stylistically on the genius and madness of Ephel Duath's Pain Necessary To Know. If there is a paramount purpose to 'Dripping Sun,' it's to say fuck you to any and all preconceived notions of 'been there, done that,' and to dispel the incorrect adage that there is nothing new under the sun."
Twist your cranium to the sounds of "Dripping Sun," now playing at THIS LOCATION.
Previously known as Soviet, BARING TEETH is an act formed by three musicians having collectively spent time playing in a plethora of acts including Cleric, Between The Buried And Me, Broadcast Sea and others. Following their initial demo, Willowtip signed the band for the 2011 release of their debut album, Atrophy. Ghost Chorus Among Old Ruins shows BARING TEETH sharpening its attack, the unsettled aggression of previous material heightened to a manic, primal belligerence. Recorded by Alex Bhore (This Will Destroy You) at Elmwood Recording, mixed by Keith Souza and Seth Manchester at Machines With Magnets (The Body, Battles, Daughters), and mastered by Alan Douches (The Dillinger Escape Plan, Converge, Swans), Ghost Chorus Among Old Ruins takes the extremes of BARING TEETH's debut to new levels while showcasing a singular vision: no compromise, no respite.
Willowtip Records will release Ghost Chorus Among Old Ruins on November 25th, 2014. Preorder your copy RIGHT HERE. You can also sample "Mountain" at the Willowtip BandCamp page HERE.
For coverage of BARING TEETH, worldwide, contact liz@earsplitcompound.com.
http://www.baringteethmetal.com
http://www.facebook.com/baringteeth
http://www.twitter.com/baringteeth
http://www.willowtip.com
http://www.facebook.com/willowtip
http://www.willowtip.bandcamp.com
http://www.twitter.com/Willowtip