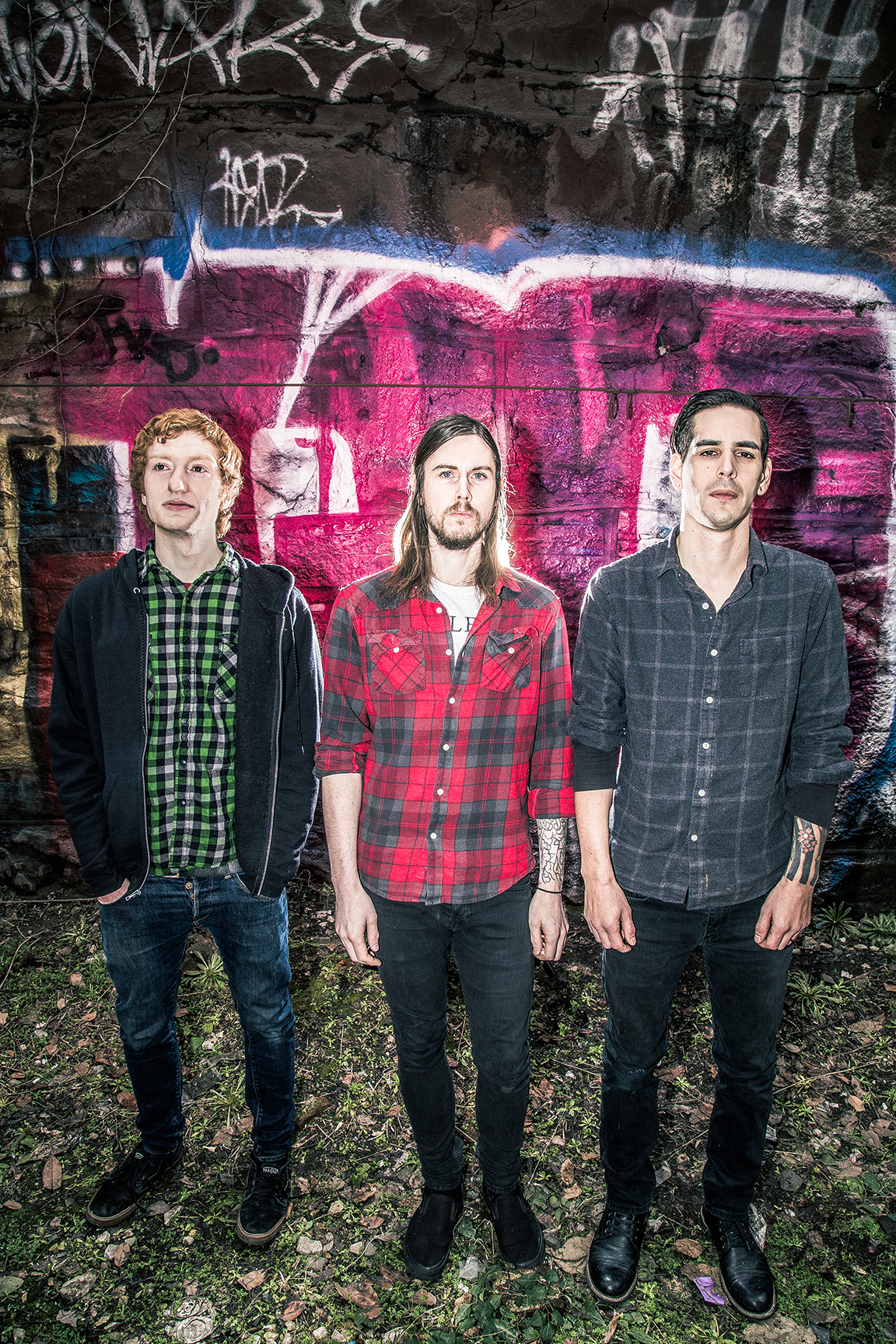 [photo by Eli Reeder]
Decibel Magazine is now streaming the entire Stella Porta second album from Philadelphia's BARDUS, unloading the avalanche of intoxicated sludge residue upon the masses as the record is prepared for proper release this week.
The seven tunes bring on Stella Porta provide a nearly half-hour trip, merging heavy, groove-drenched sludge, cosmically-intoxicated psychedelia, and throat-clenching noise rock riffage, which more than appropriately fits the roster of the band's new label home, Clermont-Ferrand noisemerchants Solar Flare Records. BARDUS shows how to faultlessly tread the turf between worlds, simultaneously delivering accessible, melodic, alternative songwriting, while also retaining plenty of harsh, gnarly, noise-rock attributes.
With the featured stream, the BARDUS trio offers, "We chose to work with Steve Poponi at The Gradwell House Studio in Haddon Heights, New Jersey to record this record. We had been sitting on these songs for a while and were excited to get them out. This record is an extension of who we are as people, and as a band. We use this band as an escape and outlet from real life and try to create our own world of sounds in the process. We wanted to make a heavy record without offending people's ears, but more so, inviting them in."
Stream BARDUS' Stella Porta in full now at Decibel Magazine HERE.
Stella Porta will be released on CD and digitally through Solar Flare Records this Friday, April 1st; preorder packages are available HERE.
This week also sees BARDUS sparking up their next session of touring in conjunction with the release of Stella Porta. The new trek will see the band playing in Columbia, South Carolina on March 31st, then meeting up with The Glorious Rebellion the following day for a ten-city run together up and down the East Coast through April 10th. New post-tour shows will also see BARDUS supporting Mutoid Man, Yautja, and others around their hometown. Stand by for additional tour dates to be announced.
BARDUS:
3/31/2016 New Brookland Tavern – Columbia, SC
4/01/2016 Midtown Speakeasy – Tallahassee, FL w/ The Glorious Rebellion
4/02/2016 Drunken Unicorn – Atlanta, GA w/ The Glorious Rebellion
4/03/2016 The Cave – Chapel Hill, NC w/ The Glorious Rebellion
4/04/2016 The Golden Pony – Harrisonburg, VA w/ The Glorious Rebellion
4/05/2016 The Sidebar – Baltimore, MD w/ The Glorious Rebellion
4/06/2016 The Waiting Room – Philadelphia, PA w/ The Glorious Rebellion
4/07/2016 The Hook Up – Virginia Beach, VA w/ The Glorious Rebellion
4/08/2016 Wonderland – Richmond, VA w/ The Glorious Rebellion
4/09/2016 Scrap Iron Gallery – Wilmington, NC w/ The Glorious Rebellion
4/10/2016 HBGB – Brunswick, GA w/ The Glorious Rebellion
4/27/2016 Underground Arts – Philadelphia, PA w/ Mutoid Man
5/29/2016 Kung Fu Necktie – Philadelphia, PA w/ Yautja, Whoresnation
http://www.bardus.bandcamp.com
http://www.facebook.com/BardusMusic
http://www.solarflarerds.blogspot.com
http://www.facebook.com/solarflarerecords
http://www.solarflarerds.bigcartel.com