[photo by Łukasz Jaszak]
Polish death metal act BANISHER has issued an official video for "Devil In ISO 5," one of the most intense tracks on their impending fourth album, Degrees Of Isolation, which is set for late February release through Selfmadegod Records. The new video makes its public debut through an exclusive premiere hosted by Decibel Magazine.
Recorded by BANISHER's powerful lineup including members and ex-members of Decapitated, Belphegor, Vital Remains, Hate, Redemptor, and Shodan, Degrees Of Isolation delivers eight new songs totaling forty minutes of pulverization. The album was recorded at Invent-Sound Studio in Bydgoszcz, Poland and the cover art created by Łukasz Jaszak.
The "Devil In ISO 5" video was filmed and produced by Łukasz Jaszak, and features actors Szczepan Å»ygadÅ'o and Paulina Skowron in addition to BANISHER's Szczepan Inglot, Hubert WiÄ™cek, Piotr KoÅ'akowski, and Eugene Ryabchenko.
Writes Hubert Więcek, "'Devil In ISO 5' is a song about a mental inmate who was manifesting his displeasure of being held in custody by his insane behavior in jail. Even despite being held in solitary,
his outrageous screams were driving crazy all other inmates. He was screaming, threatening warden and officers, destroying his cell, throwing food and feces all around, arguing with other inmates for tenty hours in a row until he passed out. After regaining consciousness, the whole story repeated.
In the video the main character playing the 'Devil' is wearing original clothes which are worn by inmates in LA County Jail."
Decibel Magazine offers with the video's premiere, "The term 'extreme' metal has a lot of stylistic markers: high volume, high distortion, high intensity. But beyond the sound, there's often an element of extremity to the lyrics that the music then propels forward. Poland's BANISHER propels the listener into the hell of solitary confinement in their video for 'Devil in ISO 5.' The scenes of pain and torment are blended with rapid cuts of the band delivering a sonic assault chugs, riffs and screams."
Watch BANISHER's intense video for "Devil In ISO 5" at Decibel RIGHT HERE.
BANISHER's Degrees Of Isolation will be released through Selfmadegod Records February 29th, on CD and all digital platforms. Watch for additional audio samples, preorder links, and more to be issued in the coming days. Also see the previously released "Echoes" lyric video HERE.
Since their 2005 formation, BANISHER has delivered a captivating style of brutal death metal loaded with technical precision and an experimental/sci-fi flair, releasing albums through Torn Flesh Records, Unquiet Records, Deformeathing Production, as well as several independent demos and EPs. Their fourth album, Degrees Of Isolation appears to be the most diverse, mature, and both musically and technically advanced album they have ever captured. The lyrics are based on true events, which makes the music on Degrees Of Isolation all the more dark and depressive. Every song tackles the feelings and emotions experienced throughout incarceration, being held in custody, and after being acquitted.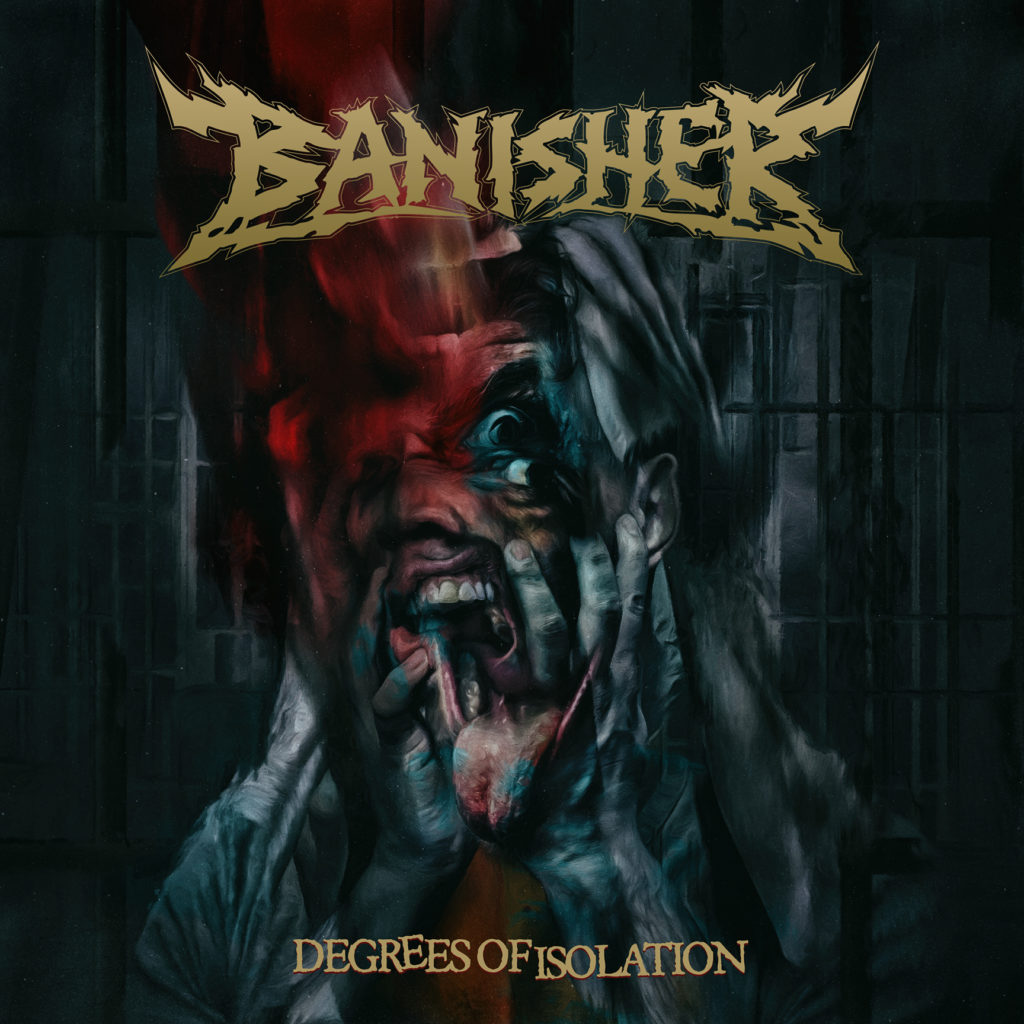 https://www.facebook.com/banisherofficial
https://www.instagram.com/banisher_official
https://banisher.bandcamp.com
http://www.selfmadegod.com
http://www.facebook.com/selfmadegod
http://www.selfmadegod.bandcamp.com
http://www.instagram.com/selfmadegod_records
http://www.soundcloud.com/selfmadegodrecords
http://www.youtube.com/user/SelfmadegodRecords