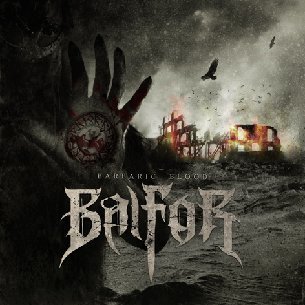 Ukrainian black metallers BALFOR are proud to unveil the cover art and track listing of their upcoming Pulverised debut Barbaric Blood. Designed by Martin Saavedra at Uruguay's Spina Studio (Aborted, Daath, Divinity etc.), the cover is at once dark, brooding and apocalyptic.
Barbaric Blood was recorded at Blacklight Studio, Ukraine in August 2009 and mixed and mastered by Shaddar.

Barbaric Blood Track Listing:
1. "From The Ashes (…The Beginning)"
2. "Behold My Hate!"
3. "Shadow Of My Raven Wings"
4. "In A Thunder Of Ancient Glory"
5. "Pure Barbaric"
6. "Light's Demise"
7. "Kingdom's Blood"
8. "Voices Of Wilderness"
9. "The Perfect Fire"
Comments BALFOR frontman/guitarist Thorgeir of the cover: "It's always a long journey making an album. First it has to be written and rehearsed. Then it has to be recorded and mastered, and that's where most people think it ends. But it doesn't quite end there. An important factor that everyone forgets about is the artwork, and yet this is often what people notice first. So we are particularly pleased that the artwork for Barbaric Blood has been so well executed by Martin of Spina Studio. He has captured both the concept behind the album, and the band itself."
BALFOR will release Barbaric Blood later this year via Pulversied. Further info TBA.
BALFOR:
Thorgeir — Vocals / Guitars
Dragon-T — Lead Guitars
Berowar — Bass
Erland — Drums

http://www.myspace.com/balforhorde
http://www.balfor.info
http://www.pulverised.net