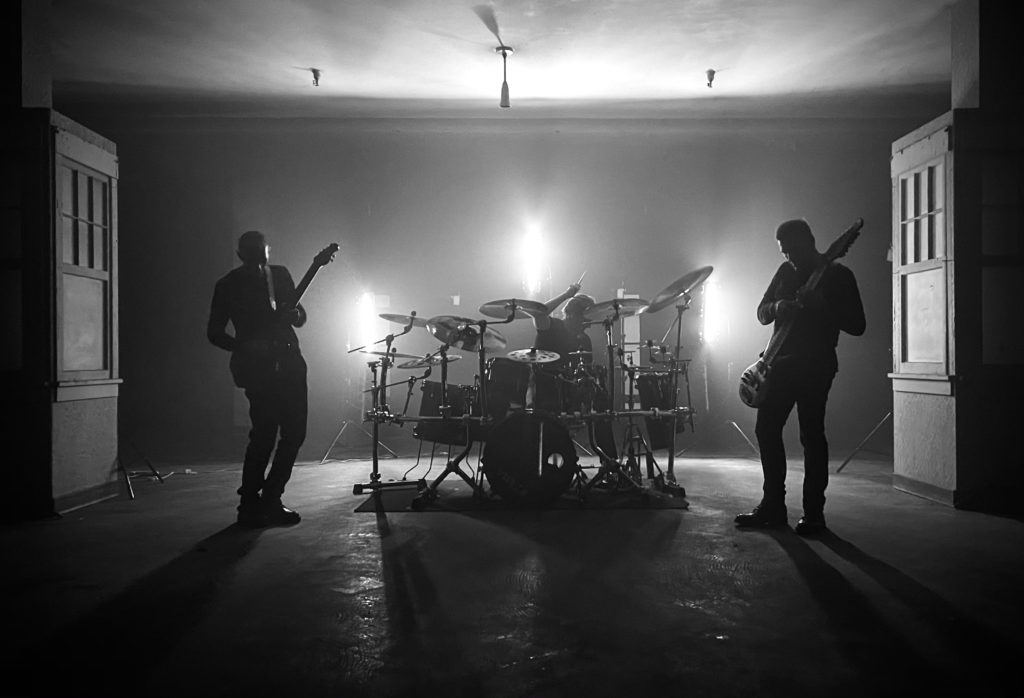 photo by Eric James Walsh
Prog Magazine is hosting the exclusive premiere of Chicago instrumental metal trio AZIOLA CRY's official video for "And Cowards." The video was created for the opening track from the band's blistering third album, The Ironic Divide, set for release through progressive metal label Sensory Records at the end of March.
AZIOLA CRY's The Ironic Divide was recorded by Jim Siwek at Ultralownoise Studio and Transient Sound, mixed by Steven Gillis at Transient Sound, mastered by Ted Jansen at Sterling Sound (Alice In Chains, Lamb Of God, Gijora), and completed with artwork and design by Micka Klauck.
The band's Jason Blake reveals, "The first two albums started with soundscapes, so I intentionally wanted this one to begin differently. I like the contrast of my solo with the rest of the song. This very minimal Warr Guitar and drums section creates a sonic break that helps the song to build up to its climax. For the video, I once again worked with Micka Klauck and Jeremy Bessoff to create the visuals for the music. Micka created a unique drawing of the character from the cover. Jeremy used this art along with my story concept to produce an animation with a deeper, underlying meaning. For the band portion, we rented out an old, dilapidated department store and spent most of the night filming with Eric James Walsh in the freezing Chicago weather."
See AZIOLA CRY's "And Cowards" video first only at Prog Magazine RIGHT HERE.
Laser's Edge division Sensory Records will release The Ironic Divide on CD and digital platforms on March 26th. Find preorders at the label webshop HERE and Bandcamp – the standard version HERE and the 24-bit hi-res version HERE.
With Mike Milaniak on guitar, Jason Blake on Warr guitar, and Tommy Murray on drums, AZIOLA CRY closes a nearly fourteen-year gap between records in 2021 with their third album, The Ironic Divide. Boasting their heaviest and most intricate work yet, the forty-eight-minute album features four songs which tell the story of one person's final descent. There are two types of people in this world. There are those who do good for others and make a positive contribution to society in some way. Then, there are those who do evil and hurt fellow humans. There is no rationale behind their behavior. They are cowards. This is their story.
AZIOLA CRY has performed with Behold… The Arctopus, Don Caballero, Tiles, Far Corner, and many others, while appearing at progressive rock festivals including M.A.R.S. Fest. The band released their debut album, Ellipsis, in 2005, followed by Ghost Conversations in 2007, after which they went wholly dormant, until now.
https://www.aziolacry.com
https://www.instagram.com/aziolacry
https://www.facebook.com/aziolacrymusic
https://twitter.com/aziolacry
http://www.lasersedgegroup.com
https://lasersedge.bandcamp.com
http://www.facebook.com/TheLasersEdge
http://www.twitter.com/thelasersedge