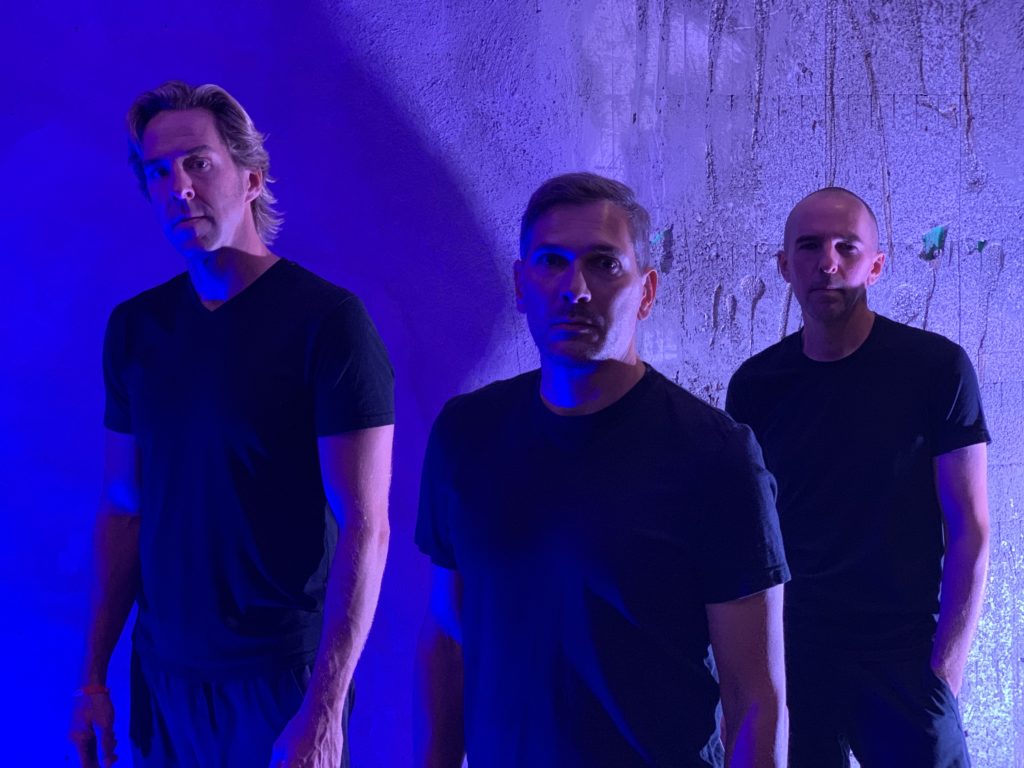 photos by Cristina Rivas
Chicago-based instrumental metal trio AZIOLA CRY presents a short biopic video on the creation of their intense third album, The Ironic Divide, which was released in March through Sensory Records.
With Mike Milaniak on guitar, Jason Blake on Warr guitar, and Tommy Murray on drums, AZIOLA CRY formed in 2004. The band released their debut album, Ellipsis, in 2005, followed by Ghost Conversations in 2007. Along the way, the band performed live alongside Behold… The Arctopus, Don Caballero, Tiles, Far Corner, and many others, while appearing at progressive rock festivals including M.A.R.S. Fest. In 2007, the band went dormant, and remained that way for nearly fourteen years, reforming two years ago and beginning work on what would be their third record, The Ironic Divide.
The Ironic Divide delivers AZIOLA CRY's heaviest and most intricate work yet, boasting forty-eight minutes of material through four massive tracks. The songs tell the story of one person's final descent. There are two types of people in this world: there are those who do good for others and make a positive contribution to society in some way, and there are those who do evil and hurt fellow humans, with no rationale behind their behavior. They are cowards. This is their story.
The Ironic Divide was recorded by Jim Siwek at Ultralownoise Studio and Transient Sound, mixed by Steven Gillis at Transient Sound, mastered by Ted Jansen at Sterling Sound (Alice In Chains, Lamb Of God, Gijora), and completed with artwork and design by Micka Klauck.
In the new making-of video, the members of AZIOLA CRY break down every aspect of the album's creation, including the gear implemented, the recording process, insight into the record's concept, and more, in a personal and intimate delivery.
Watch AZIOLA CRY's video on the making-of The Ironic Divide now at THIS LOCATION.
The Ironic Divide is available on CD via the label webshop HERE and at all digital providers including Bandcamp HERE, Spotify HERE, iTunes HERE, and Amazon HERE. Also watch the official video for "And Cowards" HERE.
Watch for additional videos and more from the band to post over the weeks ahead, and for live performances to be announced later in the year as shows continue to make their return.
"If skronky, progressive metal bands like Dysrhythmia float your boat, you're going to need to hear this one. Powerful, bass-heavy riffs collide with jarring rhythms, weaving in and out of odd time signatures for an effect that's as discomfiting as it is soothing: like a little kid spinning round and round in circles only to get dizzy, fall down, then get back up and do it again, you'll be craving more of AZIOLA CRY's head-spinning riffery…" – MetalSucks
"…while their instrumental brand of musical expression deals heavily in ideas with some degree of precedence in their adopted style's history, the abstract character of how they approach structuring their compositions and presenting them as a finalized product stands apart from most that would be understood as the mainstays of progressive metal." – Sonic Perspectives
"…you can't fail to be impressed by the superb musicianship of this trio." – The Progspace
"I can confidently say that this is one of the best instrumental albums I have ever listened to in my life. Honestly, I cannot get enough of the music presented on this release. The sheer technicality, complexity, and heaviness of it all blows my mind. Do not sleep on this album, you will regret it." – Cave Dweller Music
https://www.aziolacry.com
https://www.instagram.com/aziolacry
https://www.facebook.com/aziolacrymusic
https://twitter.com/aziolacry
http://www.lasersedgegroup.com
https://lasersedge.bandcamp.com
http://www.facebook.com/TheLasersEdge
http://www.twitter.com/thelasersedge