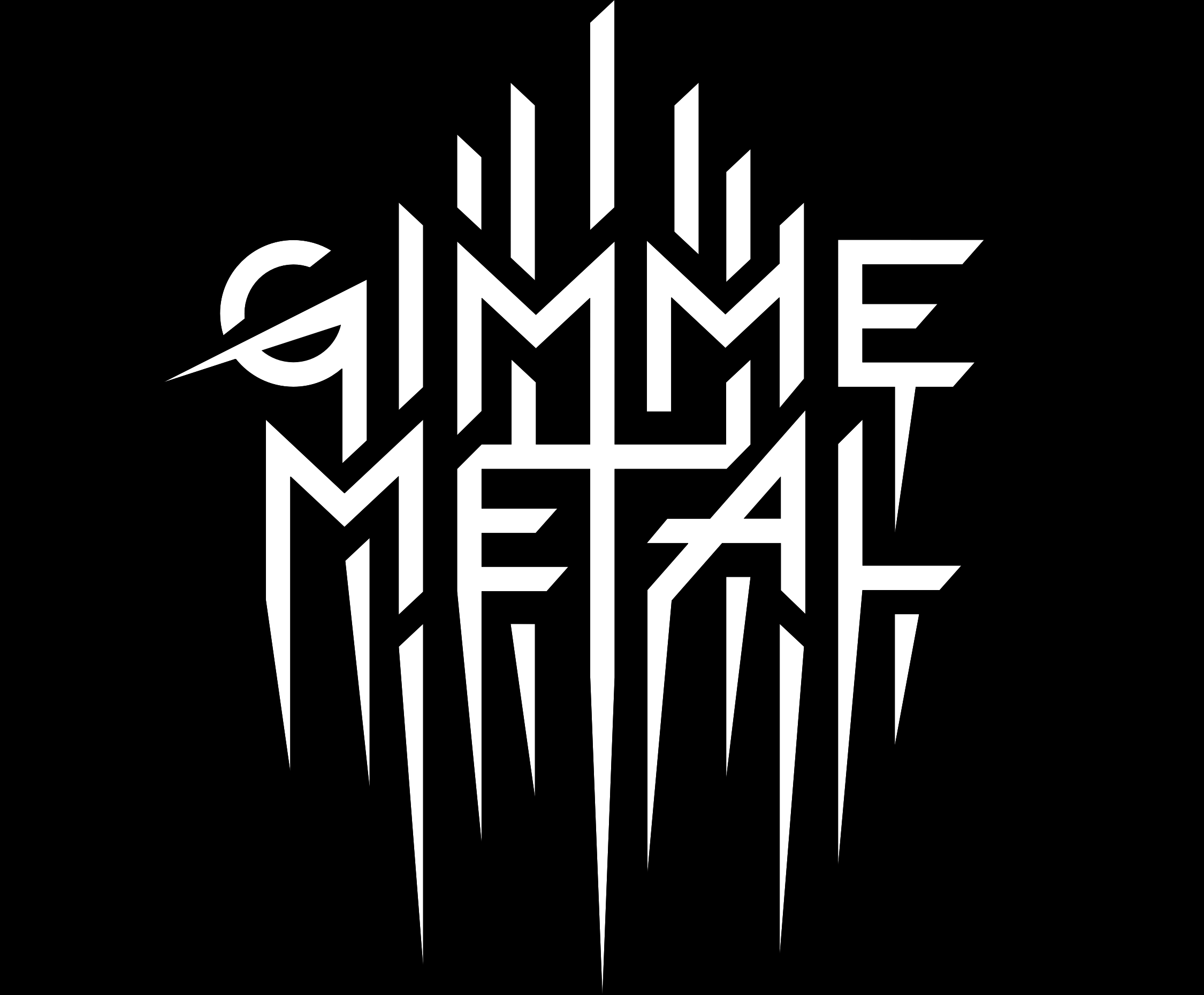 Each week, GIMME METAL publishes its radio chart listing the top 40 tracks played on the station. Already the best metal discovery service online, the GIMME METAL chart is a powerful tool for listeners, labels, and artists for staying up to date on the best new metal released by established greats and up-and-coming underdogs, all handpicked by GIMME's knowledgeable DJ roster and editorial team.
GIMME METAL Chart – May 24th, 2021:
Withered – "Casting In Wait"
Amenra – "De Evenmens"
Red Fang – "Funeral Coach"
At The Gates – "Spectre Of Extinction"
Candlemass – "Dark Are The Veils Of Death (Lockdown Session)"
Vexed – "Misery"
Spectral Wound – "Soul Destroying Black Debauchery"
Kataan – "Abyss"
Yautja – "The Spectacle"
Full Of Hell – "Ashen Mesh"
Click HERE for the full Top 40 List.
This week on GIMME METAL: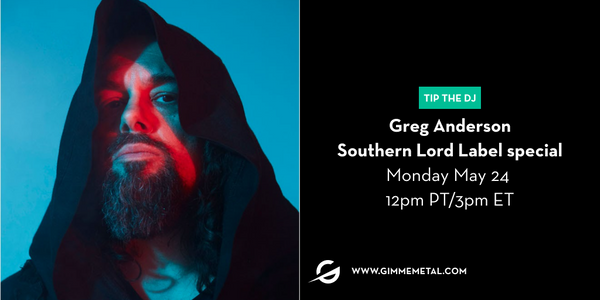 Southern Lord Label Special – The California-based Southern Lord imprint arrived in 1998 and quickly became ground zero for international doom and drone. Greg Anderson also rattled pacemakers worldwide founding Sunn O))) with Stephen O'Malley, whose high dB low end throttle cracked many a venue chandelier over the last two decades. In the meantime, Southern Lord expanded its reach into all subgenres of metal including black, experimental, stoner, hardcore, and crust spotlighting such luminaries as Pelican, Earth, Xibalba, Goatsnake, Power Trip and many more. Don't miss this two-hour Southern Lord deep dive (with giveaway swag to boot) and don't forget to join Anderson in the Live Chat!
GIMME 5 with DJ Jet – DJ Jet brings us another wicked GIMME 5 episode interviewing five killer bands while spotlighting five top notch albums! This month she sits down with Crypta's Fernanda Lira (Echoes Of The Soul), Red Fang's Bryan Giles (Arrows), Pessimist's Kelly Mclauchlin (Cult Of The Initiated reissue), Pestilence's Patrizio Mameli (Exitivm), and Vulture's Stefan Castevet (Dealin' Death). Don't miss two hours of raging tunes, captivating interviews, and good hangs with DJ Jet in the Live Chat this Tuesday at 5:00pm ET / 2:00pm PT.
Colin Marston's Fruits Of The Quarantine Guest DJ Special – Producer of artists such as Jarboe, Panopticon, Liturgy, Kayo Dot, and Orthrelm, and member of such notable combos as Krallice, Gorguts, and Dysrhythmia, NYC-based Colin Marston is a busy cat. His latest release, Hapeleptic Overtrove, with Behold…The Arctopus (joined by fellow musicians Mike Lerner and Jason Bauers) turns the genre-meter upside down on its head with a splattered, progressive tech-death channelling of every influence from Darkthrone to Krzysztof Penderecki into epic compositions that climb to dizzying heights. Welcome Marston to his latest guest DJ special on GIMME's Fruits Of The Quarantine where he'll bring listeners up to speed with what he's conjured over the last year.
This week on GIMME METAL TV: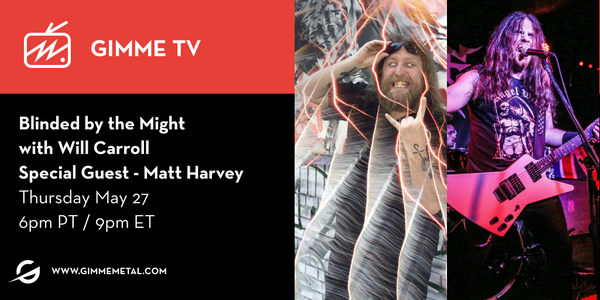 Blinded By The Might with Will Carroll Episode 2 – He's the drummer of Death Angel and Hammers Of Misfortune and host of Monday's Fool Metal Jacket on GIMME METAL! Will Carroll is back on GIMME METAL TV with a new episode of Blinded By The Might and the episode features a guest appearance by guitarist/vocalist Matt Harvey (Exhumed, Gruesome, Pounder)! It's gonna be a fun one filled with badass metal music videos from Matt Harvey's vast discography and so much more. And don't forget to join Carroll in the Live Chat!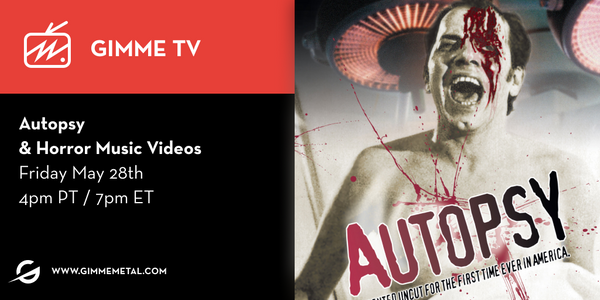 Autopsy (1975) + Horror-Themed Music Videos – It's the last airing of the investigative gorefest b-horror known as Autopsy! Originally titled Macchie Solari (translating to "sunspots" in Italian) and also known as The Victim and Corpse, Autopsy is a 1975 Italian giallo-horror film directed by Armando Crispino. It achieved cult status for its truculent morgue scenes. IMDB synopsis: "A young pathology doctor interning in a morgue tries to cope with a wave of suicides. A woman she just met kills herself, but she suspects someone close to her might have killed her." Grab your popcorn and join everyone in the Live Chat getting scared and laughing while following the young doctor's hunt for clues surrounding those suicides that may not be what they seem! Enjoy some gore-laced, horror-themed music videos from GIMME's label partners as well!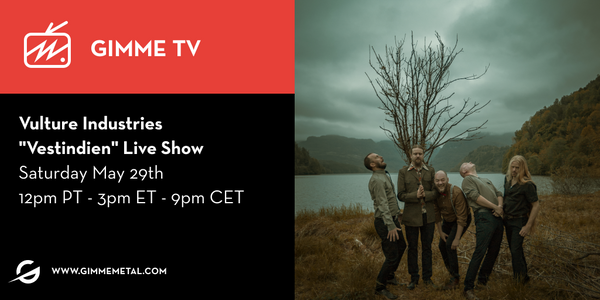 Vulture Industries Live At Vestindien – GIMME METAL TV will not rest on bringing the concert experience to your home screen! Season Of Mist offers up this stellar performance from premier avant-garde / progressive metal unit Vulture Industries. Said frontman Bjørnar E. Nilsen upon its initial unveiling, "For no other reason than the anguishing prospect of being bored to death by the dull reality of Covid-19 and a deep philanthropic urge to keep you all amused, we give you Vulture Industries live from the historic location Vestindien. Now a museum, this was once Bergen's own 'House Of The Rising Sun.' This evening we dub it 'House Of The Irregular' and invite you all to join us by the docks for an hour of musical rarities, new and old." This performance rings the sound of 5150 and Mesa Boogie amps throughout a beautifully rustic jam space. Join the Live Chat for this captivating, house-shaking performance!
Upcoming on GIMME METAL:
6/01 Skeletal Remains
6/02 Cirith Ungol
6/03 Senyawa Indonesian Metal Special
6/04 Vulture
6/05 Burning Witches
6/07 Red Fang
6/09 Yautja
6/11 Slam Spectacular with Andee Connors & Anthony Bartkewicz
6/14 Michael Alago
6/18 Frozen Soul
6/30 Withered
7/02 Pestilence
7/07 Autopsy
7/13 The Lion's Daughter
7/19 Fulci
7/23 Tee Pee Records
8/18 Hooded Menace
Don't miss it! Visit GIMME METAL: http://gimmemetal.com.
About GIMME METAL:
Founded by digital music veterans from Apple Music, Google Play, Beats Music, and Napster, parent company GIMME Radio builds highly engaged communities for the passionate fan on a genre-by-genre basis. The company launched its first community in June of 2017: the world's first 24/7 metal-focused service. Fans tune in to hear world class DJs playing metal they can't hear anywhere else – for free. The GIMME METAL app and streaming radio service allows the fans and the DJs/artists to communicate directly with one another in a live feed, in real-time, while they listen. Its roster of 70-plus DJs includes Dave Mustaine of Megadeth, Jessica Pimentel, star of Orange Is The New Black, Brian Posehn, and Randy Blythe of Lamb Of God, among many others.
http://gimmemetal.com
http://www.facebook.com/gimmemetal
http://twitter.com/gimmeradio
http://www.instagram.com/gimmeradio