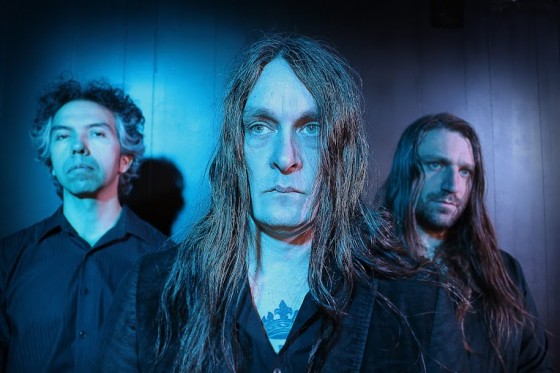 An Unending Pathway is the forthcoming new full-length from Pacific Northwest death/doom conjurors, ATRIARCH. A living entity comprised of four parts, together the mesmerizing collective summon forth haunting atmospheres and droning avalanches of ritualistic sludge, offering catharsis through sonic ritual. Merging death rock, doom, black metal, post punk and psychedelic drone/noise, ATRIARCH stand among one of the most creative and compelling heavy music bands of the twenty-first century.
In celebration of An Unending Pathway's imminent unveiling, today the gate keepers at Vice Magazine's music portal, Noisey, offer up fourth movement "Bereavement" for public consumption.
Relays Noisey: "On this new record, the Portland quartet harness the crippling power of doom and hold it tight in death's cold embrace, leaning hard towards moody gothic horror and injecting spare moments of black metal possession and glimmers of psychedelia. There's a lurching, ritualistic feel to the proceedings, and a dire hopelessness in the vocals that doesn't let up for a moment. It's death rock that OD's on death. Knob-twiddler extraordinaire Billy Anderson has his feather-light fingertips all over this one, coaxing each element into its full potential even as he weaves it all together into a thoroughly crushing force. The end result is as dark and eerily atmospheric as an abandoned graveyard at midnight."
Drink the punch to the echoing, soul-wrenching sounds of "Bereavement" at THIS LOCATION.
You can also experience the cold audio decay of "Allfather" still streaming at Cvlt Nation at THIS LOCATION as well as the the haunting resonance of "Collapse" HERE.
Tracked at Type Foundry in Portland, Oregon, produced by Billy Anderson (Sleep, Eyehategod, Melvins et al) and the band, engine-eared and mixed by Anderson at Everything Hz, also in Portland, and mastered by Brad Boatright (Sleep, Beastmilk, Nails) at Audiosiege, An Unending Pathway offers up seven cataclysmic soundscapes to your deepest darkest hallucinations. Cvlt Nation commends the outfit's, "arresting and welcome combination of doom metal, death rock, black metal, and Mid Eastern-influenced darkwave sound," while Sea Of Tranquility gushes, "An Unending Pathway is so out there at times that it's almost puzzling. For some, this melting pot of sounds, mixed with the frightening tone of much of the album, is going to be very unsettling…ATRIARCH have to be given credit for trying something totally different, injecting a breath of fresh air into the extreme metal genre." Adds MetalStorm, in an 8.5/10 review, "An Unending Pathway is quite likely ATRIARCH's best album to date. If the third album of a band's discography is typically held as the 'make it or break it.' point, these guys not only break through the wall, they pummel it into dust."
ATRIARCH will bring their ceremonials to the stage this November on a West Coast run of live performances. Slated to commence November 7th in Seattle, the band will traumatize thirteen cities through November 21st. See confirmed shows below.
ATRIARCH West Coast Tour 2014:
11/07/2014 Chop Suey – Seattle, WA
11/08/2014 Obsidian – Olympia, WA
11/10/2014 Slabtown Records – Portland, OR Release Show w/ Usnea, Muscle, Marrow
11/12/2014 Wandering Goat– Eugene, OR
11/13/2014 Cafe Colonial – Sacramento, CA
11/14/2014 First Church Of The Buzzard – Oakland, CA w/ Dispirit
11/15/2014 Black Castle – Los Angeles, CA w/ Cough, Invdrs, Sorxe
11/16/2014 Tower – San Diego, CA w/ Crowhurst
11/17/2014 Sweet Springs – Santa Barbara, CA w/ Crowhurst
11/18/2014 The Knockout – San Francisco, CA
11/19/2014 Catalyst Atrium – Santa Cruz, CA w/ Plague Widow
11/20/2014 Club 66 – Ashland, OR
11/21/2014 Wisp House – Salem, OR
ATRIARCH's An Unending Pathway will be released via Relapse Records on October 28th, 2014. Preorder An Unending Pathway on CD HERE, via iTunes (which includes an instant download of "Collapse") HERE or via BandCamp HERE.
http://www.facebook.com/pages/ATRIARCH/241062512127
http://www.relapse.com