The apocalyptic death rockers in ATRIARCH will embark on a short US headlining tour this October. Set to begin October 4th in Oakland, California and conclude October 14th in Boise, Idaho, the journey will include support from Pinkish Black, Spirit Adrift, and Fotocrime on select dates.
ATRIARCH will be touring in support of their Dead As Truth full-length, released via Relppse Records earlier this month on CD, LP, and digital formats. Physical packages and digital orders are available via Relapse.com HERE and Bandcamp HERE.
Watch ATRIARCH's official video, directed by Daniel Menche, for "Repent" below.
Dead As Truth was recorded and mixed by Greg Wilkinson at Earhammer Studios (Om, Graves At Sea, Vhol) and featuring artwork by Stevie Floyd (Yob, Dark Castle), Dead As Truth sees ATRIARCH venture deeper into the blackened abyss with haunting incantations, exotic drones, and crushing aural experimentations that boldly embrace death's cold heart. Fragments of post-punk, gothic doom, black metal, sludge, and noise complement the band's desolate universe and further supplement their most immediate and formidable release to date. ATRIARCH prescribe the order that there is but one truth and that is death.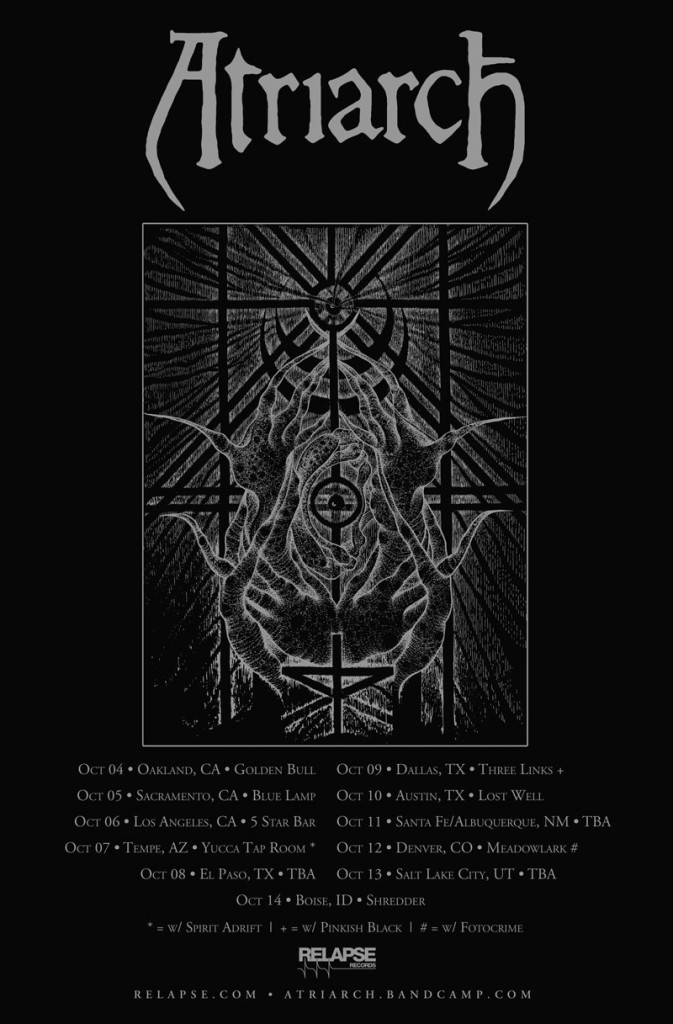 ATRIARCH:
10/04/2017 Golden Bull – Oakland, CA
10/05/2017 Blue Lamp – Sacramento, CA
10/06/2017 5 Star Bar – Los Angeles, CA
10/07/2017 Yucca Tap Room – Tempe, AZ w/ Spirit Adrift
10/08/2017 TBA – El Paso, TX
10/09/2017 Three Links – Dallas, TX w/ Pinkish Black
10/10/2017 Lost Well – Austin, TX
10/11/2017 TBA – Santa Fe/Albuquerque, NM
10/12/2017 Meadowlark – Denver, CO w/ Fotocrime
10/13/2017 TBA – Salt Lake City, UT
10/14/2017 Shredder – Boise, ID
Formed in 2009 in Portland, Oregon, ATRIARCH delivers a unique brand of sonic darkness, pulling influence from classic deathrock and infusing it with their own style of heaviness. Catharsis is their strength, both on record and during their intensely memorable live performances. The band released their first album Forever The End in 2011 on Seventh Rule Recordings which was followed by a split EP with Alaric on 20 Buck Spin and their sophomore full-length Ritual Of Passing on Profound Lore in 2012. In 2014, they signed with Relapse Records and released An Unending Pathway to immense critical acclaim. Their fourth album, Dead As Truth, promises to be even more bleak, hypnotic, and explosive than anything the band has recorded to date.
"Darker than dark, and blacker than the blackest black (times infinity), its six tracks provide an ugly, uncompromising glimpse into the sump of psychic effluent which is the human condition…" – No Clean Singing
"…unhinged and twisted, traveling back from goth to its postpunk roots and coming out the arse end of the foulest sludge you can rub yourself in. Like an alternate history of goth, this is where that road could have led the style to if had taken a few different turns in the past three decades." – Darkview
"…a bleak, devastatingly nihilistic modern doom metal LP with occasional black metal flourishes…" – Cvlt Nation
"Dead As Truth marks another new stage in ATRIARCH's evolution. Moodier and more atmospheric than previous releases, it shows the band delving deeper into their gothic side. On a track like 'Void'… the band dials back harsh guitar buzz in favor of a sparser, bass-forward arrangement, no less tense for its relative lack of metallic aggression. Brimming with self-loathing, vocalist Lenny Smith's darkly emotive, lyrical delivery ensures the song still feels almost unbearably heavy." – Invisible Oranges on "Void"
"Dead As Truth is an album characterized more by its dark moods than any kind of sonic violence. However, it more than makes up for its lack of traditional heaviness with its sheer emotional weight. Make no mistake – this is a fucking depressing record. But it's also the perfect soundtrack for spending half an hour wallowing in your own misery." – Indy Metal Vault
"For ATRIARCH's gradual evolution away from any conventional form of metal and into their own well-honed aesthetic, they've never once abandoned their unique stylistic identity… ATRIARCH are merely exploring a dark spectrum, and the longer they travel upon it, the more interesting and challenging the result." – Treble
http://www.facebook.com/AtriarchOfficial
http://www.atriarch.bandcamp.com/
http://www.relapse.com
http://www.relapserecords.bandcamp.com
http://www.facebook.com/RelapseRecords
http://www.twitter.com/RelapseRecords