Ritualistic, apocalyptic noisemakers, ATRIARCH, are back with their fourth offering of mind-altering, doom-soaked, deathrock entitled Dead As Truth. Recorded and mixed by Greg Wilkinson at Earhammer Studios (Om, Graves At Sea, Vhol) and featuring artwork by Stevie Floyd (Yob, Dark Castle), Dead As Truth sees ATRIARCH venture deeper into the blackened abyss with haunting incantations, exotic drones, and crushing aural experimentations that boldly embrace death's cold heart. Fragments of post-punk, gothic doom, black metal, sludge, and noise complement the band's desolate universe and further supplement their most immediate and formidable release to date. ATRIARCH prescribe the order that there is but one truth and that is death.
Listen to opening track, "Inferno" from Dead As Truth via YouTube and Soundcloud below as well as Bandcamp HERE plus all streaming services.
Dead As Truth is set for release on August 11th on CD, LP, and digital formats via Relapse Records. Physical packages and digital orders are available via Relapse.com HERE and Bandcamp HERE.
Dead As Truth Track Listing:
Inferno
Dead
Devolver
Void
Repent
Hopeless
Void (Demo) (Digital Bonus Track)
Dead (Demo) (Digital Bonus Track)
Repent (Demo) (Digital Bonus Track)
ATRIARCH will open for labelmates Inter Arma on a short run of West Coast dates this August with additional dates to be announced shortly.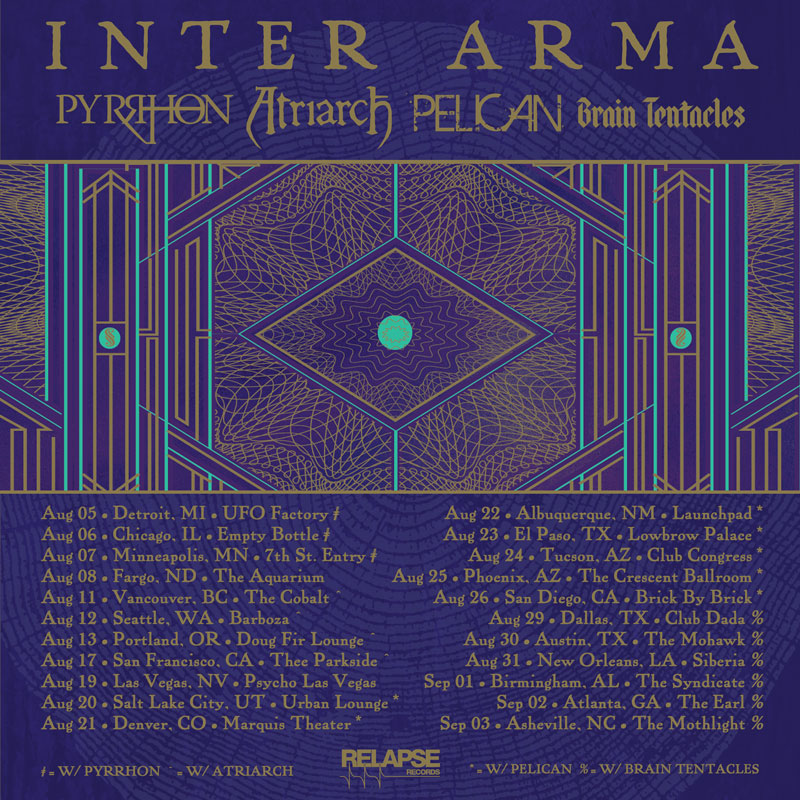 ATRIARCH w/ Inter Arma:
8/11/2017 The Cobalt – Vancouver, B
8/12/2017 Barboza – Seattle, WA
8/13/2017 Doug Fir Lounge – Portland, OR
8/17/2017 Thee Parkside – San Francisco, CA
Formed in 2009 in Portland, Oregon, ATRIARCH delivers a unique brand of sonic darkness, pulling influence from classic deathrock and infusing it with their own style of heaviness. Catharsis is their strength, both on record and during their intensely memorable live performances. The band released their first album Forever The End in 2011 on Seventh Rule Recordings which was followed by a split EP with Alaric on 20 Buck Spin and their sophomore full-length Ritual Of Passing on Profound Lore in 2012. In 2014, they signed with Relapse Records and released An Unending Pathway to immense critical acclaim. Their fourth album, Dead As Truth, promises to be even more bleak, hypnotic, and explosive than anything the band has recorded to date.
ATRIARCH :
Lenny Smith – vocals
Joshua Dark – guitar
Andrew Stromstad – bass
Maxamillion Avila – drums
http://www.facebook.com/AtriarchOfficial
http://www.atriarch.bandcamp.com/
http://www.relapse.com
http://www.relapserecords.bandcamp.com
http://www.facebook.com/RelapseRecords
http://www.twitter.com/RelapseRecords