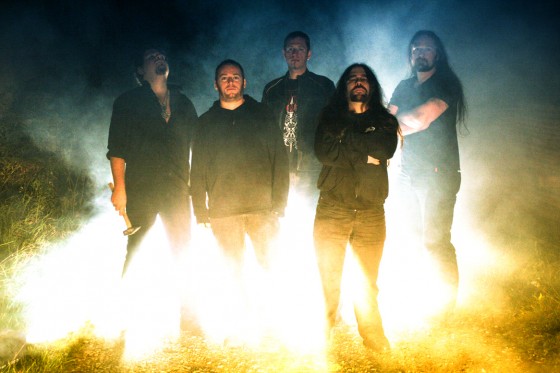 As Germany's heroes of true heavy metal, ATLANTEAN KODEX, prepare to proudly unveil their sophomore LP, The White Goddess (A Grammar Of Poetic Myth), today the first full single from the epic new opus is playing at Revolver Magazine; the mammoth eleven-minute "Sol Invictus (With Faith and Fire)."
Founding guitarist Manuel Trummer states of the magnificent tune, "'Sol Invictus' takes you on a trip through the dark underbelly of European folklore to a realm of fertility cults, fire-worship and corn-demons, older than Bethlehem and Babylon, older than dreaming Sumer and mankind itself. Now grab a beer, turn the volume to 11 and bang your head like a man possessed."
Arm yourself and meet us for the ceremonial unleashing of the mighty "Sol Invictus (With Faith and Fire)" at Revolver RIGHT HERE.
The band has also compiled a shortened/edited video for "Sol Invictus," which can be seen below.
The White Goddess (A Grammar Of Poetic Myth) will see stateside release on CD on October 1st, with the mammoth 2xLP version to follow shortly after. Outside of North America, Germany's Ván Records will disburse the vinyl edition while Italy's Cruz Del Sur will handle the CD release.
Self-described as falling somewhere between Twilight of the Gods-era Bathory, early Ross The Boss-era Manowar and other classic US bands like Fates Warning, Cirith Ungol and Warlord, ATLANTEAN KODEX retains a singular modernity and heaviness via their incredible production and recording technique, and through singer Markus Becker, who has the naturally blessed pipes to rival the best heavy metal vocalists past or present. There is no irony or pretense going on in their music; ATLANTEAN KODEX plays deeply reverent and devoted metal with an emphasis on superior, timeless songcraft. Continuing on 2010's universally-praised The Golden Bough, ATLANTEAN KODEX has built upon their sound to achieve an album like no other released in 2013. Many bands and labels lay claim to the word "epic" to describe a particular band's sound but on The White Goddess, their name becomes synonymous with the term in a way very bands ever manage. Drawing from traditional heavy metal, doom and Norse metal influences, The White Goddess achieves the bands strongest songwriting, lyrics, vocal performance and production yet, already nearly without equal on their previous LP.
Stay tuned for further international release and tour updates on ATLANTEAN KODEX in the coming weeks.
http://www.atlanteankodex.de
http://thetrueatlanteankodex.blogspot.de
http://www.20buckspin.com
http://www.facebook.com/20buckspin
http://twitter.com/20buckspinlabel