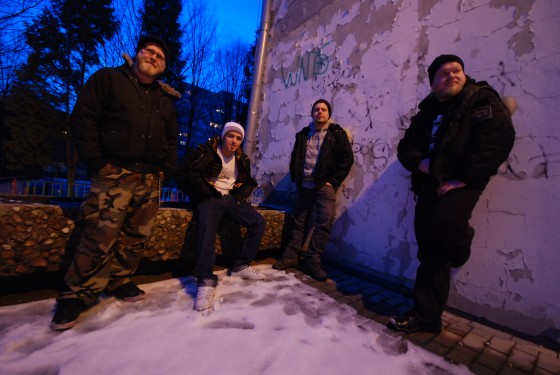 Wroclaw, Poland's maniacal grindcore tacticians, ASS TO MOUTH, have deposited another new single from their impending second full-length album, Degenerate, due mid-February via Selfmadegod Records. The band's first release to feature new vocalist Kuba, formerly of other volatile grind acts Selfhate and Toxic Bonkers, the twenty-track Degenerate harnesses a relentless half-hour of grindcore ferocity with a jagged, thrash/punk-fueled approach, recorded, mixed and mastered at Hellsound/Soundscope Studio in WrocÅ'aw.
With the new ASS TO MOUTH release just over a month from street date, extreme music zine, No Clean Singing unloads a new single from Degenerate, in the form of its enraged third movement, "Sentenced To Grind," commenting of the jackhammering attack: "This new song is a strafing run of burly, hammering riffs, a high-energy drum attack, and howling/shrieking vocals that will stand your hair on end. And man, it has a powerhouse groove that will keep you coming back for more. This is top-shelf grind from a band worth watching closely."
You've been "Sentenced To Grind," so go endure your punishment at No Clean Singing now, HERE.
Founded December 2004, during their first three years of activity ASS TO MOUTH played more than fifty shows in Poland and abroad, including tours with Ahumado Granujo, Epitome, Parricide, Squash Bowels, Jig-Ai and Neuropathia. November 2006 saw the foursome self-releasing their first MCD, Asses For The Masses, followed by a split 7″ split with Jig-Ai in mid-2007. Their first full-length LP, Kiss Ass – released on Lifestage Productions in 2008, saw ATM touring heavily, including an extensive European tour, a Ukrainian tour along with Epicrise, appearances at European festivals such as Obscene Extreme, SWR Metalfest, Arsch Cholio, Death By Thousand Cuts, and numerous shows in Europe. In April of 2010 the band started to work on their second full length LP, now ready to invade the world as Degenerate, which will now see North American release on February 18th, 2014.
http://www.assgrindsystem.com
http://www.facebook.com/assgrindsystem
http://assgrindsystem.bandcamp.com
http://www.selfmadegod.com
http://www.youtube.com/user/SelfmadegodRecords
http://www.facebook.com/selfmadegod