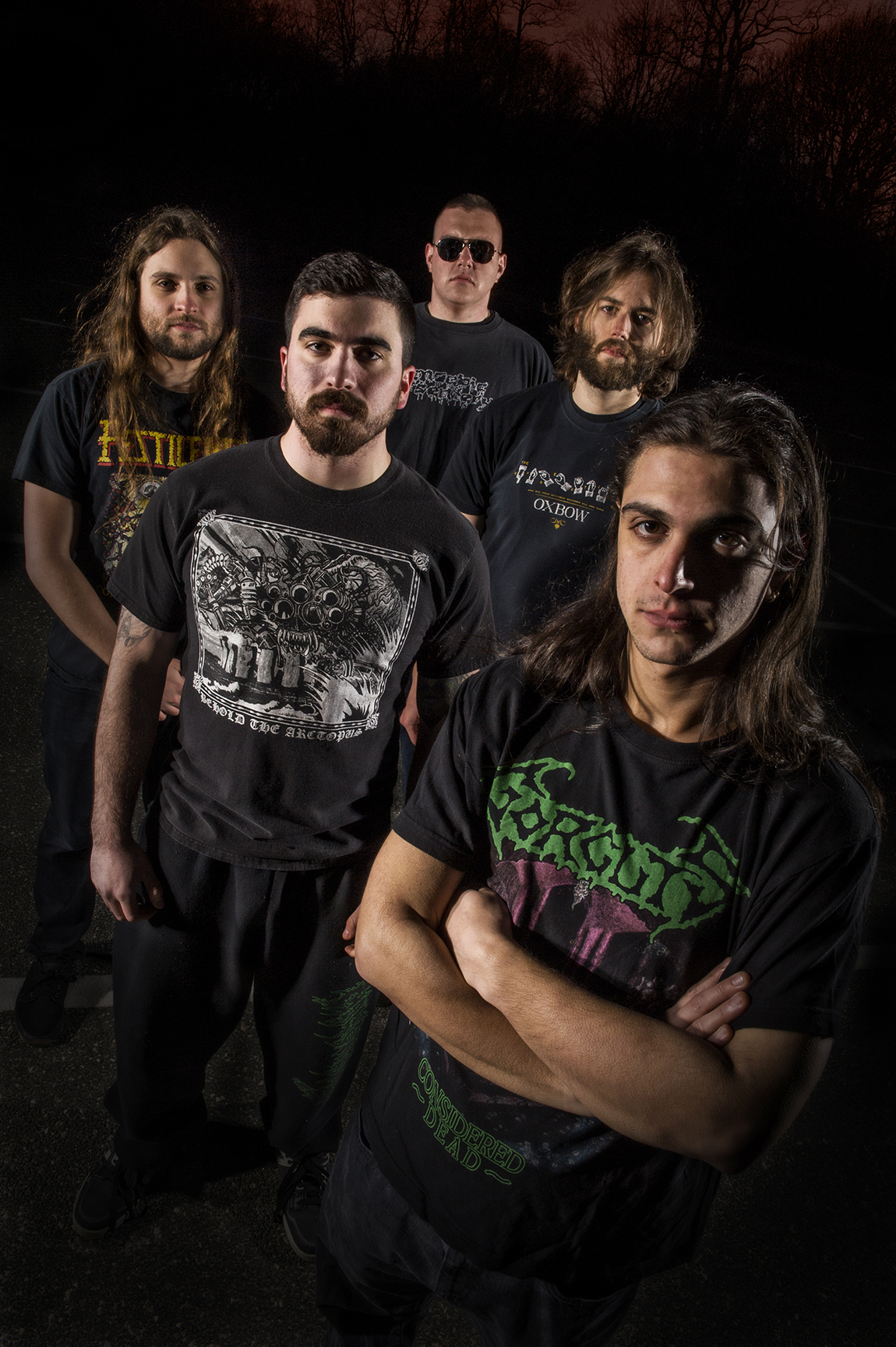 Long Island, New York-based sci-fi death metal quintet, ARTIFICIAL BRAIN, will release their second album, Infrared Horizon, through Profound Lore Records in April, the label issuing an early stream of the track "Synthesized Instinct" alongside the album's cover artwork, track listing, and preorders.
Produced by Colin Marson (Gorguts, Dysrhythmia, Krallice) at The Thousand Caves, Infrared Horizon sees ARTIFICIAL BRAIN traveling towards a sonic realm where the music has become more brutal and dissonant, technical, atmospheric, and just overall more otherworldly. Lyrical themes delve into concepts within a dystopian future in which robots and cyborgs have outlived human beings and who believe themselves to be not of creation of the long extinct humans but a more perfect evolution of them. These themes are portrayed in the appropriate cover art crafted by Adam Burke.
With Infrared Horizon, ARTIFICIAL BRAIN has created an album far more advanced than their lauded debut album, Labyrinth Constellation. By taking their brand of singular brutal guttural yet technical and ambient sci-fi death metal to a new galaxial plateau, Infrared Horizon sees the sonic architecture laid down by the band go further into the beyond and infinite. The album will see release on CD, LP, and digital formats through Profound Lore Records on April 21st.
Stream Infrared Horizon's second track, "Synthesized Instinct" RIGHT HERE and view the cover art, preorders, and more at THIS LOCATION.
Following their recent US tour with Cognitive, ARTIFICIAL BRAIN will be plotting new tour dates surrounding the release of Infrared Horizon and through the year. The band will play in Queens with Baring Teeth, Thaetas, and labelmates Geryon on March 4th. Stand by for show updates, additional audio from the album, and more to be issued in the impending weeks.
Conceived in 2011 and featuring guitarist Dan Gargiulo (Revocation), vocalist Will Smith (Buckshot Facelift, Afterbirth), bass player Samuel Smith (Luminous Vault), guitarist Jon Locastro, and drummer Keith Abrami, ARTIFICIAL BRAIN initially dropped a demo in 2011 before issuing their Butchering Cosmic Giants EP in 2013. The band would then align themselves with Profound Lore Records and release their Labyrinth Constellation debut album in 2014 to widespread critical praise. Backed with touring around Labyrinth Constellation, ARTIFICIAL BRAIN would also have their music played and were even name-dropped on multiple occasions in the popular CBS television shows Elementary and Limitless.
ARTIFICIAL BRAIN Live:
3/04/2017 Knockdown Center – Queens, NY w/ Baring Teeth, Geryon, Thaetas [info]
Infrared Horizon Track Listing:
1. Floating In Delirium
2. Synthesized Instinct
3. Static Shattering
4. Estranged From Orbit
5. Infrared Horizon
6. Anchored To The Inlayed Arc
7. Mist Like Mercury
8. Vacant Explorer
9. Graveyard Of Lightless Planets
10. Ash Eclipse
https://www.facebook.com/ArtificialBrainMusic
https://artificialbrain.bandcamp.com
https://www.coldcutsmerch.com/collections/artificialbrain
http://www.profoundlorerecords.com
http://www.facebook.com/profoundlorerecords
http://www.profoundlorerecords.bandcamp.com