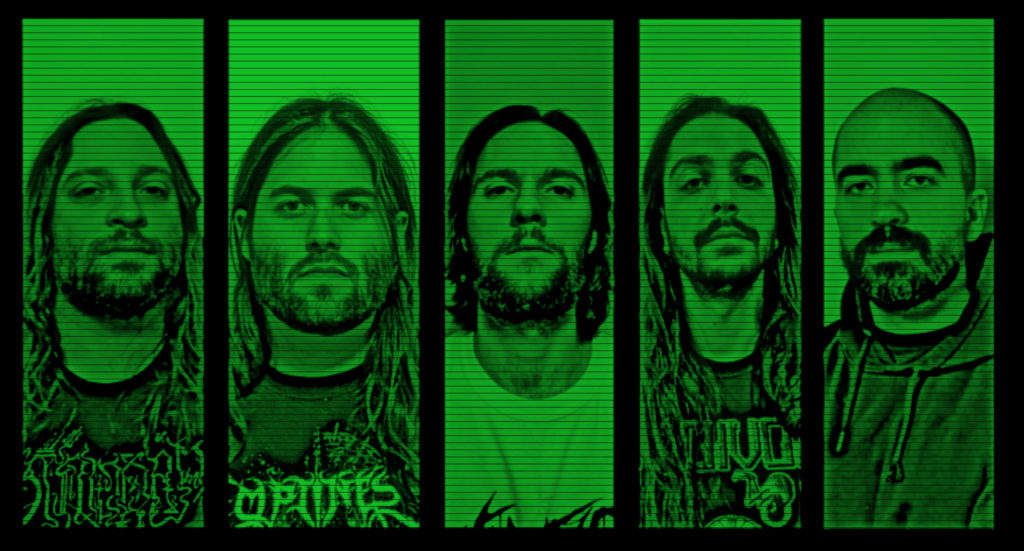 "Parasite Signal" is the annihilating new single from New York City sci-fi death metal faction ARTIFICIAL BRAIN, now streaming in advance of the band's eponymous third album, nearing early June release through Profound Lore Records.
Drawing frequent comparisons to mind-altering progressive death metal acts, ARTIFICIAL BRAIN has distinguished themselves from their peers through an emphasis on rich, melancholic, melodic figures, contextualizing the harmonic and emotive qualities of black metal within a more aggressive death metal framework. Dissonance is threaded through elegiac, otherworldly chordal structures; saturnine tremolo melodies float along in the high registers of the instruments; guitars and bass traverse distinct paths before locking into harmonic orbit. These elements, anchored by blast beats and bellowing guttural vocals, create a sense of contrast that has come to characterize the band's sound over the past decade.
The group's final recording with original vocalist Will Smith (Afterbirth), Artificial Brain is the terminal installment in a trilogy that includes 2014's Labyrinth Constellation and 2017's Infrared Horizon. Smith's lyrics on this eponymous LP take a retrospective look at the sci-fi mythology developed on the previous records, using these ideas to explore themes of isolation, madness, and the inexorability of nature. Rounding out the recording is an impressive roster of guest performers, including death metal legends Mike Browning (Nocturnus A.D.) and Luc Lemay (Gorguts) as well as long time collaborators Paulo Paguntalan (Miasmatic Necrosis) and Colin Marston (Krallice).
The guitars, bass, and vocals for Artificial Brain were tracked remotely by the members over the course of 2021, while the drums were recorded by Finn Jansen at Lava Studios in Copenhagen, Denmark. The album was mixed and mastered by Colin Marston at The Thousand Caves in Queens, New York, and features artwork by Adam Burke with layout by Chimère Noire.
ARTIFICIAL BRAIN's devouring "Parasite Signal" is now being broadcasted from THIS LOCATION.
Artificial Brain will be released on CD, cassette, and all digital platforms on June 3rd, with the LP expected to ship by early July. Find preorders through Profound Lore RIGHT HERE.
https://artificialbrain.bandcamp.com
https://massacremerch.com/collections/artificial-brain
https://www.instagram.com/artificial_brain_band
https://twitter.com/arti_brain
https://www.facebook.com/ArtificialBrainMusic
https://profoundlorerecords.com
https://www.profoundlorerecords.bandcamp.com
https://www.instagram.com/profoundlorerecords
https://twitter.com/profound_lore
https://www.facebook.com/profoundlorerecords