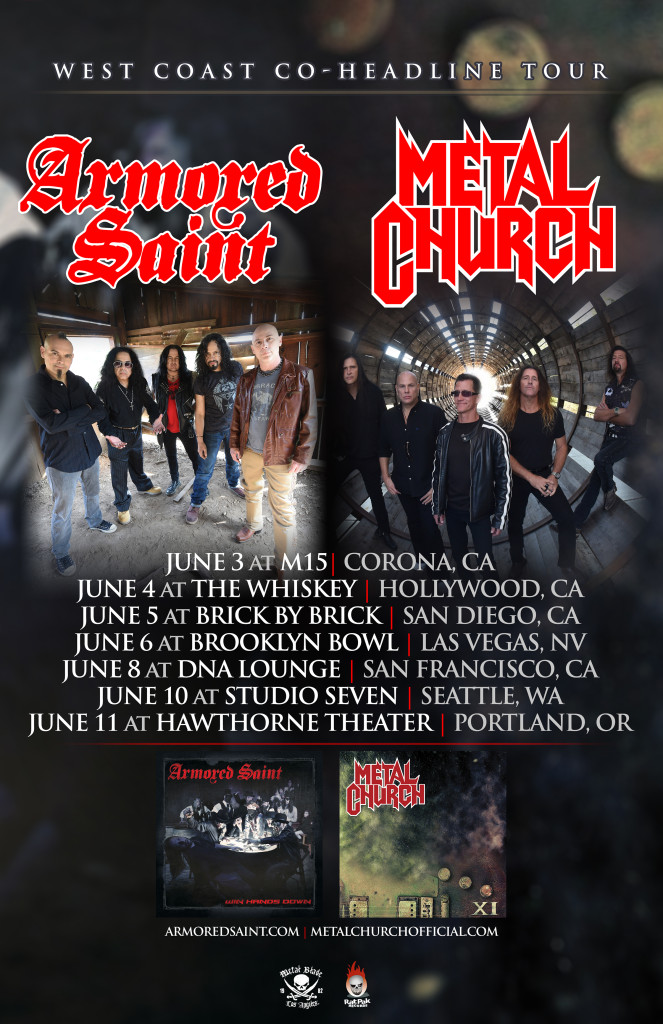 Starting this June, the mighty ARMORED SAINT will head back out on the road, playing to fans across the world this Summer! The first run of dates kicks off in the US, with the band joining Metal Church for a special West Coast trek. ARMORED SAINT bassist Joey Vera comments: "We're super excited to go back out for some select dates this Summer. The June dates with Metal Church are a fan-made match that is sure to be an amazing time!"
As previously reported, ARMORED SAINT will also make several European festival and club appearances this July, before concluding their world tour in Japan at Loud Park. See below for all upcoming dates.
ARMORED SAINT w/ Metal Church:
6/03/2016 M15 – Corona, CA
6/04/2016 Whisky-A-Go-Go – Hollywood, CA
6/05/2016 Brick by Brick – San Diego, CA
6/06/2016 Brooklyn Bowl – Las Vegas, NV
6/08/2016 DNA Lounge – San Francisco, CA
6/10/2016 Studio Seven – Seattle, WA
6/11/2016 Hawthorne Theater – Portland, OR
7/14/2016 Underworld – London, UK
7/16/2016 Rock Fest Barcelona @ Parc de Can – Barcelona, ES
7/28/2016 Headbangers Open Air – Brande-Hornerkirchen, DE
7/29/2016 Saarmageddon @ Messegeland e- Saarbrucken, DE
7/30/2016 Nord Open Air – Essen, DE
10/ 8/2016 Loud Park Festival – Tokyo, JP
ARMORED SAINT recently revamped their merchandise store to include a slew of new and classic designs, which can be viewed here: (USA) indiemerch.com/armoredsaint or (Europe) goo.gl/HXCROv. For more news, current tour dates, and additional information, fans can also visit the newly updated official website: armoredsaint.com
ARMORED SAINT brings together five masters of metal — frontman John Bush, bassist Joey Vera, guitarist Phil Sandoval, drummer Gonzo Sandoval, guitarist Jeff Duncan — that combine to forge one of the genre's most criminally-unsung forces. Their latest full-length, Win Hands Down, debuted at #71 on the Billboard Top 200 Current Albums Chart during its week of release, and also earned an impressive #33 on the German Top 100 albums charts. To purchase and preview Win Hands Down, visit: metalblade.com/armoredsaint.
For live coverage inquires in the US contact liz@earsplitcompound.com.
http://www.armoredsaint.com
http://www.facebook.com/thearmoredsaint
http://www.twitter.com/thearmoredsaint