Heavy metal icons ARMORED SAINT will return to the stage this August as direct support to W.A.S.P.! The 40th Never Stops World Tour 2023 begins August 4th in San Luis Obispo, California and winds its way through nearly three dozen cities, coming to a close September 16th  in Los Angeles, California
Comments vocalist John Bush, "Hello SAINT loyalists! We're happy to inform you guys that, due to the overwhelming response we got on the W.A.S.P./SAINT tour we did last Winter, we decided to do another leg this late Summer/early Fall: The W.A.S.P./ARMORED SAINT 40th Anniversary tour part 2! This is going to happen in August and September. We will be doing about thirty more shows. The plan is to go to cities we didn't do on the last run with a few exceptions of some places where we will be returning. There will be some cities that ARMORED SAINT hasn't played in many, many years as well as some we've never played in our history! We're also happy to be going to Canada including Vancouver, which we haven't played since 1985. Too bad it won't be hockey season. It's gonna be awesome! Thanks as always for all your support, and who knows, maybe we can bring this tour to some other continents on planet earth. Thanks also to [W.A.S.P.]'s Blackie [Lawless] and the guys for making it happen again. Stay healthy and metal!"
Tickets go on sale this Friday, April 14th at 10:00am local time. See all confirmed dates below.
ARMORED SAINT w/ W.A.S.P.:
8/04/2023 Fremont Theater – San Luis Obispo, CA
8/05/2023 Hard Rock Live – Wheatland, CA
8/07/2023 Roseland – Portland, OR
8/08/2023 Vogue Theater – Vancouver, BC
8/10/2023 Moore Theater – Seattle, WA
8/11/2023 Podium – Spokane, WA
8/12/2023 Revolution Concert Hall – Garden City, ID
8/13/2023 The Depot – Salt Lake City, UT
8/15/2023 Steelhouse – Omaha, NE
8/16/2023 The Fillmore Minneapolis – Minneapolis, MN
8/17/2023 The Rust Belt – Moline, IL
8/18/2023 RCU Theater – Eau Claire, WI
8/19/2023 Horizon Events Center – Clive, IA
8/20/2023 Hard Rock Live – Gary, IN
8/22/2023 GLC Live @ 20 Monroe – Grand Rapids, MI
8/23/2023 Egyptian Room – Indianapolis, IN
8/24/2023 Capitol Theater – Wheeling, WV
8/25/2023 Sherman Theater – Stroudsburg, PA
8/26/2023 Hammerstein Ballroom – New York, NY
8/27/2023 Hampton Beach Casino – Hampton, NH
8/29/2023 Dome @ Oakdale – Wallingford, CT
8/30/2023 The Fillmore – Philadelphia, PA
8/31/2023 Packard Music Hall – Warren, OH
9/01/2023 Danforth Music Hall – Toronto, ON
9/03/2023 Mtellus – Montreal, QC
9/05/2023 Andrew J Brady Music Center – Cincinnati, OH
9/07/2023 Graceland – Memphis, TN
9/08/2023 The Hall – Little Rock, AR
9/09/2023 Southside Ballroom – Dallas, TX
9/10/2023 Criterion – Oklahoma City, OK
9/13/2023 Rialto Theater – Tucson, AZ
9/14/2023 House Of Blues – San Diego, CA
9/16/2023 The Palladium – Los Angeles, CA
ARMORED SAINT released their Symbol Of Salvation Live CD/DVD in 2021 via Metal Blade Records. The release came in celebration of the seminal album's 30th anniversary. A record vocalist John Bush refers to as the band's "cornerstone record," Symbol Of Salvation Live is a combination live album and video of the band playing the album in its entirety at New York City's famed Gramercy Theatre during their 2018 tour. It captures the power, diversity, and peerless songwriting contained within. "I felt like showing Symbol… in another light was a great homage to the record itself," states bassist Joey Vera. "Also, having all the fans be there and part of that event is a way for us to say, 'Thank you!' For, without them, we can't do any of this in the first place."
Preview and purchase Symbol Of Salvation Live at THIS LOCATION.
ARMORED SAINT:
John Bush – vocals
Jeff Duncan – guitars
Phil Sandoval – guitars
Joey Vera – bass
Gonzo Sandoval – drums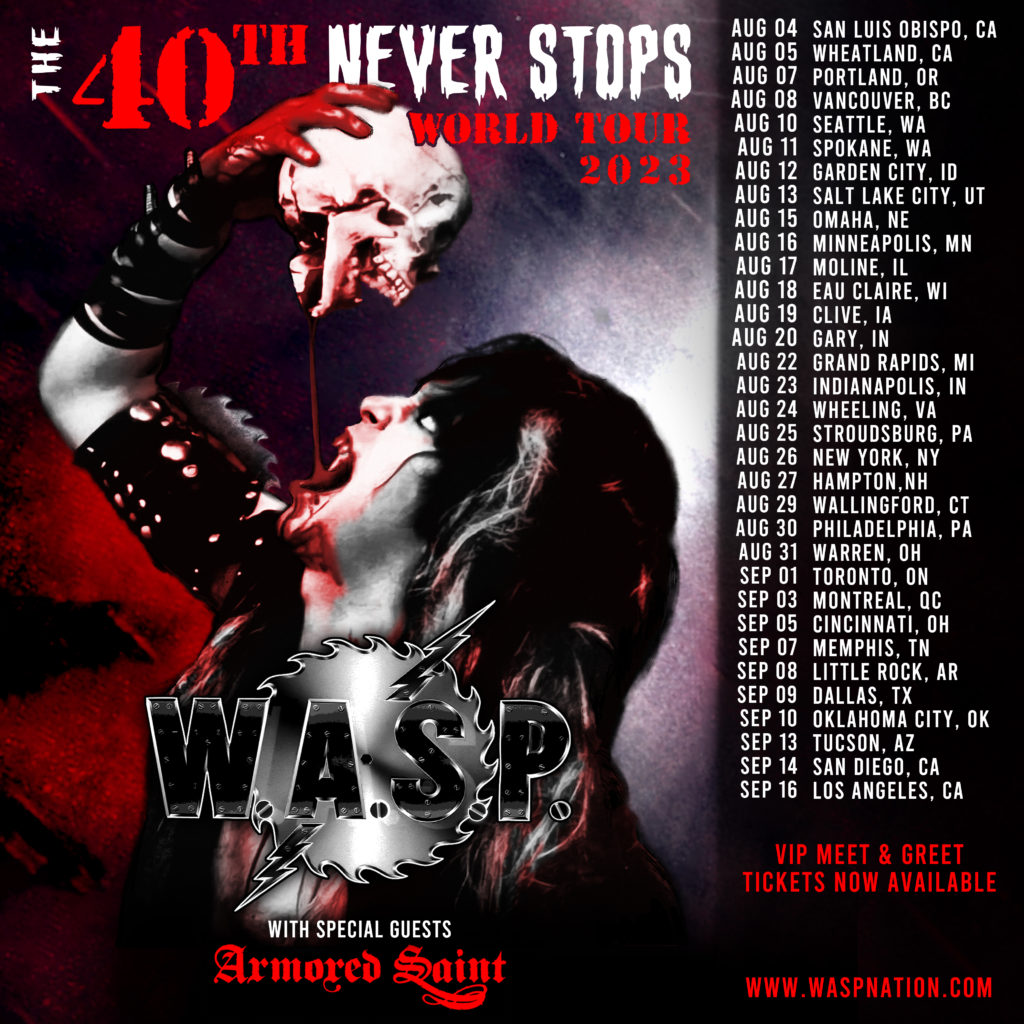 http://www.armoredsaint.com
http://www.facebook.com/thearmoredsaint
http://www.twitter.com/thearmoredsaint
http://www.instagram.com/thearmoredsaint
http://www.metalblade.com
http://www.facebook.com/metalbladerecords
http://www.instagram.com/metalbladerecords
http://twitter.com/MetalBlade