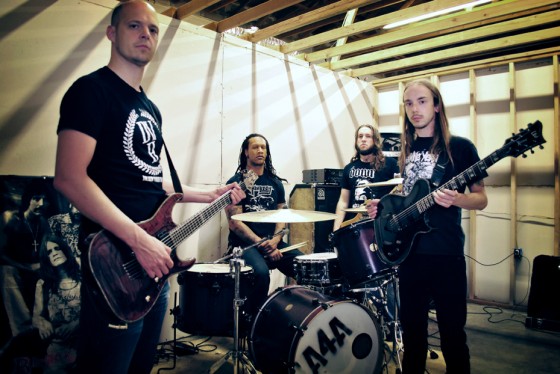 Following a successful US live assault earlier this Fall, California metallers, ARMED FOR APOCALYPSE, are currently leveling stages throughout the UK supporting 36 Crazyfists. With the price of travel continually escalating, the band launched a Kickstarter program to help fund their airfare and hit their goal before deadline, a true testament to the dedication of their fans globally.
Comments lead guitarist Cayle Hunter, "This European tour is the biggest of our lives and we've put together the most intense live set we've ever toured on for it. We plan on being on the verge of dying at the end of every set not only because we are so honored to play in front of new faces with 36 Crazyfists, Hatebreed and Napalm Death, but because we feel everyone that contributed to our Kickstarter to get us here deserves nothing less. We will NEVER forget who got us here! We are going to end 2013 with our blood on the stage, head home, recover and get ready for what is shaping up to be an incredible 2014."
ARMED FOR APOCALYPSE [remaining dates]:
w/ 36 Crazyfists
11/05/2013 Academy 2 – Liverpool, UK
11/07/2013 Academy 3 – Manchester, UK
11/08/2013 King Tuts – Glasgow, UK
11/09/2013 Garage – Aberdeen, UK
11/10/2013 Academy 2 – Newcastle, UK
11/11/2013 The KLA – Bristol, UK
11/12/2013 Wedgewood Rooms – Portsmouth, UK
11/14/2013 Underworld – London, UK
11/15/2013 Road Menders – North Hampton, UK
11/16/2013 Cockpit – Leeds, UK
11/17/2013 Central Station – Wrexham, UK
11/18/2013 Underworld – London UK
11/21/2013 Astra Kulturhaus – Berlin, DE w/ Hatebreed, Napalm Death
ARMED FOR APOCALYPSE, who recently joined forces with The Artery Foundation for management, are touring in support of their The Road Will End full-length. Released via Ironclad Recordings earlier this Summer, the record, which Thrash Hits called a "no bullshit, jugular smashing sludge metal album," and, "the thickest, most punishingly-heavy aural savagery your ears will fall victim to in 2013," by Kerrang in a perfect five-K review, the record continues to reap praise from fans and media both stateside and abroad. Describes Stereokiller in a 4/5 review, "The quick and easy comparison is to say they have a lot of moments that sound like Pantera, Crowbar and Down. However, they don't limit themselves to the confines of the sludge sub-genre. They dip their toes into hardcore and metalcore that sounds right at home in California. They dabble into crusty d-beat parts that could earn them a patch on the jacket of some hobo with an iPhone. But their most impressive genre foray is when winding down songs go into post-metal territory." Adds MetalSucks in a 4/5 rating, "Slow, fast, punk, thrash, doom… it's all in here, often at once. We may not know how the world ends, but at least, thanks to The Road Will End, we have an idea how it'll sound (and if sounds anything like the 1:10 mark of AFORA's 'Drawing a Line,' look the fuck out.)" Scratch the Surface applauds the record for delivering, "42 minutes of absolutely devastating sludgecore." About.com agrees, "Aggression is off the charts. Great guitar work in the latter portions of the album. Heavy as hell, yet bolstered by a groove-infused vibe," while The Sludgelord proclaims the record, "possibly the outright most aggressive and just plain overwhelmingly pig-headedly heavy release of the year."
Check out a recent in-depth interview with Hunter and drummer Nick Harris, courtesy of Echoes And Dust, at THIS LOCATION.
ARMED FOR APOCALYPSE came from nowhere and nothing. The sludgy four-piece from the small Northern California college town of Chico have worked relentlessly to leave their imprint on metal. Through tours across Europe, around The States and up and down the West Coast, they've continued to spread their name in the best way possible: word of mouth. No triggers, no wanky "shredding," no posturing, no cowardice, no frills. They just play crushing songs that go from slow to slower, from muck to mire, from mosh to circle-pit. And sometimes they'll make a left turn and end up at epic. Simply put, it's rock 'n' roll music tuned way down and pissed way off.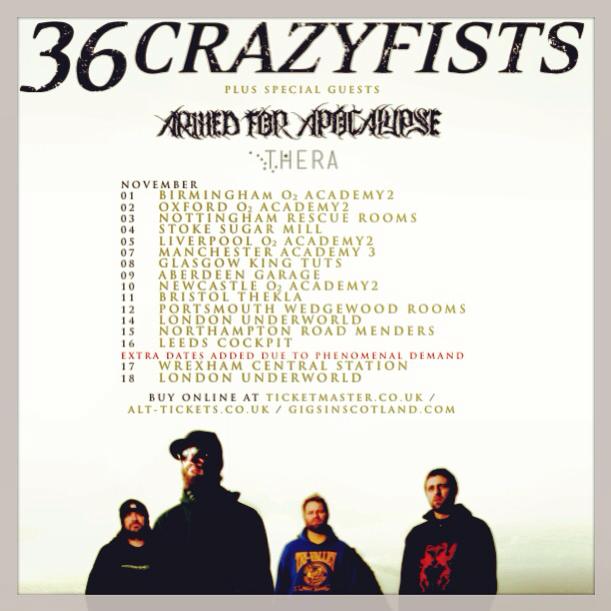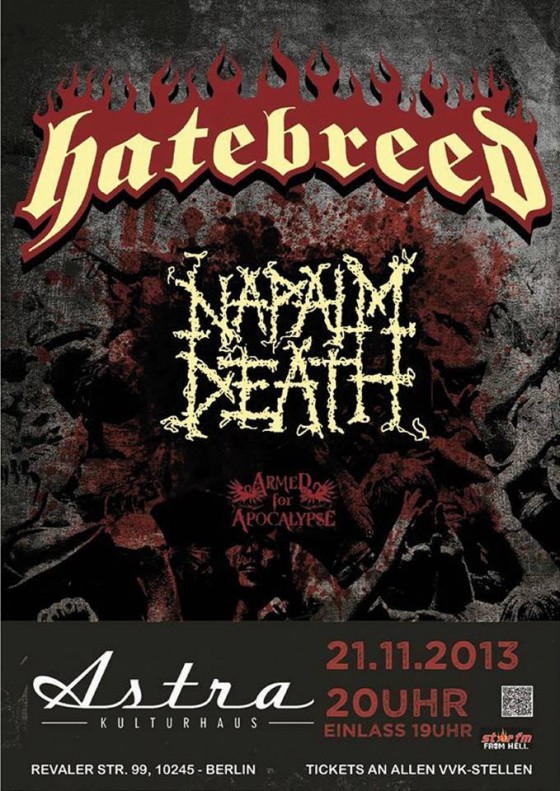 https://www.facebook.com/armedforapocalypse
http://www.a4aband.com
http://www.ironcladrecordings.com
http://www.facebook.com/ironcladrecordings
http://twitter.com/ironcladrex