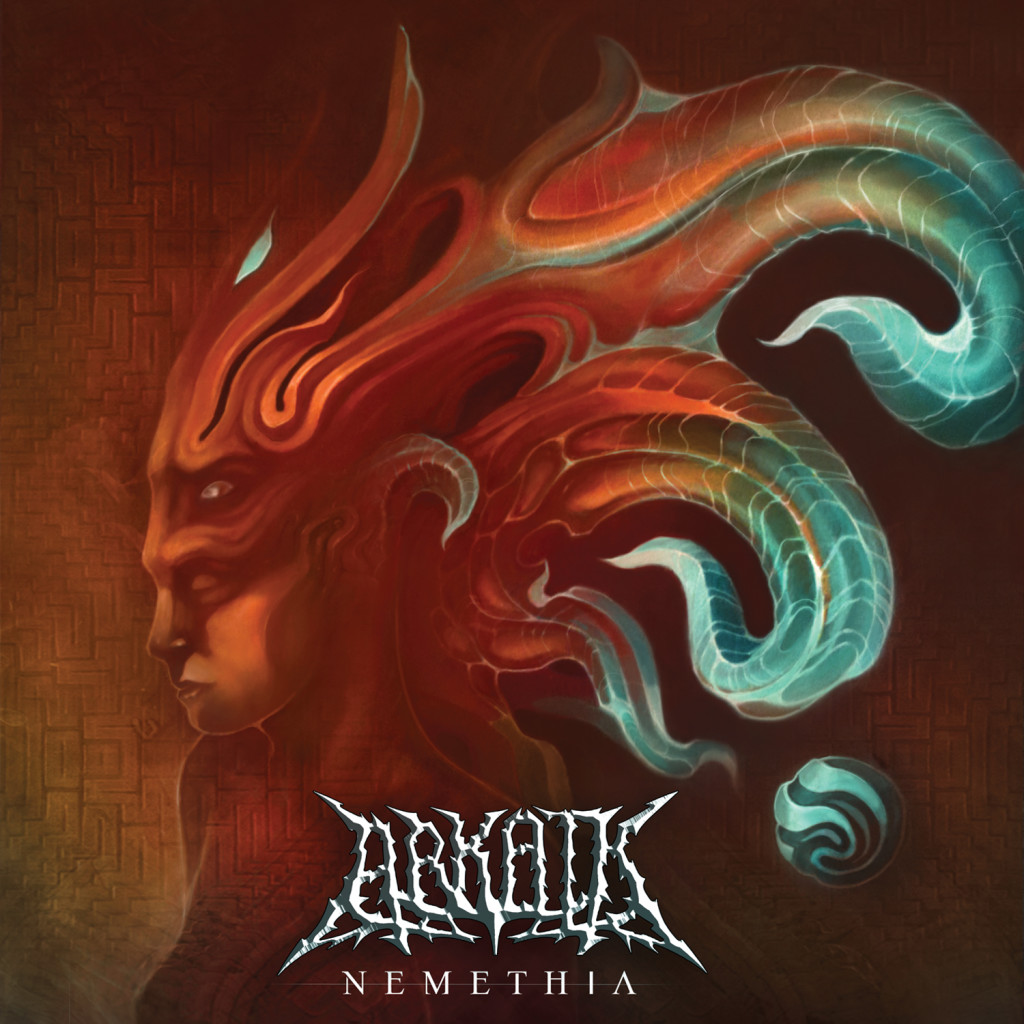 Progressive tech death collective ARKAIK will unleash the anticipated Nemethia, this fall via Unique Leader Records. A continuation on the conceptual saga of the two previous releases, on Nemethia the journey of Cyrix expands into new landscapes, as does the band's technical prowess and creativity.
Their fourth full length for Unique Leader and most ambitious studio album to date was produced, engineered, and mixed by Zack Ohren (Immolation, Fallujah, Suffocation, Decrepit Birth et al.) at Sharkbite Studios in Oakland, California, and features guest appearances by Joe Haley of Psycroptic, Arde Ostowari formerly of Burning The Masses, Stephen Paulson of the San Francisco Symphony Orchestra, and former ARKAIK guitarist Craig Peters, as well as Gabe Seeber from The Kennedy Veil and Decrepit Birth (live) performing drums for the entire album. The cover art and booklet was designed by visionary artist Tyler Space, who worked with the band on their previous release, Lucid Dawn.
ARKAIK has been hard at work creating a series of wildly psychedelic concept albums revolving around a protagonist named Cyrix, a disillusioned character in a dystopian society. Cyrix' latest journey introduces new characters and brings you into a world of dark occultists, magical allies, and hidden forces. From resurrecting ancient goddesses to cracking the codes of reality and activating hyper dimensional stargates, the chronicle of Cyrix continues.
Said founding vocalist Jared Christianson of the record's concept, "This album fully sets the stage and builds on the story we started developing two albums ago with Cyrix and Metamorphignition. We've begun weaving together our own mythos of synchronicity and symbolism to encapsulate and distill the journey of the alchemist through the gnostic dream. It attempts to reveal through storytelling and allegory that we can experience real freedom and discover the inner treasures that guide us to who, what, and where we want to be, if we are willing to pull back the veil of lies blinding us from the truth of our nature. If I could sum up everything we've done so far, my personal journey and our message as a band in three words it would be the lyric 'pain to power' from the song 'Telegnosis.' To me, it's about transmuting your struggles into strengths and refining your personal power and will. I really enjoyed making this album and hope people dig it!"
Adds guitarist Greg Paulson of the sound and songwriting process, "This is the most involved I've been on an ARKAIK record so far. The songs are more thought out and meticulously crafted. I wanted to retain the sonic brutality ARKAIK is known for, while introducing new elements to further expand on the band's sound. I incorporated greater symphonic instrumentation throughout the record and utilized my classical background to add more depth and dynamics to the arrangements. The album is overall more complex, I even added some harmonized vocals to blend with Jared's voice, making for some interesting layered textures. This is sure to be the most unique ARKAIK album to date. I'm really proud of what we created and hope people enjoy it."
Nemethia will see release on CD and digital formats on September 29th via Unique Leader Records. Preorder bundles will be available in the coming weeks.
In the interim, sample opening psalm "Occultivation" at THIS LOCATION.
Nemethia Track Listing:
Occultivation
Of Violence And Pestilence Born
Order Of The Hierogon
Dweller On The Threshold
Futile State
The Eupnean Relic
Lifting Amnesia
Telegnosis
Nexion Stargate
In advance of the record's release, ARKAIK will kick off a US headlining tour on September 8th. The Occultivating The Masses tour will run through October 7th and features support from Alterbeast and Inanimate Existence. See all confirmed dates below.
ARKAIK w/ Alterbeast, Inanimate Existence:
9/08/2017 Blue Lamp Sacramento – Sacramento, CA
9/09/2017 Bullfrog's – Kingsburg, CA
9/10/2017 Chain Reaction – Anaheim, CA
9/11/2017 Brick By Brick – San Diego, CA
9/12/2017 Club Red Mesa – Mesa, AZ
9/14/2017 Grizzly Hall – Austin, TX
9/15/2017 Sofies SS Saloon – McAllen, TX
9/16/2017 Tomcats West – Fort Worth, TX
9/17/2017 Bushnookies – Shreveport, LA
9/19/2017 The District – Lafayette, LA
9/20/2017 Handlebar – Pensacola, FL
9/21/2017 Crowbar – Tampa, FL
9/22/2017 Backbooth – Orlando, FL
9/23/2017 Iron Heights – Augusta, GA
9/24/2017 The End – Nashville, TN
9/26/2017 The Maywood – Raleigh, NC
9/27/2017 Riffhouse Pub – Chesapeake, VA
9/28/2017 Sidebar – Baltimore, MD
9/29/2017 The Foundry – Lakewood, OH
9/30/2017 Louisville Death Fest – Louisville, KY
10/01/2017 Reggies – Chicago, IL
10/02/2017 Lookout Lounge – Omaha, NE
10/04/2017 Marquis Theatre – Denver, CO
10/05/2017 The Loading Dock – Salt Lake City, UT
10/06/2017 Eagles Aerie Hall – Henderson, NV
10/07/2017 The Phoenix Theater – Petaluma, CA
http://www.facebook.com/ArkaikBand
http://www.uniqueleader.com
http://www.facebook.com/UniqueLeaderRecords
http://www.twitter.com/UniqueLeaderRec