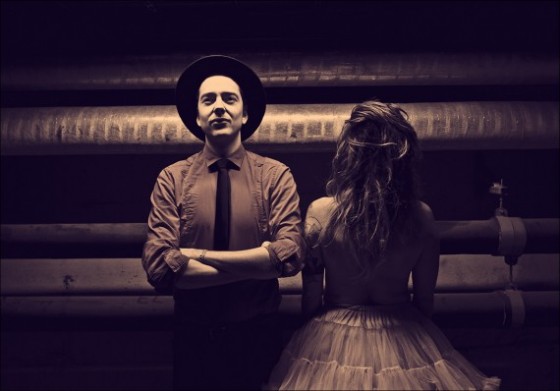 Oregon's RABBITS and Norway's ÅRABROT continue to co-pummel audiences across Europe on their ongoing brutal trek, touring in support of their new split 7″ release, available now via Tiger (Europe) and Eolian Empire (USA). To spread the vile news, today Invisible Oranges is streaming the noisemangled split release, RIGHT HERE.
On the raging split release, Norway's ever-morphing ÅRABROT meets Portland's sludge-punk kings RABBITS, as if twins separated at birth with a psychic connection that spans a continent and ocean, both acts have mired themselves in the most base elements of rock and rebuilt these primitive pieces into music of violent, raw beauty. ÅRABROT's "Blood On Bunny" (no dig at their split partners, they swear) is part industrial, part noise-rock, part sludge and all disturbing, while RABBITS's "Yr In Luck" shifts between swinging, rolling, droning versus to grinding choruses, interspersed and ending with a pummeling dirge; like two fucked-up sides of the same shitty coin. The split will be pressed on mega-heavy 70-gram wax — a split release with Rabbits' label Eolian Empire and Arabrot's Norwegian label Fysisk Format.
"Blood On Bunny," Fysisk Format confirms, is the first single from the pending self-titled LP from ÅRABROT, the act's massive sixth full-length to date. The label will release more info on Ã…rabrot in the coming weeks, while the band takes to the road with Black Cobra and Bison B.C. on a rampage through France, UK, The Netherlands, Belgium, Germany, Switzerland, Italy and Austria.
ÅRABROT/RABBITS European Tour [REMAINING DATES]:
5/17/2013 Obluda – Bratislava, Slovakia
5/18/2013 Boro – Brno, Czech Republic
5/19/2013 007 – Praha, Czech Republic
5/20/2013 no club – Budweiss, Czech Republic
5/21/2013 TBA – Germany
5/22/2013 Magasin 4 – Brussels, Belgium
ÅRABROT European Tour w/ Black Cobra, Bison B.C.:
5/31/2013 Glazart – Paris, France
6/01/2013 Saint des Seins – Toulouse, France
6/02/2013 TBA – France
6/03/2013 Borderline – London, UK
6/04/2013 TBA – UK
6/05/2013 Ivory Blacks – Glasgow, UK
6/06/2013 Exchange – Bristol, UK
6/07/2013 Patronaat – Haarlem, Netherlands
6/08/2013 Magasin 4 – Bruxelles, Belgium
6/09/2013 Festsaal Kreuzberg – Berlin, Germany
6/10/2013 Bastard Club – Osnabrück, Germany
6/11/2013 Chemiefabrik – Dresden, Germany
6/12/2013 Juha West – Stuttgart, Germany
6/13/2013 L'Usine – Geneve, Switzerland
6/14/2013 Les caves du Manoir – Martigny, Switzerland
6/15/2013 Freakout Club – Bologna, Italy
6/16/2013 Lo-Fi Club – Milano, Italy
6/17/2013 Arena – Wien, Austria
6/18/2013 Feierwerk – München, Germany
6/19/2013 Schlachthof – Wiesbaden, Germany
6/20/2013 L'Entrepôt – Arlon, Belgium
6/21/2013 Hellfest – Clisson, France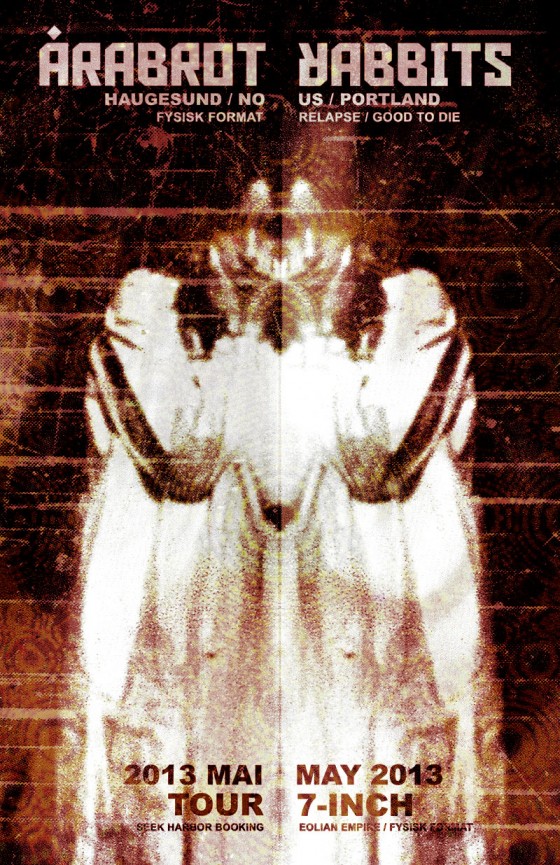 http://arabrot.com
http://www.fysiskformat.no
http://eolianempire.com