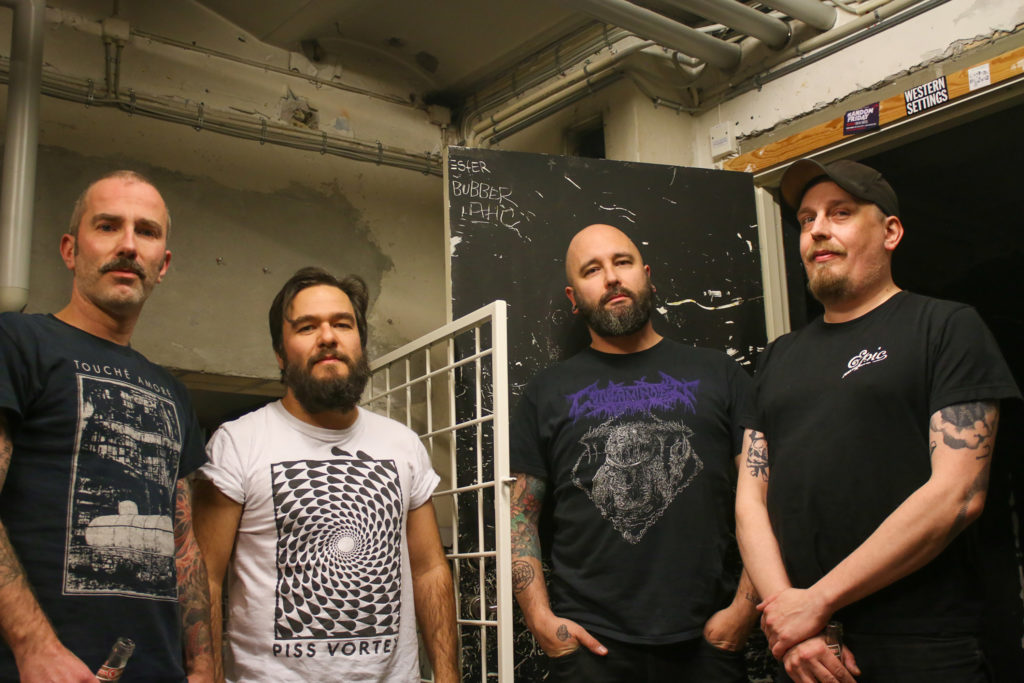 photo by Louise Petersen
Copenhagen's ANTI RITUAL returns to the EP format with its third offering entitled Green Terrorism, out today on Indisciplinarian. The record is now streaming everywhere and is available on 7" vinyl, and a video for the EP's title track has also been posted.
Solemn perspectives on the effects of capitalism on the global climate was indeed present on the quartet's 2021 album, Expel The Leeches, but on the new EP, this has become the main theme, adding a call for action and a no tolerance approach towards those destroying our planet for profit.
In musical terms, ANTI RITUAL's focus this time around has been to cut to the bone and work within a self-imposed dogma of writing a collection of short songs fitting on a 7" vinyl. This has led to a six-track EP with a total playing time of circa eight minutes. What is presented here is the absolute distillation of the mordant and caustic black/grind hardcore sound that the band has had front and center since its eponymous 2014 debut EP.
ANTI RITUAL is still fiercely DIY in their approach, writing, arranging, recording, producing, and designing everything themselves. For the artwork, the band has sought the skills and vision of sixteen-year-old artist Neel Krogholt Bjørst to represent and visualize the outlook of those inheriting the world t we leave behind.
The EP was produced by the band with recording and mix by bassist K. B. Larsen, mastered by Brad Boatright at Audiosiege (Rotten Sound, Full Of Hell, Eyes), and completed with artwork by Neel Krogholt Bjørst. The music video for the title track was created by Morten Grønnegaard.
The band reports, "It is our hope, that one day future generations can look back at records such as this and agree that it is a representation of classic 2020's climate pessimism and call for activistic action, rather than someone digging it out of the rubble of a ruined world, wondering if it can be eaten or used to build a fire to survive by."
Stream ANTI RITUAL's Green Terrorism at all digital points HERE and watch the disturbing video for the title track HERE.
ANTI RITUAL's Green Terrorism is out today, available on 7" vinyl in a run of 200 copies and on all digital providers via Indisciplinarian at Bandcamp HERE and the label webshop HERE.
Green Terrorism Track Listing:
1. Permeated
2. Weak
3. The Last Humans
4. Green Terrorism
5. The Ghost Of Mary Shelley
6. Downfall (Outro)
ANTI RITUAL has also confirmed two shows for September with Danish hardcore punk outfit Smertegrænsens Toldere, with more live news to post over the months ahead.
ANTI RITUAL Live:
9/22/2023 Stengade – Copenhagen, DK w/ Smertegrænsens Toldere
9/23/2023 Radar – Aarhus, DK w/ Smertegrænsens Toldere
ANTI RITUAL:
Marco Malcorps – voice
Jacob Krogholt – guitars
K.B. Larsen – bass
Nikolaj Borg – drums
https://www.facebook.com/indisciplinarian
https://www.instagram.com/indisciplinarian_
https://indisciplinarian.bandcamp.com