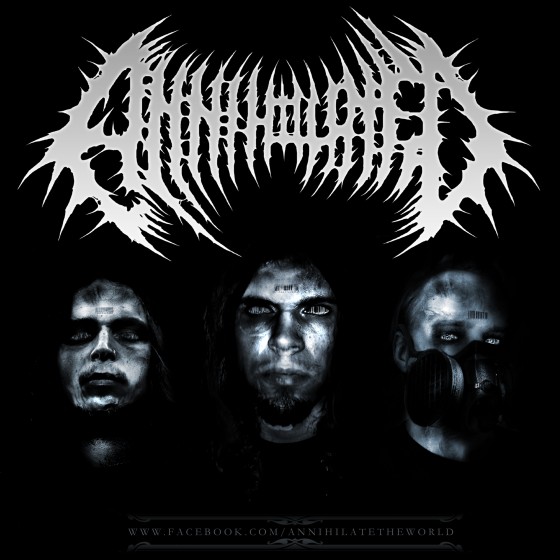 Los Angeles death metallers, ANNIHILATED, are set to enter Trench in Corona, California later this month to record the beast of brutality that will be 13 Steps To Ruination. Set for release via their new label home of Unique Leader Records, 13 Steps To Ruination will be produced by drummer Scott Fuller (Abysmal Dawn). Drums will be recorded by producer/engineer John Haddad (Abysmal Dawn, Exhumed, Intronaut).
Comments the band: "We think this is our heaviest, and catchiest stuff we've written with a very real and intense message we think people will really dig it."
ANNIHILATED seek to spread the truth about corporate and legislative corruption. Forged in 2008 by guitarists Eric Matranga and Robert Fimbres following the demise of their former band Excretion, ANNIHILATED crafts maniacal death metal hymns focused on promoting rational thought and to question what's being force-fed to the masses via mass media. In 2012, drummer Scott Fuller (Abysmal Dawn) joined the group with the same values and ideologies. Helping to further their musical purpose, he added a new dimension of percussive flavor and syncopation to the music. Shortly thereafter, the band recruited ex-Decapitated bassist Martin Rygiel to lay down bass tracks for their EP, Injected. Rygiel's roaring bass assaults and vast musical knowledge supplemented their already refined brand of relentless aggression. The self-released Injected EP was recorded and produced at Trench Studios by Fuller, features guest vocals by Charles Elliott (Abysmal Dawn, Bereft), a special guitar solo by Fancesco Artusato (All Shall Perish, Fancesco Artusato Project) and serves as a taste of the sickness to come with six face-liquefying tracks of extreme, uncompromising death metal.
13 Steps To Ruination will be unleashed via Unique Leader Records next year. Further details to be announced in the months to come.
ANNIHILATED:
Eric Matranga (ex- Excretion, Grotesque) – guitars/vocals
Martin Rygiel (ex- Decapitated, Vader, Lux Occulta) – bass
Scott Fuller (Abysmal Dawn) – drums
Robert Fimbres (Banishment) – guitars
https://www.facebook.com/Annihilatetheworld
http://www.uniqueleader.com
http://www.facebook.com/UniqueLeaderRecords