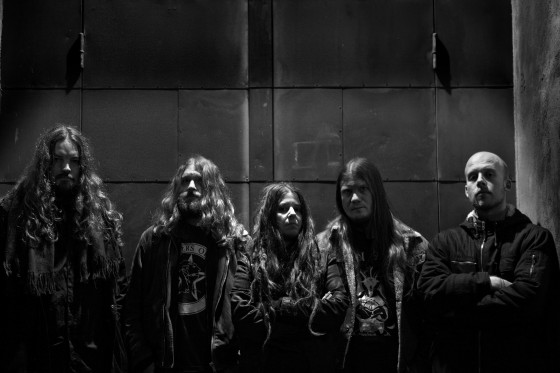 Touring in support of their intense third LP, Rites Of Separation — their first for Southern Lord Recordings, who dropped the album in April of this year — Sweden's AGRIMONIA has confirmed their return to the US this Fall.
The pending tour will see Gothenburg-rooted AGRIMONIA on a three-week venture, launching on November 12th in Los Angeles and winding clockwise through the entire country until the final riff devastates Phoenix on December 4th, bringing their morose blend of crust and gloomy metal to the American hordes. Support for the entire trek will be provided by Arizona's black/death rockers TOAD, along the way the duo also crossing paths with Ancestors, Embers, Eight Bells, Tragedy, SubRosa, Wayfarer, Enabler, Sannhet and a rash of others.
AGRIMONIA U.S. Tour w/ TOAD:
11/12/2013 The Complex – Glendale, CA w/ Ancestors
11/13/2013 Oakland Metro – Oakland, CA w/ Embers, Femacoffin
11/14/2013 Alibi – Arcata, CA
11/15/2013 Branx – Portland, OR w/ Eight Bells
11/16/2013 Highline – Seattle, WA w/ Tragedy, Death Raid
11/17/2013 Shredder – Boise, ID w/ Exmortus, Hatchet
11/18/2013 Bar Deluxe – Salt Lake City, UT w/ SubRosa
11/19/2013 3 Kings – Denver, CO w/ Wayfarer, Weaponizer
11/20/2013 TBA – Lincoln, NE
11/21/2013 Fubar – St. Louis, MO w/ Enabler
11/22/2013 Cobra Lounge – Chicago, IL w/ Enabler
11/23/2013 Now That's Class – Cleveland, OH
11/24/2013 Howler's – Pittsburgh, PA
11/25/2013 Saint Vitus Bar – Brooklyn, NY w/ Sannhet
11/26/2013 Black Cat – Washington DC
11/27/2013 TBA – Raleigh, NC
11/29/2013 Siberia – New Orleans, LA
11/30/2013 Mango's – Houston, TX
12/01/2013 Red 7 – Austin, TX
12/03/2013 Launch Pad – Albuquerque, NM
12/04/2013 Rhythm Room – Phoenix, AZ w/ True Cross, Cave Dweller
Following LP's on Skuld Records and Profane Existence, AGRIMONIA joined the Southern Lord roster in mid-2012. Their label debut, Rites Of Separation, was mixed by Fredrik Nordstrom at Studio Fredman (At The Gates, Opeth, Arch Enemy), and presents the band's most damaging alloy of metallic influences to more expansive realms than ever. The album's five massive, dense tracks encompass a full hour, delivering the band's crustpunk ethos through grating, doom-filled riffs and post-metal voids, merging into an emotional and crushing blend of Damad, Opeth, Crisis, Bolt Thrower and Nausea.
Stream all of Rites Of Separation and more AT THIS LOCATION.
"Rites of Separation is a truly marvelous work of art, and will hopefully receive the recognition it deserves as one of 2013's great triumphs 8/10." – Pitchfork
"You can bet this ambitious piece of metal mastery will be on my end of the year list. 9/10"- American Aftermath
"This album is thoughtful and fierce, polished and skillful, interesting and engaging through every single track." – Slug Mag
"Though the personnel of members of Martyrdöd, Skitsystem and At the Gates may indicate a certain aesthetic, Gothenburg's Agrimonia are truly emblematic of the term eclectic… the band uses solo piano/guitar, touches of industrial and ambiance to let more intense passages of death metal, sludge/doom, black metal, post-rock and crust breathe." – Invisible Oranges
"Agrimonia are a very angry band, but the shades of light and beauty that seep from the cracks of their filth are where they truly shine. This nether region between light and dark is a compositional tool Agrimonia wield powerfully and with purpose." – No Clean Singing
"The length of the songs allows the members of Agrimonia to venture into quite a few dark places, and with good results… The band's musicianship is beyond stellar. 4/5" – About.com
http://agrimonia.info
http://www.southernlord.com
https://www.facebook.com/SLadmin
http://twitter.com/twatterlord