V13 is currently streaming Black Openings, the latest full-length from long-running experimental post-punk/doom outfit ANATOMY OF HABIT. The premiere comes on the eve of the record's official release, Friday, February 24th.
Elaborates vocalist Mark Solotroff, "Releasing Black Openings in a timely manner, as a follow up to our previous album Even If It Takes A Lifetime, was an important milestone for us, as it demonstrates the momentum that we're building as a band. It was critical to not just release a single album, after the long gap that trailed Ciphers + Axioms. Furthermore, knowing that we're about fifty percent finished with our next album, we feel confident that we can maintain the forward push that we've been working hard to develop.
"It's not just about releasing albums, although that feels really good. It has to do with the fact that this lineup has experienced consistency and fluidity in our ability to collaborate and to create new songs. We may still labor over them, to make sure they're ready to perform and to record, but there are always one or two new ideas in development. As for Black Openings, I think it encapsulates exactly what ANATOMY OF HABIT is all about. It contains the important balances that we strive for, between darker and brighter, heavier and lighter, slower and faster. Well, look, we're not becoming a speed metal band, but we can shift into a higher gear, from time to time. It's always an exciting moment when we finally share our latest music with a broader audience. The opportunity to make new connections and to learn how people interpret our work, in their own way, is always rewarding. We hope that this album resonates with people who already listen to us, and we look forward to hearing from new listeners who discover us through Black Openings. As this album makes its way into the world, we'll be working hard to wrap up the next one. What's our next milestone? It'll be an album with four songs. You heard about it here, first."
Stream ANATOMY OF HABIT's Black Openings in its absorbing entirety at THIS LOCATION. 
Thematically, Black Openings continues to elaborate on Solotroff's expressions of love and loss, the abstracted and vanishing self, and complexities within the creative process. It further explores the concept of obliteration, and it propels the idea to a dreadful new terminus point. The concept of the inner drive that keeps pushing a person forward, which Solotroff explored on Even If It Takes A Lifetime takes on a new meaning here, when the harrowing black hole of the title track opens up and swallows you.
Black Openings was recorded with Sanford Parker, who has been working with the band in the studio for over a decade, including on their 2014 Relapse Records-issued Ciphers + Axioms. Parker also handled mixing duties while Collin Jordan (Boiler Room Mastering) took care of mastering.
Black Openings, which comes adorned in the artwork of Solotroff, will be released on CD, LP, cassette, and digitally. Find preorders at THIS LOCATION.
Formed in Chicago in 2008, ANATOMY OF HABIT has been described as a hybrid of doom metal, post-punk, death rock, early-industrial, psychedelic, and shoegaze. Although they've experienced significant membership changes since forming, today's band, which includes Alex Latus (guitar), Isidro Reyes (metal percussion), Skyler Rowe (drums), Mark Solotroff (vocals), and Sam Wagster (bass, lap steel), represents their longest-standing and most prolific lineup. The band credits their treasured chemistry to their intertwining histories as friends and collaborators. Rowe and Latus have made music together since they were teenagers, growing up in Indianapolis' heavy music scene, while playing in the band Still. Rowe and Wagster create sweeping, pastoral instrumental music together in Mute Duo. Reyes and Solotroff are old friends who've played together for many years and they continue to record and perform in both BLOODYMINDED and The Fortieth Day. This deep connective tissue contributes to what the band describes as consistently effortless writing sessions and innately unified live performances.
"…a long, lovely journey that you can settle into, trusting that you'll be alternately unsettled, soothed, creeped out, pummeled, and exalted… Sheets of shimmering guitars appear like torrential rains, giving way to a quiet interlude and a sinister sense of ritual catharsis…" – The Chicago Reader
"It's power that truly defines the ANATOMY OF HABIT sound across time and personnel changes, and 'Black Openings'' own muscular sound, appended by junk percussionist Isidro Reyes' rhythmic counterpoint with Rowe's heavy pulsing and guitarist Alex Latus' slack-tuned atmospheres, truly shines as one of Chicago's finest active live acts." – Invisible Oranges on Black Openings' title track
"The extended instrumentation is top notch and never overbearing or gimmicky, and perfectly blends in with the heavier more 'metal' passages and the hypnotic vocals. Perfectly making accessible to listeners their experimental nature, ANATOMY OF HABIT is a unique and engaging band." – Infernal Masquerade
ANATOMY OF HABIT:
Alex Latus – guitar
Isidro Reyes – metal percussion
Skyler Rowe – drums, vibraphone
Mark Solotroff – vocals, analog synth
Sam Wagster – bass, lap steel, piano, keyboard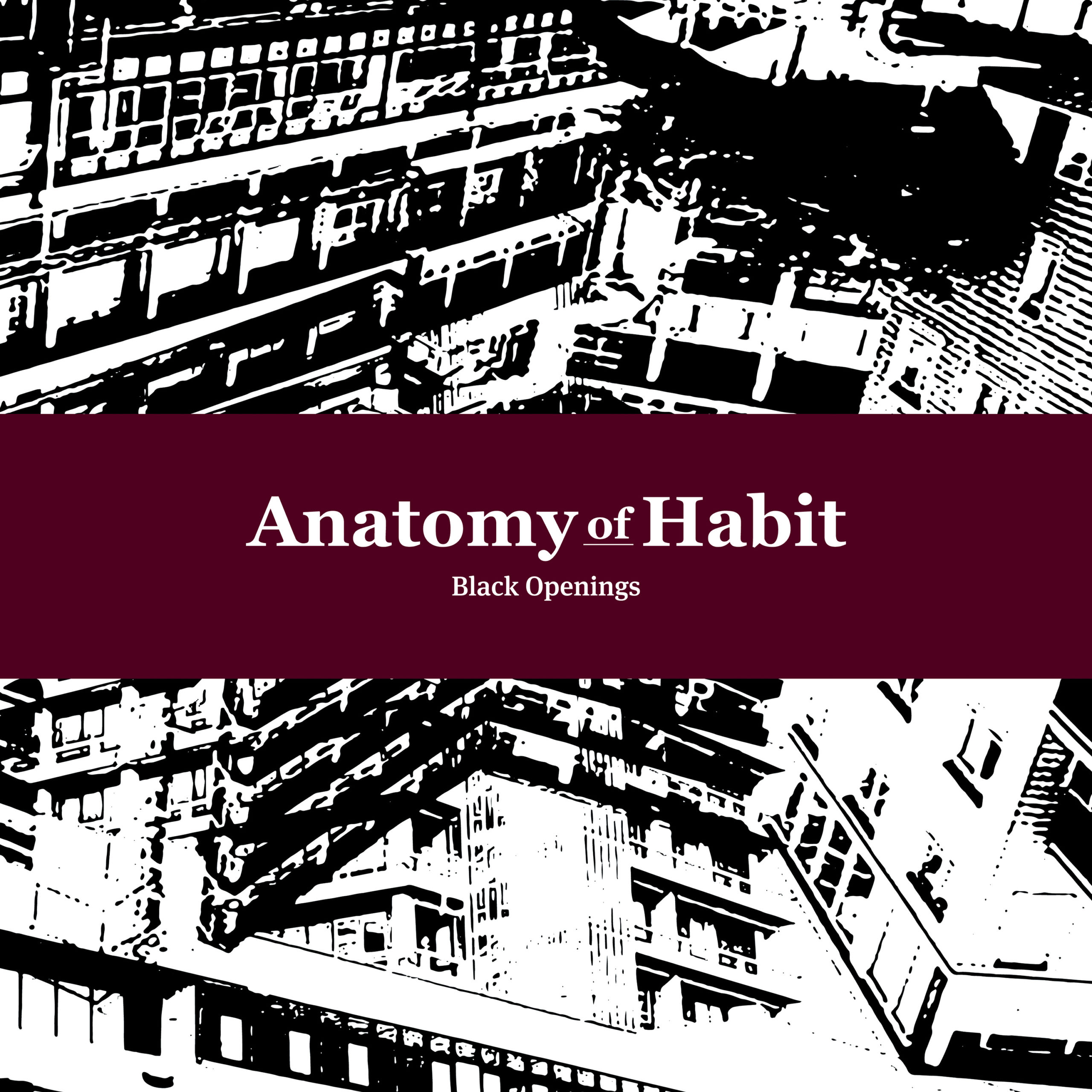 http://www.anatomyofhabit.com
http://www.anatomyofhabit.bandcamp.com
http://www.instagram.com/anatomyofhabit
http://www.facebook.com/anatomyofhabit
http://open.spotify.com/artist/25eNG0mU6r1UiaTn55Tffs
http://music.apple.com/us/artist/anatomy-of-habit/600549149