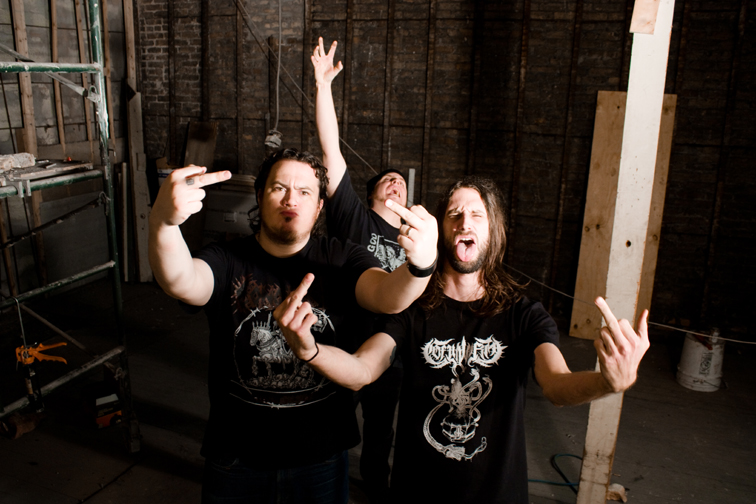 It's been a hell of a month for LAIR OF THE MINOTAUR…
With the release of their fourth full-length Evil Power just days away — set for official release on April 13th — the record is killing at radio, being ranked #1 most added at metal radio its first week out (3/30), at both the CMJ Loud Rock charts and FMQB Metal Detector. The record is still going strong and we urge you to call your local station and demand some Lair!! Check this site for the number to harass in your area: http://www.lairoftheminotaur.com/site/?page_id=64
Last week we premiered LAIR OF THE MINOTAUR's brutal new video for the album's title track "Evil Power." Within record time, YouTube removed it completely. The band re-posted it on their own site and moved on. Days later they posted the new track "Let's Kill These Motherfuckers" on their MySpace page. Again, within minutes, the track was pulled! So once again, they're doing it themselves.
You can check out the insane "Evil Power" video, as well as preview FOUR new tracks from the upcoming release HERE:
In other news, the "Evil Power" video will get a big-screen debut at a local screening at the Sci-Fi Spectacular 4 film fest at Chicago's Music Box Theatre tomorrow, Saturday, April 10th. Films run from noon until 2am and include: They Live, Q The Winged Serpent, Flash Gordon, Them, Planet of the Vampires, Lifeforce and Dark Star. The "Evil Power" video will be shown right before They Live at midnight! Get the full lowdown on the event here: http://www.myspace.com/moviesidefilmfestival.
The band's Spring tour kicks off next week in support of the release as well.
LAIR OF THE MINOTAUR Evil Power Spring Tour:
4/16/2010 Melody Inn – Indianapolis, IN w/ Coffinworm
4/17/2010 Peabody's – Cleveland, OH w/ Solopsist
4/18/2010 Sonar – Baltimore, MD w/ Revolta, Wolfnuke
4/19/2010 M Room – Philadelphia, PA w/ Ludicra, Tombs, Krallice
4/21/2010 The Charleston – Brooklyn, NY w/ The Binary Code, Elks
4/22/2010 Velvet Lounge – Washington DC w/ Ol Scratch, Admiral Browning
4/23/2010 Broadway Joe's – Buffalo, NY w/ Cattle Decapitation, Gaza
4/24/2010 The Summit – Columbus, OH w/ Fools Crown
Set for release April 13th on the band's own The Grind-House Records, Evil Power was recorded by Sanford Parker in the band's Chicago stomping grounds. Comprised of Centurions Steve Rathbone (vocals/bass), Chris Wozniak (drums) and introducing new bassist Nate Olp (Demiricous), LOTM's patented Greek mythology-inspired brutality continues on Evil Power, laying all in its path to waste with a stripped-down approach as heavy as the Kraken, while showing off the band's punk and crossover influences.
"So primitive is Evil Power, in fact, that it's like moving from a Bronze Age sword to a straightforward mace, and it just might wind up being the band's masterstroke." – Decibel Magazine
"Their sound is still based on some of the most pummeling metal the US has ever produced…" – The Obelisk
"…Lair of the Minotaur is arguably the ultimate catharsis for the vengeful misfit in all of us." – Sleazegrinder
"This is one of those albums that you jack up to 11, grab something heavy and beat the shit out of everything in sight." 4/5 – Mouth For War
"… the be all, end all, rawest, most virulent slab of metal that I've heard in the past year." – The Ripple Effect
http://www.lairoftheminotaur.com
http://www.myspace.com/lairoftheminotaur
http://www.thegrind-houserecords.com
http://www.southernlord.com