Desert drone/doom outfit AN EVENING REDNESS today unveils "Black Flame At The Edge Of The Desert." Now playing at Treble, the track comes off the band's superb self-titled debut, set for release February 25th via Transylvanian Recordings.
Evoking the hallucinatory clarity of the alkali plains and the biblical violence of its literary namesake, AN EVENING REDNESS bursts from obscurity with a fusion of sounds that seem incompatible on paper but prove blindingly innovative in action.
Deeply introspective and evoking hallucinatory darkness, AN EVENING REDNESS' self-titled debut is the newest release from Brandon Elkins. Composed, arranged, and produced by Elkins, the offering is a masterwork of diverse ambient doom and post-ambient composition, with the minimalism of Earth contrasted with passages that wouldn't feel out of place on Jesu's Opiate Sun. An ensemble of musical talents including vocalist Bridget Bellavia (BLKTXXTH, Piggy Black Cross), guest soloist Brendan Sloan (Convulsing), and session drummer Ryan Jewell (Riley Walker and many others) serve to underscore the drama and focused production contained within the album's six tracks.
Notes Elkins of "Black Flame At The Edge Of The Desert," "'That which exists without my knowledge, exists without my consent.' 'Black Flame…' was meant, from its conception, to refract the hallucinatory and violent nature of the ending of Blood Meridian. The final paragraph depicts the character of the Judge, madly pirouetting, rampant in his violence and delusion, accompanied by music of his own making. While the track is initially beautiful, with a lilting pedal steel melody and Bridget Bellavia's breathy vocals held in place by the swinging and lyrical drums Ryan Jewell provided. The bridge between beauty and madness is the stunning AOR-styled solo from Brendan Sloan. The descent is slow and inexorable, with no recovery from madness in sight."
Adds Treble, "It's a gorgeously spacious track that finds the lonesome twang of pedal steel intersecting with more abrasive winds of dark ambient and doom metal, Bellavia's vocals offering a wispy, wordless guide through its spacious atmosphere toward some more electric guitar soloing and eventually a more thunderous climax halfway through. It's a lot of song, with a lot of all ideas, all covered in a fine layer of dust and clay — evoking the very Cormac McCarthy-inspired landscape that informs their songwriting."
Stream "Black Flame At The Edge Of The Desert," courtesy of Treble, at THIS LOCATION.
What ties An Evening Redness together is an atmosphere that feels spiritually closer to a film score than what you'd expect from a solo record. Notes Elkins, "I wanted to make music that sounds like how Blood Meridian reads. Lonely, high plains insanity, sudden bursts of violence, longing melodies, ambient isolation." Elkins' work has always been hard to pin down, but this feels like a culmination of not only the best elements of his many projects – but the compositional mastery that can only come from decades of refined craft. With the intensity of modern doom masters like Bell Witch and the emotional and musical dexterity of Neko Case at peak powers.
An Evening Redness will be released on CD, vinyl, and digital formats. Find preorders at THIS LOCATION where "Mesa Skyline" can also be streamed.
"AN EVENING REDNESS' folk-and-country-influenced drone musings transport the listener to the great, wild stretches of sand and nothingness of my youth…" — Invisible Oranges
"…the music, a rich mix of drone, dusty Americana, and doom, transports the listener deep into the desert, playing with heat and isolation as well as colorful evening skies that breath new life into your lungs." — Meat Mead Metal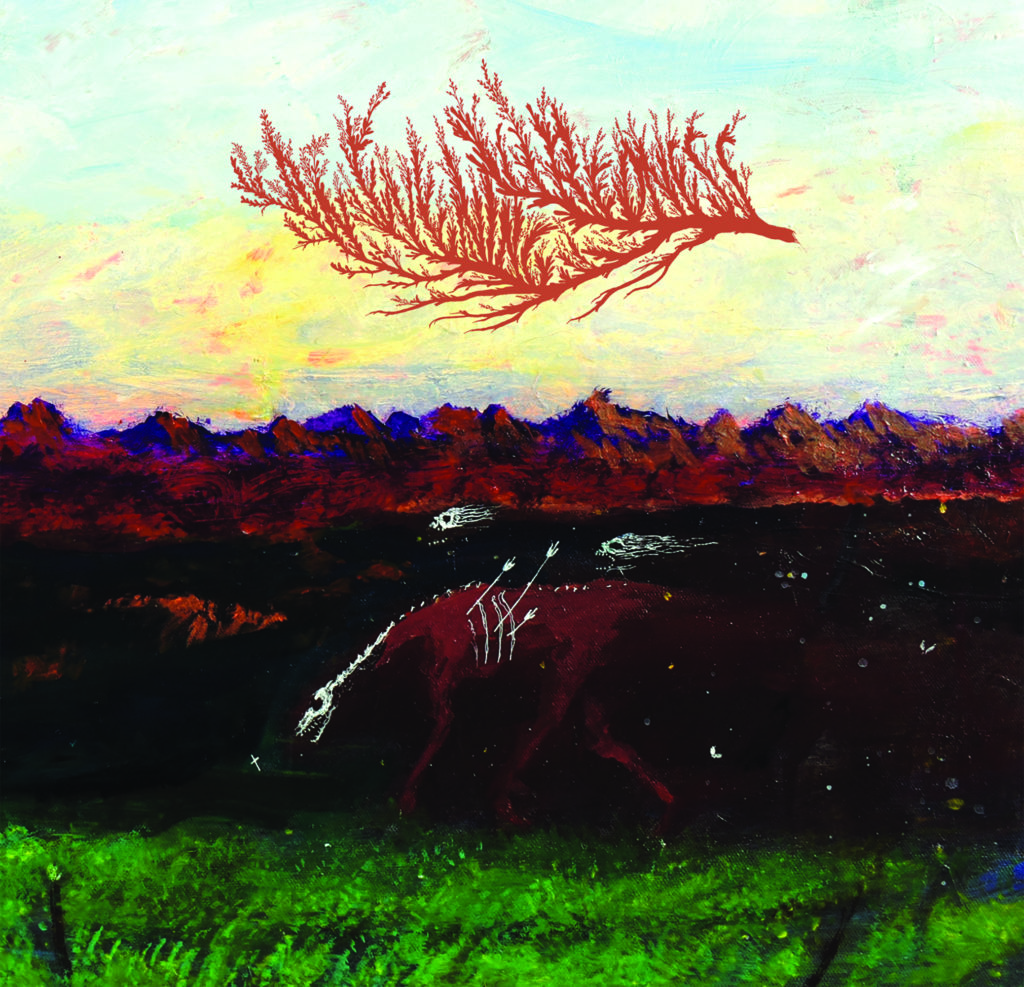 http://twitter.com/alkalidweller
http://www.facebook.com/TransylvanianRecordings
http://www.instagam.com/transylvanianrecordings
http://www.transylvaniantapes.bandcamp.com