It is with great honor for Neurot Recordings to announce the label's official signing of Belgian sorcerers AMENRA.
A perfect fit to Neurot's already organically soulful and cerebrally crushing roster, AMENRA's newly completed fourth full-length album, Mass V, will be released in the coming months, with a confirmed street date and more details to be brought forth shortly.
AMENRA have pulverized audiences abroad since the turn of the 21st century via an arsenal of split and mini-releases, as well as three full-length albums to date. They have proven themselves in the live setting as well, having toured with the likes of Neurosis, Converge, Pelican, Starkweather, Battlefields and countless others, and via notable performances at massive festivals including Roadburn, Eurosonic and more.
Stated AMENRA in a collective statement about signing with Neurot: "Since day one, and for a decade now, we found ourselves in a cold and lonely place. Until our paths crossed with the Neurot family. A warm embrace. We believe now we have found a place we can call our own, and with great pride. We sincerely see this as the opportunity for us to prove to the world that our being here on Earth, In time, will not go unnoticed, but will be well spent. Mass V. We will make it mean something, always and everywhere."
Neurot Recordings founder and Neurosis guitarist/vocalist Steve Von Till also made an official statement on the label's choice to bring AMENRA into the Neurot family. "For us in Neurosis and Neurot Recordings life has always been a quest searching for something deeper, something more meaningful, something that moves one to feel something real in a world full of soul killing triviality. AMENRA is deep, and real, and moving, and incredibly inspiring. Their family is dedicated and like minded in a way that we relate to completely. Kindred spirits. Their musical and visual aesthetic is pure and runs through everything they do, their music, their words, their graphics, their visuals, and print media. That unspoken spiritual core that we seek, weaves throughout their being. It is with great honor that we welcome them to our home, and to our label. There are few in our tribe in this world, and we are definitely stronger when we are together. I am eagerly awaiting the sonically induced spirit quest that will be Mass V at the Church of Ra."
In related news, AMENRA will be supporting Neurosis once again on several live dates in Germany, Austria and France over the coming week, for the first time with the two artists now as official labelmates. Stated the band on the upcoming performances: "Our second tour with Neurosis. A restless heart. An unpredictable force of nature. Neurosis broke down walls and used those stones to build a path that now AMENRA is able to walk. Without them we might not even have existed at all. Who knows. The recognition we get might be more substantial to us than breath, a light that fills the dark chambers of our hearts, until it will be gone. I expect and wish the shows to be out of this vvorld. We will try and guide the sparks, stoking and tending the flames, where Neurosis will set the bonfire alight. And each night, together, we will build that pyre. It will always be a godsgift and honour. for us to share stages with them. And travel with them, in silence. In everything we give thanks."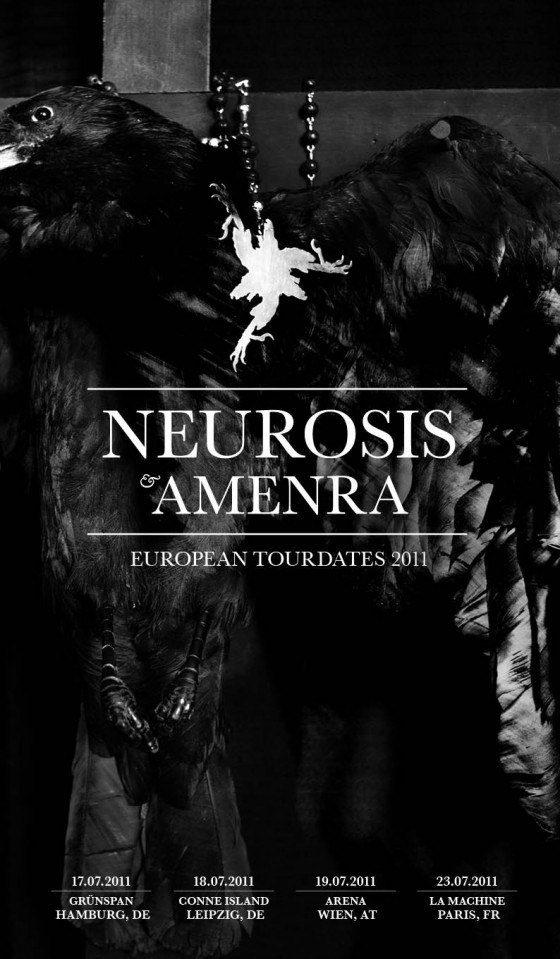 NEUROSIS with AMENRA July 2011:
7/17/2011 Grünspan- Hamburg, Germany [info]
7/18/2011 Conne Island – Leipzig, Germany [info]
7/19/2011 Arena – Wien, Austria [info]
7/23/2011 La Machine De Moulin Rouge – Paris, France [info]
Stay tuned for more live updates on AMENRA and the upcoming monolith that shall be Mass V in the weeks ahead.
http://www.churchofra.com
http://www.facebook.com/churchofra
http://www.neurotrecordings.com
http://www.facebook.com/neurotrecordings