Minneapolis grindmanglers, AMBASSADOR GUN, demonstrate their expertise in deploying hard-partying grindcore tactics on-the-go, issuing their "Once Upon The Sauce" and "Tomb Of Broken Sleep" tracks in a conjoined double-header video, which now makes its debut via Decibel Magazine to get you marinated for the week.
Filmed by Adam Dunn, the duo of new reefer-raging videos — both tracks culled from the band's new independent full-length, Tomb Of Broken Sleep — bust into the interwebs in fully entertaining AMBASSADOR GUN fashion. Watch as drummer Patrick Ruhland executes his percussive attack from a sniper's van-top vantage point, while axemen Tim Sieler and Luke Olson switch bass and guitar with a mid-song juggling trade-off. The band gets to the root of their van's engine problems, attacks a Wolverine-style gauntlet of mighty blunts, wipes thousands of pounds of booze off the face of the earth and even does the dishes. Oh, and they drop a solid five-and-a-half minutes of scathing grindcore awesomeness too.
Scope out AMBASSADOR GUN's "Once Upon The Sauce & Tomb Of Broken Sleep" at Decibel Magazine RIGHT HERE.
Also check out the "Mighty Steed" video from the album with American Aftermath at THIS LOCATION.
Tomb Of Broken Sleep is out now digitally direct through the band HERE. One or multiple physical versions of the record will be issued in the coming months, in conjunction with sporadic touring.
The follow-up to AMBASSADOR GUN's Prosthetic Records-released Golden Eagle album, Tomb Of Broken Sleep was recorded, mixed and mastered by Adam Tucker at Signaturetone Recording (Blue Ox, Guzzlemug, Nerves) in Minneapolis, the record presenting the band in top form. Unloading ten new tracks in just over twenty-six minutes, the consuming grooves on this record exemplify the band as one that can fearlessly write songs that are as devastatingly caustic as they are infections and memorable. No Clean Singing offered of the album, "It's a hybrid barrage of death/grind/crust propelled by riffs so monstrously beefy that they'll vibrate your teeth and by bass-and-drum blows that go off like warheads… Through it all, you get caustic vocal violence and a doomed melody that you may find ringing in your head long after the immediate blast front of the song has passed you by." American Aftermath proclaims, "Man, it seems like I've been championing AMBASSADOR GUN for a long time now and the band just keeps getting better," while Dead Rhetoric issued, "At 26 minutes total, Tomb Of Broken Sleep is a rare piece of grind that keep sthe intensity intact, yet keeps you coming back for more, even to the point of a back-to-back listen. At three albums in, AMBASSADOR GUN seem to have a good impression of their strengths, and are utilizing them to design sludgty grind that can just as easily crawl as it can blast through leaps and bounds."
AMBASSADOR GUN Live:
9/05/2015 Triple Rock Social Club – Minneapolis, MN w/ Fuck The Facts, Gar, Morality Crisis [info]
10/02/2015 TBA – Minneapolis, MN w/ Call Of The Void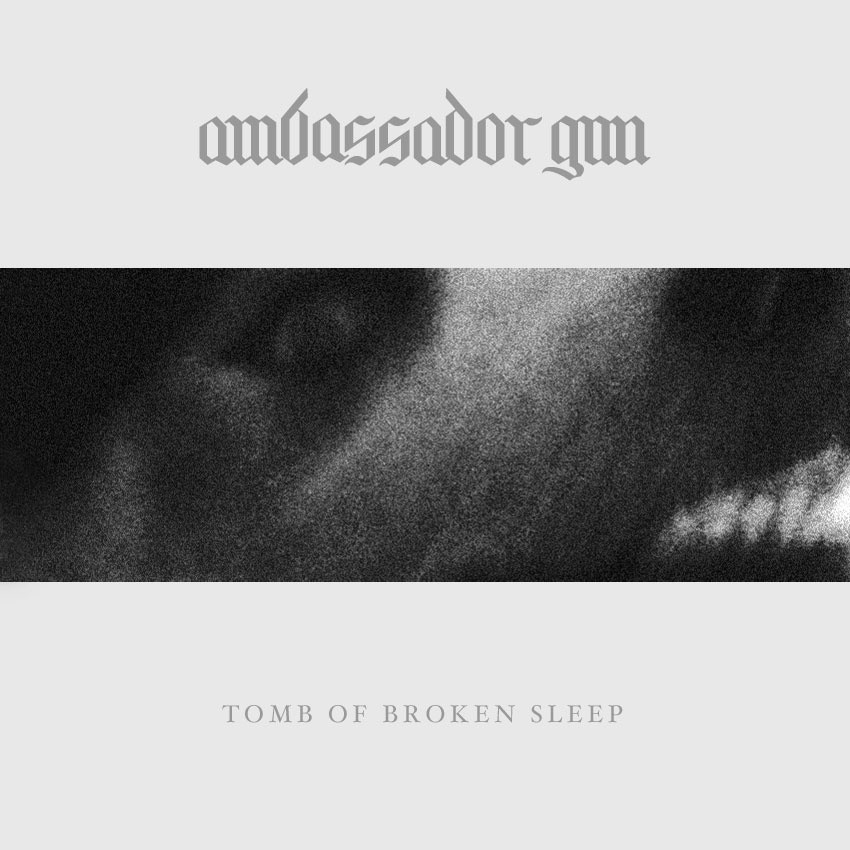 http://www.facebook.com/ambassadorgunmpls
http://www.ambassadorgun.bandcamp.com
http://www.ambassadorgun.bigcartel.com