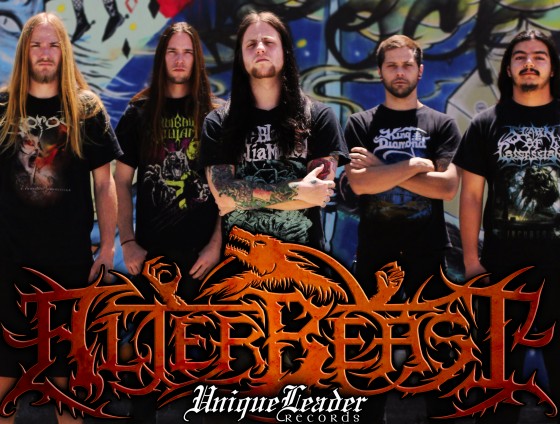 Sacramento progressive death metal titans, ALTERBEAST, will kick off a month-long North American run of live takeovers tomorrow supporting The Black Dahlia Murder and Suicide Silence. Presented by Blackcraft, the tour will commence in Chicago at the Bottom Lounge and coil its way through two-dozen cities, coming to a close in Denver at The Summit Music Hall. Additional support will come from Chelsea Grin.
Comments team ALTERBEAST: "Trick or Treat motherfuckers! We're going to be running amuck with Suicide Silence, The Black Dahlia Murder and Chelsea Grin all over this god forsaken country of ours and we couldn't be more stoked! Every night of this tour will be fucking insane so come out and completely lose your shit with us! Keep those horns up, shred till you're dead and we'll see you in the pit!"
ALTERBEAST will be touring in support of their spleen-rupturing Immortal full-length, released earlier this year via Unique Leader Records. Assembled in several locales throughout 2013, with guitars and bass recorded at Augmented Audio in Los Angeles by former The Black Dahlia Murder bassist Ryan "Bart" Williams, vocals arranged at Mayhemeness Studios in Sacramento by Bob Swanson (Rings Of Saturn) and drums tracked at Castle Ultimate Studios with Zack Ohren (Light This City, All Shall Perish, First Blood, Cattle Decapitation, Warbringer et al), who also mixed and mastered the offering, Immortal is a dynamic, meticulously executed and unapologetically scathing creation of auditory brutality that continues to earn the approval from fans and media globally. Decibel calls the record, "…sicker-than-a-resurrected-centurion-werewolf…" HeavyBlogIsHeavy notes, "ALTERBEAST have stirred the pot, plunged a claw in and come out with one of the most exciting death metal debuts in recent history… their skills and creativity have crafted an unholy 'beast' of a record which plays like a long forgotten demon wreaking havoc on us mere mortals," while TechnicalDeathmetal.com gushes in a perfect 10/10 review, "ALTERBEAST's first full-length combines bludgeoning yet dynamic technicality with neo-classicism Christian Muenzner would envy. The final product gives competition to genre heavyweights like Origin and Archspire for best record of 2014."
ALTERBEAST w/ The Black Dahlia Murder, Suicide Silence, Chelsea Grin:
10/03/2014 Bottom Lounge – Chicago, IL
10/04/2014 House Of Blues – Cleveland, OH
10/05/2014 St. Andrew's Hall – Detroit, MI
10/06/2014 Opera House – Toronto, ON
10/07/2014 Club Soda – Montreal, QC
10/08/2014 Paradise – Boston, MA
10/09/2014 Irving Plaza – New York, NY
10/10/2014 Theatre Of The Living Arts – Philadelphia, PA
10/11/2014 The Fillmore – Silver Spring, MD
10/13/2014 Revolution – Ft. Lauderdale, FL
10/14/2014 The Orpheum – Tampa, FL
10/15/2014 Masquerade – Atlanta, GA
10/17/2014 House Of Blues – Houston, TX
10/18/2014 House Of Blues – Dallas, TX
10/19/2014 Backstage Live – San Antonio, TX
10/21/2014 Club Red – Phoenix, AZ
10/22/2014 House Of Blues – San Diego, CA
10/23/2014 Yost Theatre – Santa Ana, CA
10/24/2014 San Manuel Amphitheater – Devore, CA (Knotfest Pre-Party)
10/25/2014 Ace Of Spades – Sacramento, CA (no Suicide Silence)
10/26/2014 The Fillmore – San Francisco, CA
10/28/2014 Knitting Factory – Boise, ID
10/29/2014 In The Venue – Salt Lake City, UT
10/30/2014 The Summit Music Hall – Denver, CO
Formed in 2011 under the working title Gary Busey Amber Alert (GBAA), ALTERBEAST combines the teachings of The Black Dahlia Murder, Necrophagist and Spawn of Possession with the classic death metal mastery of band's like Dissection and Morbid Angel into an irately cathartic sound expulsion.
Immortal is out now via Unique Leader. Order your copy today at THIS LOCATION.
For iTunes orders, point your browser HERE.
"If you're looking for some shredding to the 10th level, ALTERBEAST may be your alter-best alter-bet…. if you want some modern technical sorcery with an old-school vibe, here you go." – Gear Gods
http://www.facebook.com/ALTERBEASTofficial
http://www.youtube.com/ALTERBEASTofficial
http://uniqueleader.com