Colorado metal force ALLEGAEON will kick off their month-long North American tour supporting Omnium Gatherum this weekend! The journey begins on February 26th in Brooklyn, New York and runs through March 27th in Boston, Massachusetts. Additional support will be provided by Black Crown Initiate. See all confirmed dates below.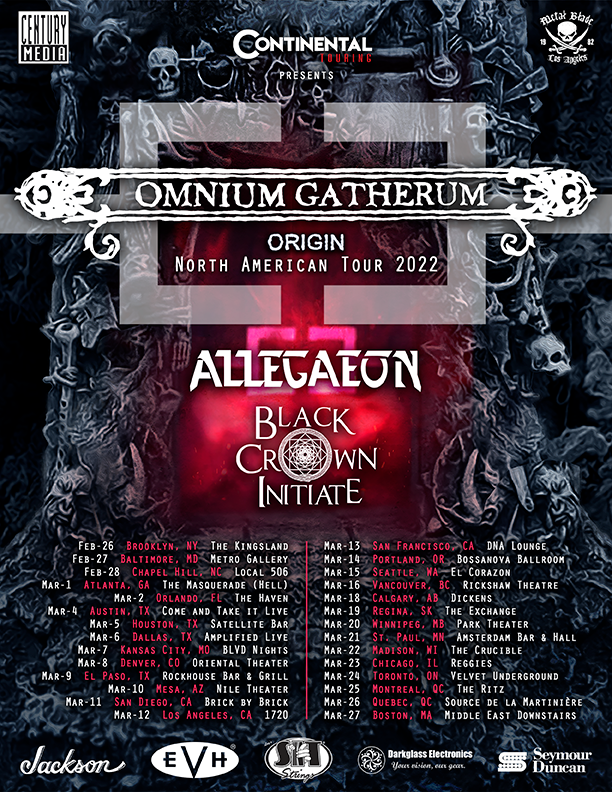 ALLEGAEON w/ Omnium Gatherum, Black Crown Initiate:
2/26/2022 The Kingsland – Brooklyn, NY
2/27/2022 Metro Gallery – Baltimore, MD
2/28/2022 Local 506 – Chapel Hill, NC
3/01/2022 The Masquerade – Atlanta, GA
3/02/2022 The Haven – Orlando, FL
3/04/2022 Come And Take It Live! – Austin, TX
3/05/2022 Satellite Bar – Houston, TX
3/06/2022 Amplified Live – Dallas, TX
3/07/2022 BLVD – Kansas City, MO
3/08/2022 Oriental Theater – Denver, CO
3/09/2022 Rockhouse Bar & Grill – El Paso, TX
3/10/2022 Nile Theater – Mesa, AZ
3/11/2022 Brick By Brick – San Diego, CA
3/12/2022 1720 – Los Angeles, CA
3/13/2022 DNA Lounge – San Francisco, CA
3/14/2022 Bossanova Ballroom – Portland, OR
3/15/2022 El Corazon – Seattle, WA
3/16/2022 Rickshaw Theatre – Vancouver, BC
3/18/2022 Dickens – Calgary, AB
3/19/2022 The Exchange – Regina, SK
3/20/2022 Park Theater – Winnipeg, MB
3/21/2022 Amsterdam Bar & Hotel – Minneapolis, MN
3/22/2022 The Crucible – Madison, WI
3/23/2022 Reggies – Chicago, IL
3/24/2022 Velvet Underground – Toronto, ON
3/25/2022 The Ritz – Montreal, QC
3/26/2022 Source de la Martinere – Quebec City, QC
3/27/2022 Middle East Downstairs – Boston, MA
ALLEGAEON will be touring in support of their their sixth studio album, DAMNUM, set for release on February 25th via Metal Blade Records. ALLEGAEON have built themselves a unique place in the musical landscape, forcing both technicality and melody to the forefront as they create tumultuous and riveting death metal. With DAMNUM, they push everything further into the extreme, and in the process deliver the definitive ALLEGAEON record. Preview and purchase DAMNUM at metalblade.com/allegaeon.
"ALLEGAEON's metamorphosis from mechanical tech-deathheads to progressive wayfarers has been as smooth as it was unpredictable. They've avoided the period of stagnation that brings down so many great tech bands. We should have all guessed from those Rush and Yes covers which way the wind was blowing, but few would have predicted just how impressive DAMNUM would be." — Metal Injection
http://www.facebook.com/Allegaeon
http://twitter.com/allegaeon
http://www.instagram.com/allegaeonofficial
http://www.youtube.com/ALLEGAEON
http://metalblade.com/allegaeon
http://www.facebook.com/metalbladerecords
http://twitter.com/MetalBlade
http://www.instagram.com/metalbladerecords