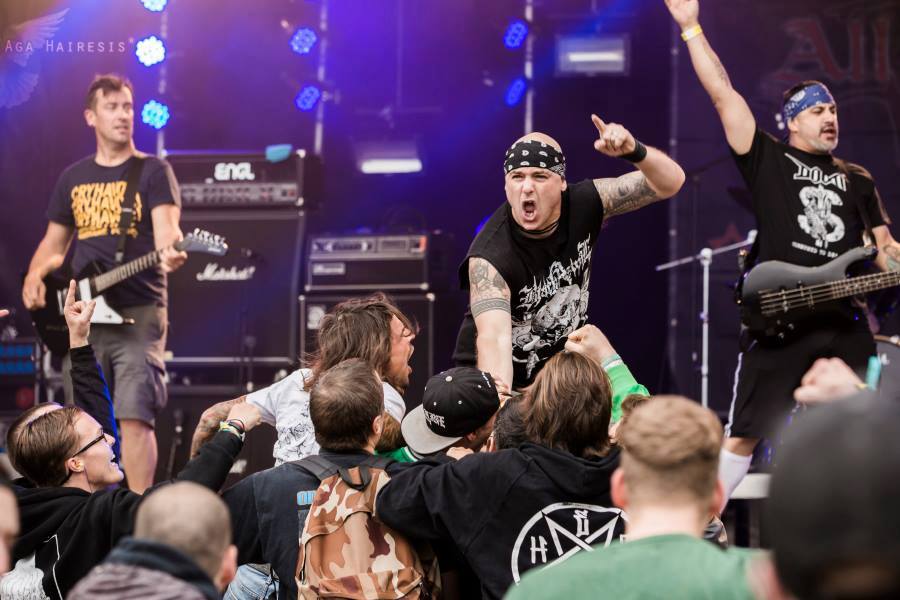 New York metal crossover mainstays, ALL OUT WAR, will embark on a weekend-long trek through the Northeast US this week, with shows in Pennsylvania, New York and Massachusetts, including two toy drive charity shows.
This Friday, December 18th, sees ALL OUT WAR in Philadelphia, Pennsylvania with Shai Hulud, Mother Of Mercy, Eternal Sleep and more, which will serve as the first of two toy drive shows on the trek. The second toy drive gig is the next night, Saturday, December 18th, in the band's native stomping grounds in Poughkeepsie, New York, joined by Shai Hulud, Eternal Sleep and Recycled Earth. Fans are urged to bring a toy/gift for donation to a family in need to these shows. A third show will take place on Sunday, December 20th, in Chicoppee, Massachusetts with Shai Hulud, Eternal Sleep and more.
Stream all of ALL OUT WAR's Dying Gods EP at THIS LOCATION and see the video for "Nothing Left To Bleed" HERE.
ALL OUT WAR w/ Shai Hulud, Eternal Sleep:
12/18/2015 Ortlieb's – Philadelphia, PA *toy drive show [info]
12/19/2015 The Loft – Poughkeepsie, NY*toy drive show [info]
12/20/2015 Christ Community Church – Chicoppee, MA
Engineered and produced by Steve Evetts (The Dillinger Escape Plan, Hatebreed, Turmoil) at West West Side Studios and mastered by Alan Douches from West West Side, Dying Gods was released in late June through Organized Crime, the record proving how ALL OUT WAR remains one of the leaders of the underground hardcore/metal scene. The band's, groove-laden brutality infuses their infamous, searing metal leads with the harsh breakdowns they've been known for since inception, lyrically focusing on steady downfall of humanity. In addition to five brand new songs, the band pays homage to some of their most influential acts with covers of Carnivore's "God Is Dead" and Amebix' "Arise."
Decibel Magazine published, "Dying Gods is some seriously high-grade, fully actualized, take-no-prisoners, for-really-real metalcore. Heavy on the metal, thank fucking you-know-who." Noisey offered, "The New York hardcore band take chug metal riffs, add in all manner of vitriol, dive-bombs, and half-speed parts for the mosh kids into hardcore readymade for the pit. No bullshit, just hate… Nasty nasty shit made to crank up and scream along." Stereokiller crowned the album with a 5/5 review, including, "Doubters be damned. I'm happy to report, that for as good as …Killing Fields was, this is the record you've been waiting for… 'In Choking On Indifference' and 'Servants To The Obsolete', you have the best two songs that the band has ever written. If the band was trying to make a statement after 25 years in the game, they sure did." New Noise Magazine agreed, its 4/5 write-up offering, "ALL OUT WAR have taken a step back to their early sound and have infused it with their current sound to bring you a pummeling no holds barred solid metal/hardcore release… The band is nearing its two-and-a-half-decade mark and show no signs of slowing down."
Dying Gods is available on CD with an exclusive bonus download of three tracks from the unreleased 1993 demo, and on vinyl delivered in multiple color schemes including a digital download code. Orders for all physical versions including merch bundles can be placed HERE.
http://www.facebook.com/alloutwarunofficial
http://www.organizedcrimerecords.com
http://www.facebook.com/organizedcrimerecs
http://www.twitter.com/orgcrimerecs
http://www.crimescenemerch.com