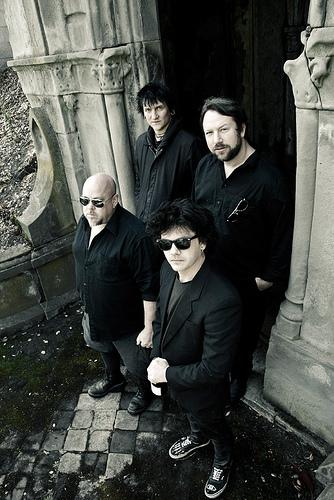 Oakland-based ALARIC are preparing to release their debut album via 20 Buck Spin this Autumn.
Featuring alumni of Noothgrush, Enemies, Cross Stitched Eyes, Dead & Gone, UK Subs and more, the members of ALARIC joined forces several years ago, and have existed without much visibility until now. Far from resembling a stew of the band's previous acts in any way, ALARIC resemble more of the late 80's dark post-punk, with elements of Killing Joke, Rudimentary Peni, Christian Death, Joy Division and Amebix, their plodding songs flowing cohesively as animate entities of their own, yet wholly bearing a sorrowful, pained overtone. The immediately infectious songs and revamped classic/retro nature of the album sets ALARIC's sound apart from any other contemporary act under the banner of punk rock.
Showcasing nearly 46 minutes of the potent, hypnotic ALARIC brew, the self-titled album is set for worldwide release on October 11th, in LP, CD and digital formats. 20 Buck Spin is proud to present this remarkable Bay Area act's debut album, not only since they've known some of the members since high school, but the label also stands heavily by their opinion that this LP is also certainly the best dark punk LP of the year.
Stay tuned for more info on ALARIC as the release date for the LP approaches, and as the band begin their upcoming tour schedule throughout Western North America and beyond into 2012.
http://www.myspace.com/alaricalaric
https://www.facebook.com/pages/Alaric/201671150715
http://www.20buckspin.com
http://www.facebook.com/20buckspin
http://www.twitter.com/20buckspinlabel