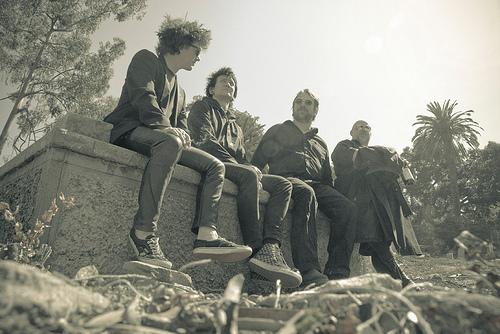 The details for the upcoming debut LP from ALARIC have been officially released. Set to hit the streets on October 11, 2011 via 20 Buck Spin, the record boasts over 45 minutes of morose but infectious and wholly energizing Gothic/Anarcho-inspired mid-tempo punk, and will ultimately and undoubtedly be one of the most important dark punk albums of the year. The cover art for the album was handled by band friend Judd Hawk of Laudanum (http://www.ironhawkstudios.com).
Alaric Track Listing:
1. Eyes
2. Ugly Crowds
3. Your God
4. Alone
5. Tribute
6. Laughter Of The Crows
7. Animal
8. Shadows Of Life
The band has also just confirmed a record release show in their hometown of Oakland, California on Friday, October 28th. This is the first of many new ALARIC shows to be announced over the coming months.
ALARIC Live:
10/28/2011 First Church Of The Buzzard – Oakland, CA w/ Nezzy Idy, Hollow Mirrors, Young Lions
Featuring former and current members of Noothgrush, Enemies, Cross Stitched Eyes, Dead & Gone, UK Subs and more, ALARIC perpetuate classic 80's dark post-punk elements, with influence from Killing Joke, Rudimentary Peni, Christian Death, Joy Division and Amebix, showing through. The immediately infectious songs and revamped classic/retro nature of the album sets ALARIC's sound apart from any other contemporary act under the banner of punk rock.
Promos of ALARIC's self-titled LP, as well as interviews with the band, are available worldwide upon request via Earsplit now.
http://www.myspace.com/alaricalaric
https://www.facebook.com/pages/Alaric/201671150715
http://www.20buckspin.com
http://www.facebook.com/20buckspin
http://www.twitter.com/20buckspinlabel