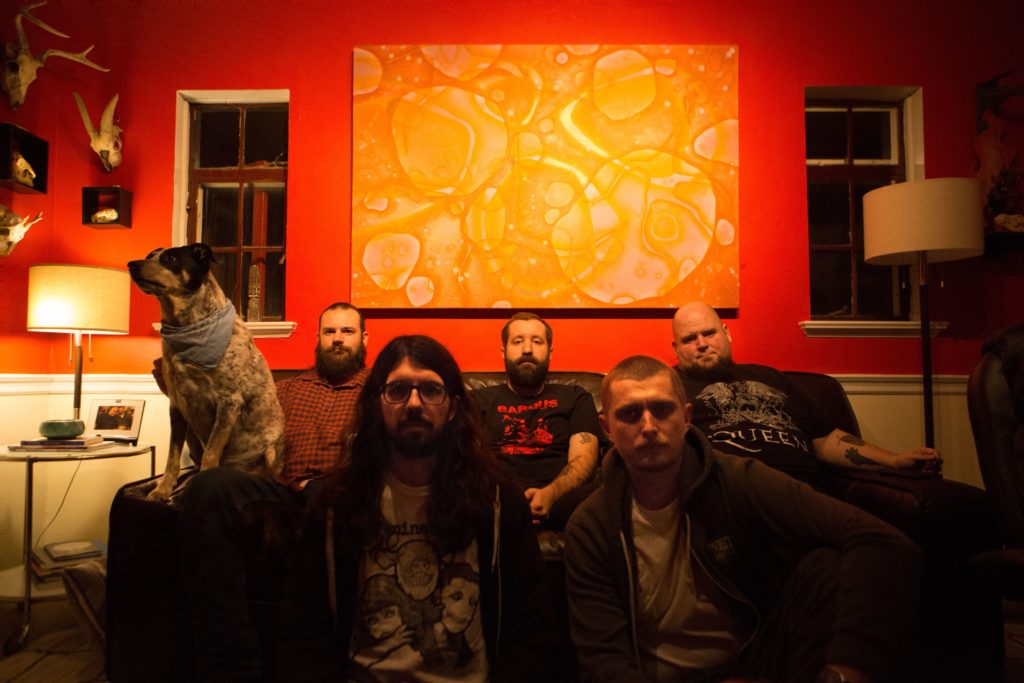 Stream / Share AKULA's "Force Me Open" HERE
Ohio-Based progressive/psychedelic heavy rock collective AKULA — featuring within its ranks members of Lo-Pan — will release its self-titled debut September 28th via Hellmistress Records.
Comprised of four immersive tracks weighted as much in tone as emotional resonance, AKULA runs an atmospheric gamut led by the undulating and spacious riffing of guitarist Chris Thompson and Sergei Parfenov and the soulful melodies of vocalist Jeff Martin.
Martin is best known for his work in heavy rock unit Lo-Pan, but in the four songs of AKULA's self-titled debut, he, Parfenov, Thompson (also now in Lo-Pan), bassist Scott Hyatt, and drummer Ronnie Miller hone an ambience that erases the line between ogressive heavy rock and post-metal, capturing a vast reach on opener "A Pound Of Flesh" and holding it for the duration of the churning and memorable "Force Me Open," the later crush in "Born Of Fire" and the consuming march that bookends twelve-minute closer "Predators."
"I was feeling an overabundance of creative energy," Martin explains. "I had been listening to a lot of heavier psychedelic stuff in the vein of YOB, Neurosis, and even some Mastodon. I knew Chris could do pretty much anything from seeing him play. I contacted him and asked if he would be interested in getting some people together for a purely fun project. He was all for it. I told him what I was thinking in terms of style and he said he actually already had some part ideas he had been messing around with that might be a fit.
"We talked about bass players and drummers and rhythm guitarists and invited some guys to meet up and discuss," he continues. "And stylistically, everyone seemed to understand what we were looking for: a darker, heavier psychedelic sound with melodic vocals. Longer format and prog shifts seemed like a natural thing for everyone. So we got to work."
The result of that work is as stylistically ambitious for AKULA as it is engaging for the listener, and the balance they strike belies the notion of Akula being their first full-length. Now aligned with Hellmistress Records for a physical release of the previously digital-only tracks, AKULA begins a larger exploration of sound with that same restlessness. It could take them just about anywhere.
Akula Track Listing:
1. A Pound Of Flesh
2. Force Me Open
3. Born Of Fire
4. Predators
Akula will be available on CD and limited-edition vinyl in three color variants – 150 baby blue/ opaque yellow/white bleed, 175 heavy orange splatter on translucent green, and 175 on translucent blue. For vinyl preorders, visit Hellmistress Records at THIS LOCATION. For CD orders go HERE. For digital orders, go HERE.
http://www.facebook.com/akulaband/
http://hellmistressrecords.com
http://www.facebook.com/hellmistressrecords
http://twitter.com/hellmistressrec
http://www.instagram.com/hellmistressrecords