German metal powerhouse AFM Records has an array of brand new titles slated for North American release in the weeks ahead, and we aim to fill you in on what's in store…
Scheduled to hit the streets on May 3, 2011 are new albums from SHAKRA, SUIDAKRA and VOODOO CIRCLE:
SHAKRA | Back On Track
The rise of SHAKRA continues! It seems like nothing can stop the successful Switzerland-based hard rock force, as their previous album Everest fought its way all the way to #4 on the Swiss album charts in 2009. Since Everest, the band have recruited new vocalist John Prakesh, and showcase their newly refined lineup on their latest piece of work, Back On Track. Recorded and produced at the renowned Power Ride Studios with the band's own guitarist Thom Blunier, the new album is quite varied from previous releases, as SHAKRA´s catchy rock moves in some slightly new directions. Prakesh´s voice allows the unit to combine the classic SHAKRA sound with the most passionate, soulful and energetic vocals the band ever offered. [http://www.shakra.ch]
SUIDAKRA | Book of Dowth
German Celtic metal warriors SUIDAKRA have trampled audiences at major festival appearances and tours all over Europe, Asia, Russia and North America since their inception in 1994. Having toured with everyone from Children of Bodom, Tristania, Soilwork and more, and are currently embarked on a European tour with labelmates Onslaught, continuing to reap worldwide mass appeal and expanding their diehard fanbase as they have with each release to date. Now in 2011, SUIDAKRA proudly deliver their mammoth tenth full-length Book of Dowth to the masses! Recorded in Gernhart Studio (Destruction, Elvenking) and produced by Martin Buchwalter, Book of Dowth provides fans with some of the most epic tunes and tales to date over its glorious ten tracks. [http://www.suidakra.com/]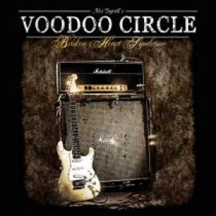 VOODOO CIRCLE | Broken Heart Syndrome
The second album from supergroup VOODOO CIRCLE has arrived. Comprised of several musicians who hail from the classic hard rock elite including David Readman (Pink Cream 69), Mat Sinner (Sinner, Primal Fear) and Alex Beyrodt (Silent Force), the new album, Broken Heart Syndrome, pays full homage to bands like Whitesnake, Black Sabbath, Deep Purple, Rainbow and Yngwie Malmsteen, all major lifelong inspirations to every member of the outfit. Mixed by Dennis Ward (Pink Cream 69, Krokus, Allen/Lande) and produced by Alex Beyrodt, the twelve, bold anthems on Broken Heart Syndrome undoubtedly solidify why the musicians that form VOODOO CIRCLE are heralded as being at the top of their game, and makes this album a must-hear for all fans of the "classic" eras of metal and hard rock. [http://www.voodoocircle.de/]
U.D.O. | Rev-Raptor
Longevity, integrity and constancy; these are the hallmarks of German metal kings U.D.O. Formed by two former members of Accept — Udo Dirkschneider (vocals) and Stefan Kaufmann (guitar) — U.D.O. have been flying their triumphant flag since their 1987 formation, but their 2009-released Dominator was a true triumph for the band, as the endless praise from fans and metal critics alike will attest. Since Dominator's release, fans have been venomously awaiting the follow-up, and the wait is now over, as their thirteenth studio album, entitled Rev-Raptor, is confirmed for stateside release on May 31! On the thirteen-track album, U.D.O. provide the logical successor to Dominator; its concise rhythms and machine-like grooves are a perfect complement to the traditional and as usual outstanding songwriting of the band, and Dirkschneider's incisive voice as always triumphantly at the forefront of the action.[http://www.udo-online.de]
Also watch for info on other new AFM releases coming in June and beyond, including new albums from BLOODBOUND, DEBAUCHERY, REV 16:8, LAKE OF TEARS and much more.
http://www.afm-records.de
http://www.myspace.com/afmrecordsgermany