German heavy metal powerhouse AFM Records have a long line of huge metal releases ready for North American release over the next several weeks including brand new full-length albums from Israeli metallic rockers BETZEFER, Poland's blazing old-schoolers CRYSTAL VIPER, Hungarian mosh metallers EKTOMORF, Italian folk/power kings ELVENKING, America's cult speed metal unit HELSTAR, England's thrash metal kings ONSLAUGHT and Germany's alcohol-fueled ragers TANKARD
Read on for more in-depth details, official release dates and more for each of these fine albums, as well as specific interview info availability for each band via Earsplit.
+BETZEFER+
After releasing two independent EPs and a Roadrunner Records-released self-produced debut album, BETZEFER established their status as Israel's biggest and most successful metal band, setting them up for extensive touring, and providing main support for the likes of Soulfly, Megadeth, Sepultura, Lamb of God and more throughout Europe. Their immediate success with the new foreign crowds quickly put them on the main stages of the big summer festivals. Back in Israel, the band grew even stronger and started crossing into mainstream awareness, headlining the rock stages of the biggest Israeli festivals and constantly earning more and more attention from the local media.
Freedom to the Slave Makers is BETZEFER's second full-length album and their most aspiring effort to date. It features dark and rich guitar sounds, a massive yet highly groovy rhythm section and impressively colorful vocals, all of which take the listener on a journey through the band's inspiring songwriting style, ranging from solid rock 'n roll riffage to epic ballads to relentless modern metal attacks. The album was recorded in the renowned Zaza Studios (Nick Cave, Tracy Chapman, Stevie Wonder) and produced by by Warren Riker (Down, Santana, Lauren Hill).
http://www.myspace.com/betzefer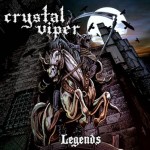 +CRYSTAL VIPER+
Legends, the third full-length from Poland´s metal heroes CRYSTAL VIPER, will see North American release via AFM Records on February 22nd, 2011. Boasting powerful, authentic classic heavy metal born of 80´s giants like Judas Priest, Iron Maiden, the early, epic Manowar and Running Wild, CRYSTAL VIPER's strong, traditional songwriting combined with great authenticity and the overall "classic metal" feeling is sure to win over all fans of that golden era.
CRYSTAL VIPER are not only Poland´s most promising heavy metal band, they are on the jump to become one of the leading female-fronted metal bands. Singer Marta Gabriel not only has the looks, but also the stage talent and incredibly powerful voice, often drawing comparisons to the legendary WARLOCK with Doro Pesch on vocals. Legends' epic songs dive into mythological worlds of fantasy and mystery, presented by an authentic, blistering and enthusiastic band that will surprise many. The album also features guest appearances by Stefan Kaufmann (ex-Accept/U.D.O.), Mat Sinner (Primal Fear, Sinner) and Rhino (ex-Manowar), and the first edition of the album also features a cover of Accept's anthem "TV War."
Email interviews with CRYSTAL VIPER are available now!
http://www.myspace.com/crystalviperofficial
http://www.afm-records.de
+EKTOMORF+
Hungarian act EKTOMORF shall release their new studio album Redemption via AFM Records to North American audiences on February 22nd, 2011. Recorded at the famous Antfarm Studios with Tue Madsen (The Haunted, Dark Tranquillity, Heaven Shall Burn), Redemption builds on the modern metal sound they've been known for over their previous releases, and showcases the band utilizing some new elements including acoustic guitars and clean vocals on the recording.
EKTOMORF will embark on a European headlining tour this month with support from Brazilian thrash metal veterans Korzus and more. The band will continue to announce more tours and major European festival appearances throughout 2011.
Email interviews with EKTOMORF are available upon request.
http://www.ektomorf.com
http://www.myspace.com/ektomorf
+ELVENKING+
Italian folk/power metal heroes ELVENKING shall unleash their sixth full-length Red Silent Tides to North American masses on February 22nd, 2011, via AFM Records.
While ELVENKING's 2008-released Two Tragedy Poets (…And a Caravan of Weird Figures) was a vastly acoustic album, Red Silent Tides shows the band returning to full electric sound, and also integrating more of an 80's hard rock element that matches perfectly with the folk-infused power metal they are known for. Tracks like "Your Heroes Are Dead," "Runereader" and powerful opener "Dawnmelting" are all unmistakably ELVENKING, yet the anthem-fueled "The Cabal" picks up right where their hit "The Divided Heart" left off in 2007, and it's one of the standout and wonderfully creative moments of the album. But the newly integrated hard rock elements really burn through on "Possession," "The Last Hour" and "What's Left Of Me," which will undoubtedly surprise longtime fans. With the final album mix perfected by highly-acclaimed producer Dennis Ward, the end result is ELVENKING's most mature album to date, and a journey full of poetry, melancholy and empowerment.
Interviews with ELVENKING are available via email anytime.
http://www.elvenking.net
http://www.myspace.com/elvenking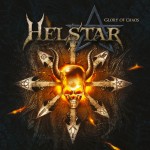 +HELSTAR+
Legendary American power metal act HELSTAR has built an incredible legacy. Their early album from the 80's, Burning Star, Distant Thunder, Remnants Of War and Nosferatu are classics of the genre, and even after a long break the band returned with full force in 2008 with possibly their best album to date, the mighty The King Of Hell.
Just two years after their glorious return, the cult Dallas, Texas act is preparing to unleash another powerful anthem for every diehard fan of U.S. power/thrash metal, with the release of their latest album, Glory Of Chaos. Set for release on German powerhouse AFM Records this February 8th, Glory Of Chaos is undoubtedly HELSTAR's heaviest and most energetic album yet, boasting a fantastic, clear, powerful sound, bearing the band's trademark sound, and yet remaining fresh to longtime followers of the act. As always, legendary vocalist James Rivera remains as one of the most charismatic and impressive voices in the metal scene, having also spent time fronting Vicious Rumors, Seven Witches, Destiny's End and Distant Thunder. The first edition of the release also includes two bonus tracks, as HELSTAR covers the tunes "Heavy Metal Thunder" (Saxon) and "Animal Magnetism" (Scorpions).
Phone and email interviews with HELSTAR are available; please get in touch with Earsplit for more details.
http://www.helstarmetal.com
http://www.myspace.com/helstar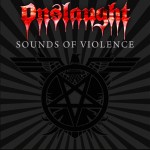 +ONSLAUGHT+
England may not be the first country that comes to mind when discussing thrash metal, yet, it's hard not to think of ONSLAUGHT when mentioning legendary bands of the genre. Power From Hell (1985) and The Force (1986) have a well deserved place in the collection of any old school metal fanatic and the British quintet continues to release quality thrash records.
After a fifteen year hiatus, ONSLAUGHT returned in 2007 with the triumphant release of their Killing Peace full-length, featuring the high-speed thrash attack ONSLAUGHT is notorious for. The record was a fist in the face of anyone who deemed the Brits dead.
Now in 2010, a new chapter begins, as ONSLAUGHT are prepared to release their fifth studio album Sounds Of Violence. Due for North American release on February 8th, 2011 via Germany's AFM Records — right in time to celebrate this cult band's 25th anniversary — the album falls perfectly in line with Killing Peace, yet broadens the classic ONSLAUGHT style once again, helping the band maintain an original edge. Recorded and produced in the renowned Hansen-Studios (Destruction, Heathen, Mercenary), the blazing record boasts ten brand new original tracks, as well as a cover of Motörhead's classic "Bomber," featuring guest appearances by Phil Campbell (Motörhead) and Tom Angelripper (Sodom).
ONSLAUGHT vocalist Sy Keeler and guitarist Nige Rockett are available for phone and email interviews anytime.
http://www.onslaughtfromhell.com
http://www.myspace.com/onslaughtuk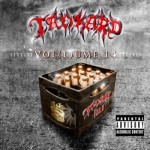 +TANKARD+
TANKARD formed in the early '80s, virtually launching a massive wave of German thrash bands who have since become household acts worldwide, including Kreator, Destruction, Sodom and more. While a lot of these other acts have struggled, breaking up and reuniting over the years, TANKARD have never experienced these problems, maintaining their status for nearly 30 years now, delivering one strong album after another. When you think of beer and thrash metal the name TANKARD is the first that should come to mind…
TANKARD's brand new aptly titled 14th studio effort Vol(l)ume 14 will be on tap in North America on February 22nd, 2011 via AFM Records. Containing ten booze-soaked hymns of course showcasing the band's alcoholic homage, TANKARD also follow their thrash roots, addressing socio-political topics as well, especially on the track "Black Plague (BP)" which blatantly addresses the giant BP corporation's obvious greed and recklessness with this year's oil disaster in the Gulf Of Mexico.
This album is for every fan of top notch classic thrash metal, and its solidifies the fact that TANKARD are one of the most unique bands of the genre. Break out a case of beer and destroy your house to Vol(l)ume 14!
Interviews with TANKARD are available to North American journalists via Earsplit now. Bring a flask.
http://www.tankard.info
http://www.myspace.com/tankardfrankfurt
——-
AFM Records is distributed in North America by E1 Entertainment.
http://www.afm-records.de
http://www.myspace.com/afmrecordsgermany