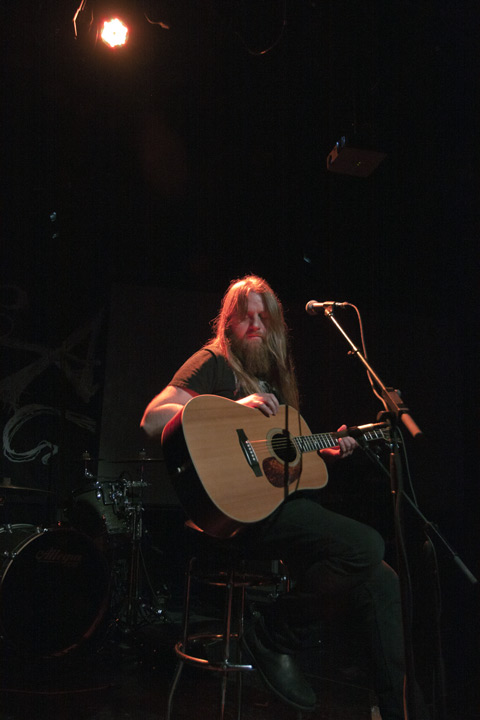 Acoustic act AERIAL RUIN recently embarked on a trio of East Coast US live appearances supporting Agalloch and Worm Ouroboros, where solo artist Erik Moggridge — formerly of Old Grandad, Epidemic and more — showcased material from his new full-length release Valleys Of The Earth. A full set of live photos from New York City's Le Poisson Rouge are posted on Brooklyn Vegan here, and live video evidence of the Moggridge performing the album's opening track "Amends" can be viewed at this location.
AERIAL RUIN tour actions are being devised now and will be announced over the coming months and throughout the rest of the year in support of the new album.
Confirmed AERIAL RUIN Live Appearances:
4/11/2011 The East End – Portland, OR @ Heavy Metal Ladies Night w/ Rollerball, Fist Fite, DJ Nate C
6/04/2011 Thee Parkside – San Francisco, CA w/ Walken
Set for release via Vendlus Records on April 26, 2011, Valleys Of The Earth showcases AERIAL RUIN's incredible singer/songwriter style of haunting, organic folk over 11 somber passages. Crisp acoustic guitars and harrowing layers of clean vocals combine in an engulfing culmination of simplistic, atmospheric bliss. The eerie hymns have gone over with a variety of fans live, including Earth, Jesse Sykes and the Sweet Hereafter and acts from the mellower realms of Americana, as well as Agalloch and those on the more metal end.
Interviews with Erik Moggridge and review copies of Valleys Of The Earth will be available to journalists worldwide this week. Please get in touch with Earsplit immediately with all press requests.
+++

"… one the most profoundly beautiful and heartbreaking recordings I have ever heard. Just devastating." -Aesop Dekker, drummer for Agalloch, Ludicra, Worm Ouroboros, etc.
"…dark, honest and soothing…" – Cosmo Lee, Decibel Magazine
"While Aerial Ruin's rustically picked arpeggios and chords are patterned on folk traditions, traces of metal can still be heard in these hushed tunes sense of mystery and foreboding. Moggridge's vocals hit the right balance, a little eerie but mostly just focusing on somber melodies." – The Onion
"…somber acoustic folk. Very hushed and slow creeping, The man himself likened it to slowcore leaders Low but we hear shades of Mark Lanegan or the solo efforts of Neurosis' Steve Von Till and Scott Kelly." – Aquarius Records, San Francisco