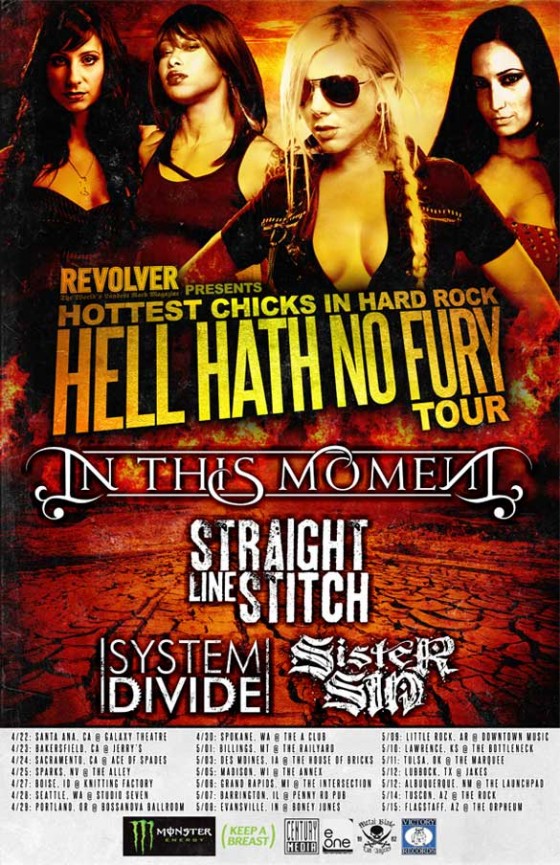 SYSTEM DIVIDE, who feature within their ranks vocalist Miri Milman (Orphaned Land), vocalist Sven De Caluwe (aborted, Leng Tch'd etc), guitarist Michael Wilson (Abigail Williams), bassist Andrew Lenthe and drummer Mike Heller, will return to the US later this month on the Revolver-sponsored Hell Hath No Fury Tour with In This Moment, Straight Line Stitch and Sister Sin! The tour follows the band's successful stint through North America earlier this year with Eluveitie, 3 Inches Of Blood and Holy Grail. SYSTEM DIVIDE will be touring in support of their The Conscious Sedation debut full-length released via Metal Blade last fall.
Commented Milman, who was featured in Revolver's "Hottest Chicks in Hard Rock" issue and calendar at the end of 2010: "After a great run with Eluveitie throughout North America, we're very excited to get back on the road as part of Revolver's Hell Hath No Fury tour. It was an honor to be part of the magazine's calendar and special Halloween issue and being on this tour makes the whole experience come around full cycle. We're looking forward to going back to some of the places we played on our previous tour and perhaps recognizing some of the faces as well as meeting some new people. Get ready for some ridiculous amounts of 'girl power!'"
The tour will kick off on April 22 in Santa Ana, California, and run through May 15. During the tour, In This Moment's Maria Brink will be filming exclusive video blogs for Revolver and interviewing each of the other front women on the package.
Revolver Presents: Hell Hath No Fury Tour
SYSTEM DIVIDE w/ In This Moment, Straight Line Stitch, Sister Sin
04/22/2011 Galaxy Theatre – Santa Ana, CA
04/23/2011 Jerry's – Bakersfield, CA
04/24/2011 Ace Of Spades – Sacramento, CA
04/25/2011 The Alley – Sparks, NV
04/27/2011 Knitting Factory – Boise, ID
04/28/2011 Studio Seven – Seattle, WA
04/29/2011 Bossanova Ballroom – Portland, OR
04/30/2011 The A Club – Spokane, WA
05/01/2011 The Railyard – Billings, MT
05/03/2011 The House Of Bricks – Des Moines, IA
05/05/2011 The Annex – Madison, WI
05/06/2011 The Intersection – Grand Rapids, MI
05/07/2011 Penny Rd Pub – Barrington, IL
05/08/2011 Boney Jones – Evansville, IN
05/09/2011 Downtown Music – Little Rock, AR
05/10/2011 The Bottleneck – Lawrence, KS
05/11/2011 The Marquee – Tulsa, OK
05/13/2011 Launchpad – Albuquerque, NM
05/15/2011 The Orpheum – Flagstaff, AZ
"…weaving death metal, industrial, goth, and prog into an endlessly surprising sound." — Revolver Magazine
"The music is extreme, diverse, original and holds a very high level. The band combines the best of Soilwork, Aborted, Lacuna Coil, Slipknot and Bleeding Through to what nearly sounds like a seamless unit. De Caluwe goes ballistic while Milman's catchy lines remind me of Deadlock front-woman Sabine Weniger…. everything seems to point in the right direction for SYSTEM DIVIDE to take the world by storm." — Aardschok (Netherlands)
"…a razor-sharp, cacophonous smattering of all things metal, effectively melding elements of extreme, death, grind and even some goth to produce a literal sonic explosion, one bursting with undeniable strength." — StarPulse.com
"Milman's vocals, especially in 'Stagnant Progression' and 'The Apex Doctrine', are used perfectly to compliment the complex array of sounds System Divide set up. System Divide remind me of Eluveitie in that they can write incredible death metal songs around epic themes and use female vocals to control the damage. 4.5/5" — TheNewReview.net
http://www.facebook.com/systemdivide
http://www.myspace.com/systemdivide
http://www.youtube.com/systemdivide
http://www.metalblade.com