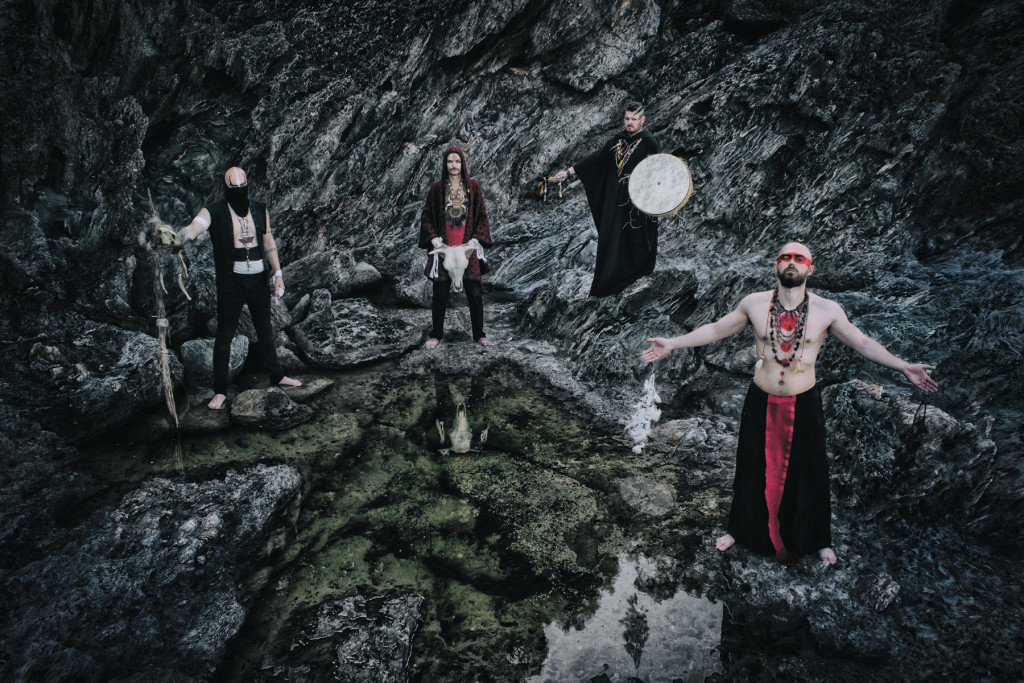 Greek avant black metal conjurors AENAON will unleash the sonic alchemy of their Hypnosophy long player upon adventurous ears later this month. Set for release via Code666, the provocative seven-track production was captured at Crown Audio Conspiracie and thrusts forth fifty-five minutes of heavily textured progressive black metal bedecked in horns, saxophone, and keys. Dreamlike yet nightmarish, sensual and dark, extreme and regal, Hypnosophy is a portal to a glorious surrealistic voyage like no other and a true work of vision and devotion.
As a precursor to its release, today Decibel Magazine delivers the confounding visual accompaniment to third album cut, "Earth Tomb." "A short, cinematic film beyond deathlike dreaming, 'Earth Tomb' takes a step inside the very existence of humanity and the search for inner truth," relays the band in a collective statement. "Are dreams the dimension of a parallel existence? The boundaries of the mind become blurry through the eyes of a tortured man trapped in a barren earth. This journey has no destination but oblivion and anguish. [Hypnosophy cover artist] Łukasz WodyÅ"ski's imagery is tense and lifelike. He has managed to integrate perfectly his own vision with the lyrical and musical ingenuity of AENAON to give birth to a new dimension of cathartic madness. A shamanic ritual incarnated, shifting form ecstatic rhythms to paranoia and rapture. Awake in a nightmare, this time there is no salvation, only lunacy and beyond. Welcome to hell, welcome to Earth."
Observes Decibel, "The video's perspective is dreamlike, shifting from a forest inhabited by tribal people to a city. Both views are unsettling; in the forest, a man is the focus of a shamanistic ritual. In the city, a woman's face is covered by a birdlike mask as the man passes her on dimly lit streets. Throughout it all, the man looks terrified and confused. Add in a baby and a few skulls and the question is left unanswered… how much of this is real? A saxophone can be heard throughout 'Earth Tomb,' creating an oddly uplifting melody that works its way in and out of the song. Half-chanted half-sung vocals mix with the band's eccentric writing and fit the shamanistic ritual in the video."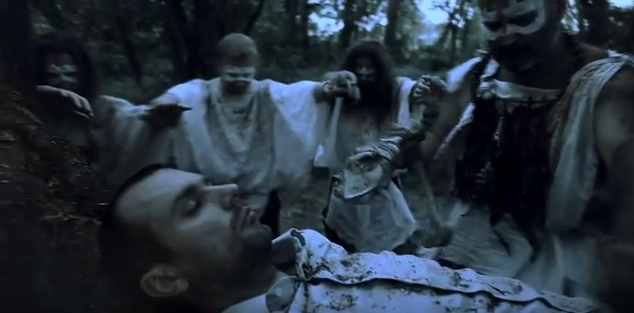 Take in "Earth Tomb," now playing at Decibel Magazine RIGHT HERE.
You can also sample the band's David Lynch-inspired "Fire Walk With Me" lyric video (initially premiered by No Clean Singing) as well as first single "Oneirodynia" below:
AENAON's Hypnosophy will be released via Aural Music sublabel Code666 on CD, vinyl, and digital formats on November 25th in Europe and December 9th in North America. Preorders – including special bundles – are available at THIS LOCATION
Forged in 2006, AENAON takes its name from the Greek word "Αέναον," the Eternal. Churning a distinctly atypical brand of experimental black metal, the band recorded their debut EP Phenomenon in 2007. It was released in 2009 via the Canadian Bleak Art Records and followed by a seven-inch split with Satanochio titled A Parallel Zoetrope in 2010. By 2011, the band had culled a solid underground following and united with Italian label Code666 who released their debut full-length, Cendres et Sang. The release marked the beginning of a new era for the band and a solid collaboration. In 2013, the Greeks released another seven-inch split with the Russia's Stielas Storhett. However, it was 2014's Code666-issued Extance long player that earned them the most acclaim. Continuing the tradition, in 2015 a third seven-inch split was released in alliance with their Greek comrades Virus Of Koch. And now the world awaits Hypnosophy….
"AENAON is not a surprise anymore, probably one of the best progressive black metal bands on the planet, Hypnosophy will end in many top 2016 list for sure." – Metal Hammer
"Extance was pure perfection and Hypnosophy is even better…" – G.O.M. Magazine
"…bombastic, sulfurous, progressive, jazzy, and soulful…" – No Clean Singing on "Fire Walk With Me"
"The soundscapes these gentlemen create are nothing short of fantastic, and give us a record that not only traverses black metal, but several types of music in general." — The Grim Tower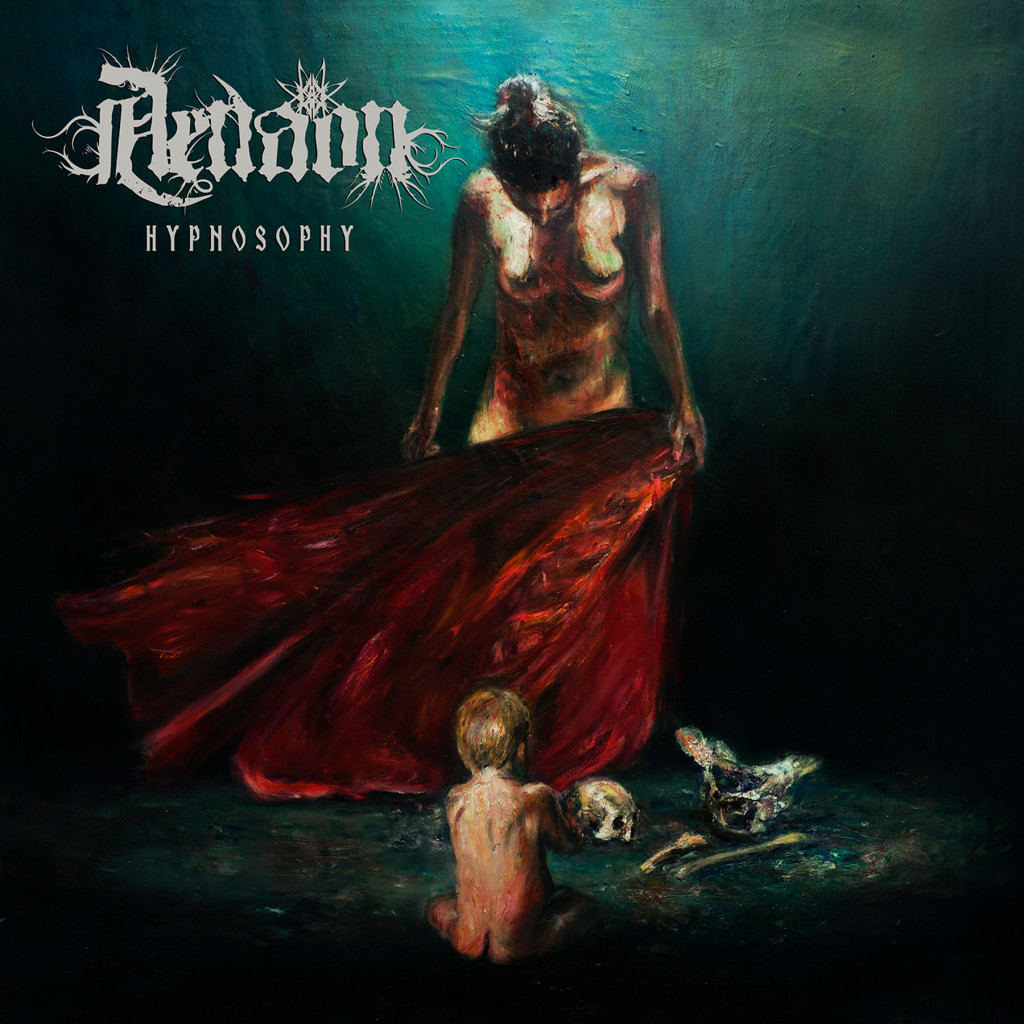 http://www.facebook.com/aenaonofficial
http://www.code666.net
http://www.facebook.com/code666.label
http://www.auralmusic.com
http://www.facebook.com/Aural-Music
http://www.auralwebstore.com/shop