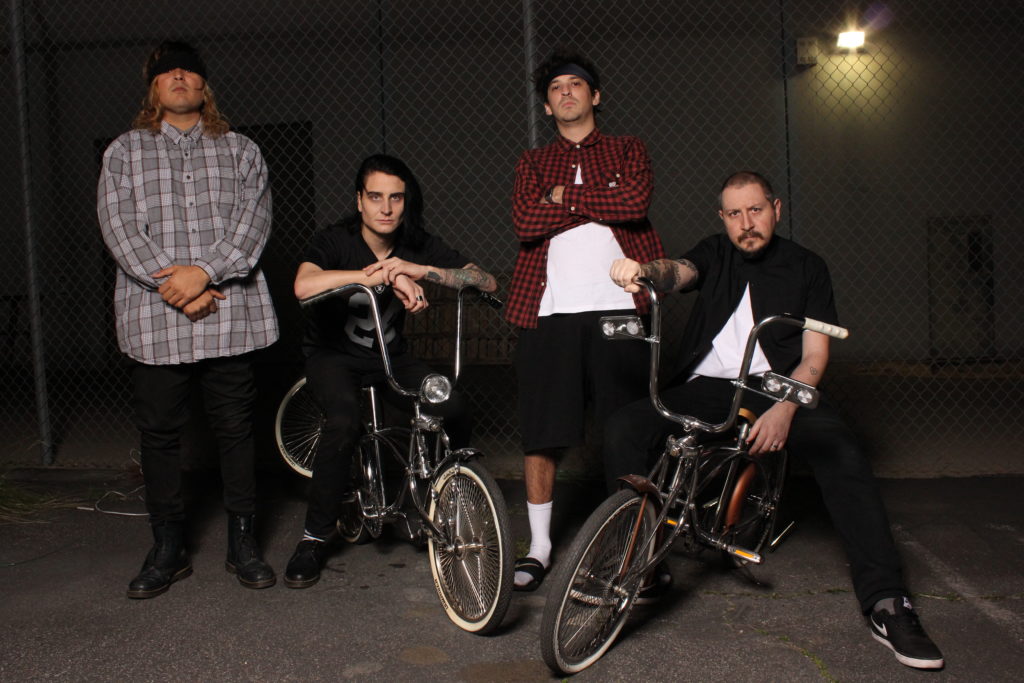 For their debut release on Prosthetic Records, ACxDC are coming out swinging. Five years after their last full-length and four years after their last EP, ACxDC has seemingly stored up enough bile to fill several records. For now, they've squeezed what powerviolence they can onto their upcoming album, Satan Is King, due for release on May 15th.
For a band whose full moniker is Antichrist Demoncore, it may come as no surprise that Satan plays a prominent rule across the record. However, Satan here serves as a motif; a motif for rebellion, for self-discovery, and for rejecting authority rather than as a literal figure of praise. With a tongue-in-cheek title that serves as a response to Kanye West's Jesus Is King album, Satan Is King is the antidote to excess, greed, and mindless indulgence.
Although the album is released during an election year and against the backdrop of a politically fraught environment, the members of ACxDC are not proponents for party politics. Their message – like their music – retains a distinctly DIY attitude. As always, the band is politically charged, distributing sonically raw dispatches at break-neck speed as a true seam of revolution runs through the album's lyrics, imploring the need for immediate and drastic action to save the planet – and ourselves. Railing against corporations, pushing back against institutions that oppress, and challenging the concept of critical thought in the face of society that rewards greed and champions homogenous thinking all form threads in the fabric of Satan Is King.
ACxDC returned to producer Taylor Young (Nails, Twitching Tongues), who recorded and mixed Satan Is King at The Pit Recording Studio in Van Nuys, California last November. Brad Boatright later mastered the album at Audiosiege. The resulting fifteen-part manifesto of fury is a visceral open sore of aggression. Embracing grindcore, powerviolence, and more, ACxDC funnels multiple genres through their unique lens. Fans of Gulch, Nasum, and Minor Threat will have plenty to immerse themselves in with Satan Is King. Cover art by Dylan Garret Smith is the cherry atop this barb-wire laced cake.
In advance of the release of Satan Is King, No Echo is streaming the record's title track. Notes vocalist Sergio Amalfitano of the latest bruiser. "The song is a sort of fuck you to Kanye West and any evangelical type. His whole album is praising Jesus as king and this title track is sort of a 'so what? Satan is king, too.' But in the lyrics, I see Satan as a rebellious liberator that's king of his own domain and Jesus is an authoritarian demanding submission over all."
Stream ACxDC's "Satan Is King," courtesy of No Echo, at THIS LOCATION.
Satan Is King will be released on CD, LP, limited gold edition LP, and digital formats via Prosthetic Records. Find preorders at THIS LOCATION.
Satan Is King Track Listing:
1. Singe
2. Mouth Breather
3. Gorged
4. Satan Is King
5. Turncoat
6. Matapacos
7. Copsucker
8. Propaganda Of The Deed
9. Exercise In Futility
10. Urban Blight
11. Come Out Fighting
12. Revenge
13. Ashes To Ashes
14. Back In Black Bloc
15. Maggot Museum
ACxDC will quake stages both stateside and abroad on a host of shows and festival appearances including Dreadfest in Leeds, Punkytud Fest in Mexico City, Maryland Deathfest in Baltimore, and Earslaughter Fest in Montreal. See all confirmed dates below.
ACxDC Live:
3/14/2020 Blue Spade 75 Studios – Los Angeles, CA w/ Lower Class Brats, Naked Aggression
3/19/2020 Blackheart – London, UK
3/20/2020 Roisin Dubh – Galway, IE
3/21/2020 Nice, Sleazys – Glasgow, UK
3/22/2020 Dreadfest @ Temple Of Boom – Leeds, UK
4/09/2020 Cirque Electrique – Paris, FR
4/10/2020 Epplehause – Tubingen, DE
4/11/2020 Le Trois Pieces – Rouen, FR
4/12/2020 Neuronoise Fest – Rennes, FR
4/18/2020 Grind Now, Die Later Fest @ Norwalk American Legion – Norwalk, CA
5/01-02/2020 Punkytud Fest – Mexico City, MX
5/14/2020 Observatory – Santa Ana, CA w/ Negative Approach
5/22/2020 Maryland Deathfest – Baltimore, MD
5/23/2020 Sixty Sixth Congress – Brooklyn, NY w/ Negative Approach, Bandit
5/24/2020 Once Ballroom – Somerville, NJ w/ Negative Approach, Bandit
5/25/2020 State House – New Haven, CT w/ Negative Approach, Bandit
5/26/2020 QXT – Newark, NJ w/ Negative Approach, Bandit
5/27/2020 Voltage Lounge – Philadelphia, PA Voltage Lounge w/ Negative Approach, Bandit
5/28/2020 Mohawk Place – Buffalo, NY w/ Negative Approach, Bandit
5/29/2020 The Fuze Box – Albany, NY w/ Negative Approach, Bandit
5/30/2020 Earslaughter 5 Fest @ Foufounes Electriques – Montreal, QC
7/19/2020 Zesta Grande 2 Fest @ The Colony – Sacramento, CA
ACxDC:
Sergio Amalfitano – vocals
Jorge Luis Herrera – drums
Ryan James Corbett – bass
Edward Jason Oropeza – guitar
http://www.facebook.com/ACxDC/
http://twitter.com/ACxDC_666
http://www.instagram.com/acxdc_666
http://shop.prostheticrecords.com/
http://www.facebook.com/prostheticrecords
http://twitter.com/ProstheticRcds
http://www.instagram.com/prostheticrecords