As previously announced, ACROSS TUNDRAS have signed with Neurot Recordings for the release of their newest full-length opus, and we now proudly unveil details on this beautiful display of purely organic atmospheric rock.
The sprawling, seven-song album, entitled Sage, is now officially confirmed for North American release on May 17th, 2011. Neurot label owner, Neurosis' Steve Von Till, exposes a bit of insight on the new album: "Lurking somewhere between unearthed, aged, haunted Americana and the psychedelic sludge scraped from the edges of the cosmos, Across Tundras' new artifact Sage explores new territory, that while at once, rooted in history, and soaked firmly in the rich soil they cultivate, rises above the arcane to the sound of what will become."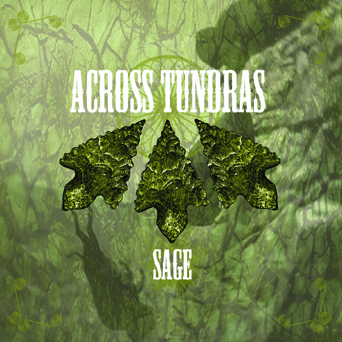 Sage Track Listing:
1. In the Name of River Grand
2. Hijo de Desierto
3. Buried Arrows
4. The Book of Truth
5. Tchulu Junction
6. Mean Season Movin' On
7. Shunka Sapa
On this album, more than ever before, ACROSS TUNDRAS manage to perfectly capture their heritage through a perfect amalgam of haunting doom tinged Americana and echoes of traditional country blues all bound by heavy waves of psychedelic sludge. Their organic sound is well-honed, marking Sage as their most fully realized album to date with all their influences and elements flowing cohesively with one another. A utterly original album, broadening the horizons for metal music, taking it into unknown territories and yet still with a warm familiarity we have grown to love about ACROSS TUNDRAS' music over the years. Echoing our sentiments entirely, Tanner from the band remarked "This is by far the best AT album we've done."
Additionally, ACROSS TUNDRAS have also just confirmed a plethora of American touring activities for the coming weeks as they begin to unveil the material on Sage to the public. With shows already booked throughout March, April, May and June — and with many more in the planning stages to be announced shortly — this is just the beginning of an extensively active year for the band.
Confirmed ACROSS TUNDRAS Live Actions:
3/22/2011 Little Hamilton – Nashville, TN w/ Hull, Battilus, Mose Giganticus
4/27/2011 Exit/In – Nashville, TN w/ Dax Riggs
5/19/2011 The Hideaway – Johnson City, TN
5/20/2011 The CoffePot – Roanoke, VA
5/21/2011 Strange Matter – Richmond, VA w/ Souvenirs Young America
5/22/2011 So Addictive Lounge – Herndon, VA w/ Admiral Browning
5/23/2011 WMUC Third Rail Radio Show – College Park, MD w/ Admiral Browning
5/24/2011 Meatlocker – Montclair, NJ
5/25/2011 JR's Bar – Philadelphia, PA w/ Ominous Black
5/26/2011 Union Pool – Brooklyn, NY w/ Ominous Black
5/27/2011 Elm's – New Haven, CT w/ Sea of Bones
5/28/2011 The Depot – York, PA
5/29/2011 Badlands – Syracuse, NY
5/30/2011 Mohawk Place – Buffalo, NY w/ Sonorous Gale
5/31/2011 Garfield Artworks – Pittsburgh, PA
6/01/2011 Carabar – Columbus, OH w/ Main Street Gospel
6/02/2011 *TBA – Chicago, IL
6/03/2011 Mayday – Cincinatti, OH w/ Beneath Oblivion
6/04/2011 The Green Lantern – Louisville, KY w/ Below, Stampede
Promos of Sage will be available shortly. Stay tuned for more album updates and for more widespread domestic and overseas touring announcements from the band throughout the year.
http://www.acrosstundras.bigcartel.com
http://www.myspace.com/acrosstundras
http://www.neurotrecordings.com
http://www.myspace.com/neurotrecordings