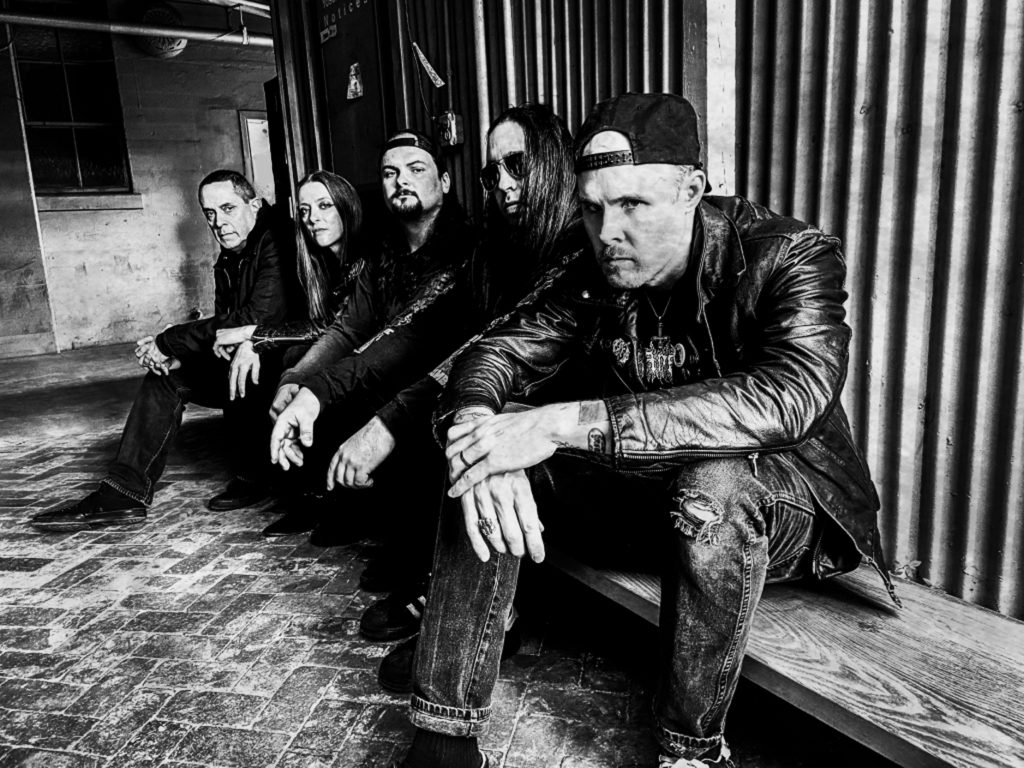 photos by Adam Houmam
Theothanatology, the monstrous fourth LP from San Francisco-based death/crust metal quintet ACEPHALIX, is now streaming in its entirety, two days ahead of its release through 20 Buck Spin this Friday.
ACEPHALIX awakens from five years in morbid repose with a new offering upon the glistening altar of flesh, a devastatingly tormented study on Theothanatology, the idea or belief that God is dead. Within this cerebrum shattering inquiry lies, as always, a primal spewing forth of vicious death metal malignity and bomb-raid hardcore dispersions. Across a decade-and-a-half lifespan, the evolution of ACEPHALIX into the bludgeoning instrument of discord and dead faith displayed on Theothanatology has never felt so urgent. The crumbling siege-like mentality of modern life leaves no doubt God has left the building and ACEPHALIX adeptly soundtracks the contradictions, atrocity, and inner turmoil of such massive loss and decay.
Theothanatology sees ACEPHALIX returning to a quintet for the first time since their debut LP Aporia, the current lineup enlisting vocalist Daniel Butler (Vastum), drummer David Benson (Lawless, Said Sara), bassist Erika Osterhout (Chthonic Deity, Scolex), and guitarists Adam Camara (Ensepulcher, Battleshök) and Adam Walker (Kata Sarka, ex-Fog, ex-Graves Of The Endless Fall). ACEPHALIX is razor-focused on its greatest strengths, commanding the unambiguous sonic pulverizing of a bulldozer over the decimated skull pile of a once thriving civilization on Theothanatology, simultaneously more musically complex and savagely barbaric, heralding a collapse already in motion.
Created with Grammy Award-winning producer Greg Wilkinson at Earhammer (Fetid, Vastum, Ulthar, Undergang), Theothanatology's cover features the painting Girolamus Trasfiguratio by Ettore Aldo Del Vigo, completed with photos by Adam Houmam and layout by Dan Fried. ACEPHALIX is mandatory listening for fans of Vastum, Necrot, Entombed, Discharge, Undergang, Grave, Ossuarium, Slayer, Depravity, and Adramalech.
Stream ACEPHALIX' Theothanatology in its crushing entirety now at THIS LOCATION.
20 Buck Spin will release Theothanatology on LP, CD, cassette, and digital platforms this Friday, September 30th. Find preorders at the label webshop HERE and Bandcamp HERE.
ACEPHALIX is confirmed to host an upcoming Gimme Metal Guest DJ slot on Friday, October 14th. Read more and tune in HERE.
Watch for live announcements and more from the band to post over the weeks ahead.
"San Francisco has long been a hotbed of incredible talent and passion in the greater extreme metal scene. Deranged death-crust purveyors ACEPHALIX are no exception, and since arriving on the scene in the late-'00s they've just proven the rule with record after powerful record." – Decibel Magazine
"The marriage of styles come naturally to them. There's no clear delineation, the styles are spliced together into an inseparable hybrid… This is the soundtrack to the violent de-evolution of humanity. – No Clean Singing
"…the kind of barbaric brutality we've come to think of from the now quintet, yet better, more furious, and nastier than ever." – Nine Circles
https://acephalix.bandcamp.com
https://www.instagram.com/acephalix_official
https://www.20buckspin.com
https://listen.20buckspin.com
https://www.facebook.com/20buckspin
https://twitter.com/20buckspinlabel
https://www.instagram.com/20buckspinlabel