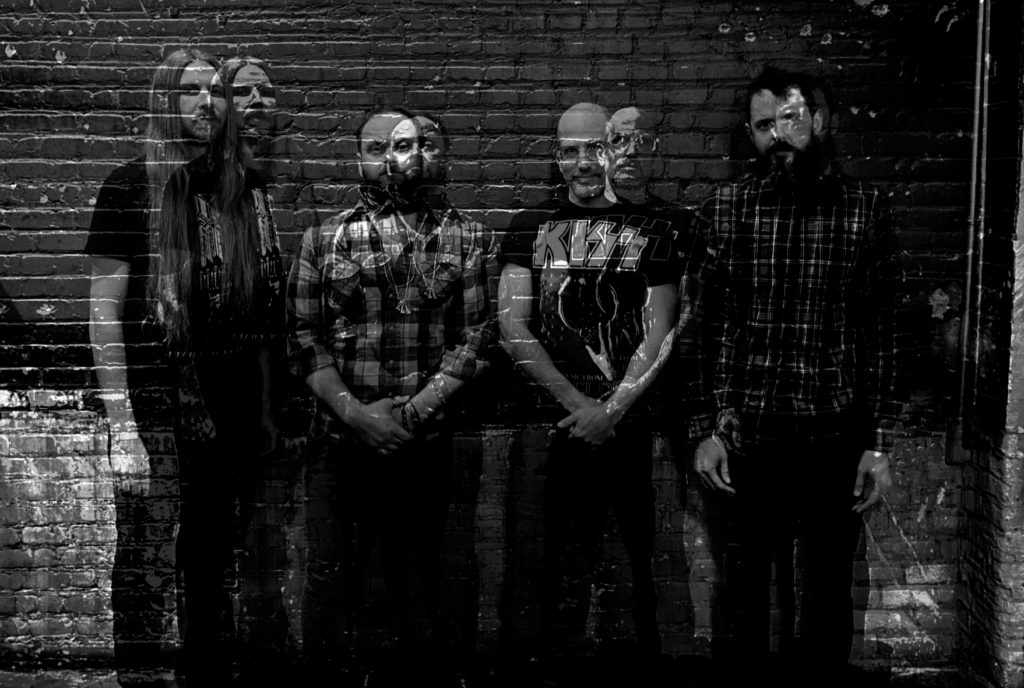 photos by Pemalyn Hessing
Decibel Magazine is hosting the video premiere for "Frost Suffocation," the new single from Minneapolis/Chicago-based avant/improvisational death metal quartet ABHORRENT EXPANSE, formed by members of Zebulon Pike, Celestiial, Obsequiae, and more. The band's debut album, Gateways To Resplendence, is nearing release in early April.
The ten movements on Gateways To Resplendence were improvised live by ABHORRENT EXPANSE on October 8th, 2020 at Signaturetone Recording in Minneapolis. The album was recorded, mixed, and mastered by Adam Tucker (Blue Ox, Wanderer, Sunless, Void Omnia), and completed with cover artwork by David Jorquera and design by Bill Harris.
Vocalist/guitarist Luke Polipnick reveals, "'Frost Suffocation' is a series of sharply contrasting timed duos, a design inspired by John Zorn's Naked City. It juxtaposes lumbering doom passages with Ornette Coleman's Harmolodic concepts, furious death metal blasts, haunting ambience, and plaintive string interludes. It was executed live in the studio in a single continuous take by the band by assigning each solo or duo subset a time duration and collectively following a stopwatch. All of the actual musical content was fully improvised. No specifics were discussed beyond the pairings of players and the duration of each segment. The video was masterfully assembled, edited, and artfully degraded by Minneapolis guitar icon Jeremy Ylvisaker."
Adds bassist Brian Courage, "'Frost Suffocation' is a telling microcosm of the breadth of sounds and textures that we explored over the course of the record. The contradictions of controlled chaos and unsettled peace are ever present."
With their premiere, Decibel calls the track, "Heavy and unrelenting, moving seamlessly between blasting death metal, doom interludes, and oddly timed music in a genre all its own…"
Watch ABHORRENT EXPANSE's "Frost Suffocation" video first through Decibel Magazine now at THIS LOCATION.
Gateways To Resplendence will see release on CD and digitally through Amalgam Music and a limited run of 50 tapes via Lurker Bias on April 8th. Find preorders at where "Path Of Extremal Action" is streaming HERE.
Watch for additional videos from the album and more to be issued over the weeks ahead.
ABHORRENT EXPANSE will embark on a trio of release shows across the Midwest in conjunction with the record's street date. Joined by their friends in tech-death act Sunless, the mini-tour will invade Minneapolis, Milwaukee, and Chicago on April 5th through 7th. Additional live dates and more widespread touring is to be expected later in the year.
ABHORRENT EXPANSE:
4/05/2022 Icehouse – Minneapolis, MN w/ Sunless
4/06/2022 X-Ray Arcade – Milwaukee, WI w/ Sunless
4/07/2022 Cobra Lounge – Chicago, IL w/ Sunless
Abstract, ecstatic, and pummeling, ABHORRENT EXPANSE's Gateways To Resplendence articulates the unspeakable dread which dwells in the sepulchral caverns of the mind. A grotesquely improvised manifesto plumbing from the depths of blackened death, funeral doom, noise, and free jazz, it defies the listener to decipher its riddles and confront its paradoxes. The ensemble builds on the deep history of collaboration between its four members to present a new way forward. Many duo and trio gigs helped them develop a new musical lexicon uniting the raw sonic intensity of extreme metal with the wide spectrum of textures common to free improvisation. By the time Erik Fratzke (Zebulon Pike, Happy Apple) and Tim Glenn (The Blight, Celestiial, Obsequiae) joined Brian Courage and Luke Polipnick in the studio, uniting the full quartet for the first time, the connection was immediate. Adam Tucker at Signaturetone Recording, a brilliant engineer and musician in his own right, used a variety of unorthodox techniques to help the band convey their vision. The resulting album is awash with contradictions, an organic, multifaceted, and deeply challenging listening experience that will push fans of both genres to their limits.
https://www.instagram.com/abhorrent_expanse
https://www.amalgamusic.org
https://www.facebook.com/amalgamusic
https://lurkerbias.bandcamp.com
https://www.facebook.com/lurkerbias