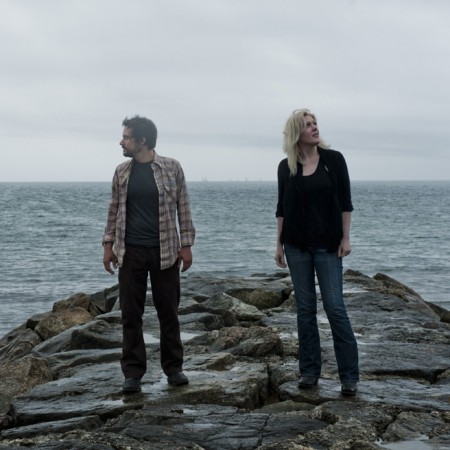 Minnesota's folk/shoegaze outfit A WHISPER IN THE NOISE recently returned stateside from their massive five-week Spring tour of Europe in support of their latest LP, To Forget. The full statement can be read below.
A WHISPER IN THE NOISE's video for "Your Hand" was also recently featured on international music portal MTV Iggy; check it out RIGHT HERE.
In recent years A WHISPER IN THE NOISE were featured on the soundtrack to M. Night Shyamalan's movie Lady In The Water, and also picked up quite a bit of hype by Steve Albini, who has produced several of the band's pieces including, To Forget. Since its release, the haunting Americana of To Forget has been winning over North American media outlets, and their beautiful, melodic hymns have begun infiltrating many new audiences for the band.
————————
A WHISPER IN THE NOISE Post-Tour Statement:
"We have just returned from our European tour, which was in support of our newest release on Mainstream Records, To Forget. In addition to playing the shows, we explored several German castles, drove through the painfully gorgeous countryside of the Czech Republic and Poland, drank fantastic Belgian beer, and viewed Athens from the Acropolis…we took an English ferry past the white cliffs of Dover, stayed in a magical 16th-century French cottage, traveled the Alps next to Lake Geneva, and walked at midnight through the white night of St Petersburg. Our wonderful hosts often gave us tours of their cities, taking us to their favorite hidden spots, and entertaining us with stories of their local music scenes.
In addition to the clubs, we played in a kitchen, a spacious attic, a garden, a former brewery, a wine cellar, a dance studio and two gorgeous cinemas. But above all, the greatest aspect of the tour was making music. We loved working together to connect the threads of our sound to the people in the audience. It was stunning to frequently feel a simultaneous peace and high energy with everyone, a sensation that is not easily forgotten.
We look toward the future, and will use the warm memories of this tour as fuel for our upcoming work. This entire tour stays in our hearts, and we count the days until we tour again." – A Whisper In The Noise
"From abstract dream-drones to alluring shoegaze to threads of sawing, sighing dissonance, it's an elusively beautiful work of atmosphere." – The Onion's A.V. Club
"As icy piano ballad 'Maya's Song' moves the album downward, it's the hopeless vocals of closer 'Of This Sorrow' that brings To Forget back to its full, dramatic, bleak circle." – Exclaim!
"…the duo has created a sonically beautiful work of art that deserves to be heard. 9/10" – American Aftermath
"We cannot label the band under a certain musical genre, but we can definitely hear a mix of dream pop, pop-rock and indie with some influences from artists such as Bob Dylan, all the way to Pink Floyd, but it's totally original-sounding. 8.5/10" – Blistering
"…the beautiful instrumentation and practiced songwriting of A Whisper In The Noise are sure to leave you contemplative of some beautiful tragedy, whether personal or simply perceived via the music's imagery-inspiring atmospheres. To Forget is one of the better collections of emotive, classically inspired music you're going to find. 4/5" – Music Emissions
"To Forget seems to have dropped the elements that may have diluted their power in the past. The more up-tempo pieces have gone, leaving us shivering and alone in the dark. Music of this caliber is hard to come by… 4.5/5" – The New Review
https://www.facebook.com/awitn
http://www.myspace.com/awitn
http://www.mainstreamrecords.de
http://www.myspace.com/exileonmainstream